On Dec. 20, the vitally important Coquihalla Highway (Hwy. 5) between Hope and Merritt, B.C. reopened ahead of schedule, after abnormally wet weather resulted in unprecedented damage.
Also unprecedented was the speed with which repairs were done, allowing commercial vehicles to resume crucial travel.
The highway was closed Nov. 14 and initially a reopening was predicted for late January at the earliest.
"We've fixed damage like this before, but never like the magnitude of this one," said Kelly Scott, president of the BC Road Builders and Heavy Construction Association.
The Coquihalla runs 205 kilometres from Hope to Kamloops. Roughly in the middle is Merritt. It was in the southern stretch, north of Hope, where the majority of rain-caused destruction occurred at 20 sites, which included seven bridges that had collapsed or were impassable.
What made the work so challenging was the wet, snowy and cold conditions in the high mountain pass. Mobilizing work crews to reach sites beyond each missing bridge was also onerous.
"We were going in to winter. It made it extremely tough," said Jennifer Fraser, an executive project director for B.C.'s Highway Reinstatement Program. "We were certainly tested in the early days with a second rain event."
Operations stopped and repairs that had been done were monitored.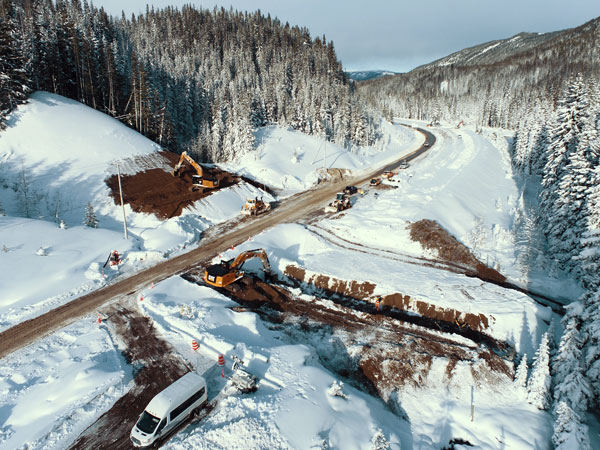 Restoration had started quickly, with the work led by the two maintenance companies that had contracts with the Ministry of Transportation and Infrastructure to maintain Hwy. 5.
Emil Anderson Maintenance covers the area from Merritt to Hope while Yellowhead Road and Bridge works from Merritt to Kamloops. The two contractors subcontracted local companies and Indigenous businesses.
"There was no six-month process to do a request for proposals," said Scott.
In what he called a mixed blessing, the Kiewit-Ledcor Trans Mountain project had shut down pipeline work, which ran near much of Hwy. 5, so their crews and equipment were available. Fuel, camp facilities and helicopters were on hand.
"There was a lot of equipment and operators sitting around," Scott said.
During the first week of repairs, Trans Mountain announced that more than 200 people from its crews were on the job.
Earth-moving equipment was available because that work at the Site C dam was complete. Kiewit was also able to procure temporary or Bailey bridges from work sites across North America, Scott added. Temporary crossings were established as quickly as possible to allow crews to get to damaged areas. The first washout was 10 minutes away from Hope.
As Fraser notes, the Coquihalla is remote terrain, with limited cellphone service. Initially, there was a lack of electricity and because of the work required, there was a lot of people in constrained spaces, she said.
Emergency and night work protocols were put in place, drones were used and helicopters were on standby.
Water levels continued to be monitored.
"At the site level, there was very specific safety procedures," Fraser said.
Crews worked 24 hours per day, seven days per week, with lots of overtime accrued.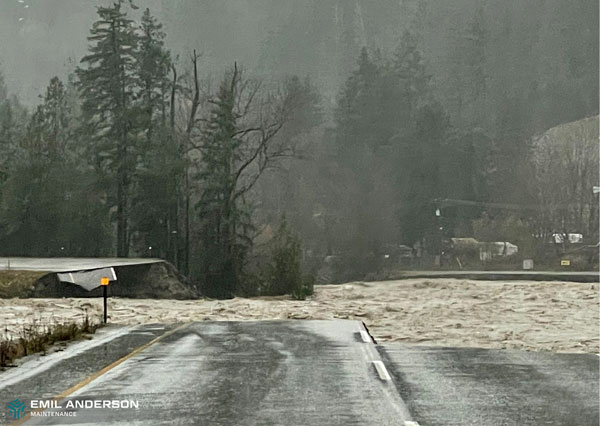 "We pulled out every lever," Fraser said.
Because the Coquihalla is a major route, constantly being repaired, the active gravel pits along the corridor supplied material. Riprap was sourced from existing spots close by. Paving plants in Kamloops and Hope supplied the asphalt.
Since paving isn't usually done in the winter, repairs will be closely monitored, given the not-normal conditions. Fraser expects potholes will appear.
"We know we have to come back and pave in proper conditions," she said.
In fact, sections of Hwy. 5 will see permanent repairs once the weather allows, usually after the spring freshet.
As well, a wide-ranging analysis of the road and surrounding terrain is to be done, Fraser said.
The effects of climate change will be designed into road engineering. A detailed upslope analysis along Hwy. 5 needs to be done, including examination of the hydrologic function of rivers and streams. Logging plays a role, as do the after-effects when torrential rains land on huge swaths of land decimated by forest fires.
Fraser points to existing ministry climate adaptation standards that didn't exist when the Coquihalla was built in the 1980s. Those criteria will be applied to its repairs.
Currently, enforcement along Hwy. 5 has been increased, given the temporary repairs. Speed limits and use of chains are notable concerns.
As to when the Coquihalla will reopen to passenger vehicles, all Fraser could offer was, "the not-so-distant future."
"It's really important to see how if functions for trucks," she said.