City of Delta councillor Dylan Kruger isn't giving up the fight to get the River Road overpass included in the more than $4 billion George Massey Tunnel replacement project.
"This is a vital connection for our community, one that's been planned for many years," said Kruger in an interview with the Journal of Commerce.
"Obviously, this is a very complicated file, but it dates back to 2013."
A decade ago, the Government of British Columbia was floating the idea of building a bridge over the Fraser River, adjunct the Massey Tunnel. Included in that proposal was an overpass on Highway 99 at River Road, just to the east of the community of Ladner.
The historic fishing village is home to roughly 21,000 residents and is the second most populous region of Delta. The only way to get to Highway 99, the main connector in and out of Delta from Ladner, is up Highway 17A, said Kruger.
Having 20,000 people using a single road can create problems, he said.
"There's just one exit via Ladner Trunk Road and Highway 17A for our entire community which adds significant bottlenecks along local collector roads and also adds a lot of unnecessary commuting time for residents," he said.
Kruger also pointed out 17A is a collector road, meaning a series of traffic lights further slows down the burdened highway.
In 2017, the plan for a bridge over the Fraser was scrapped in favour of a tunnel, which has developed into the current Highway 99 Tunnel Program.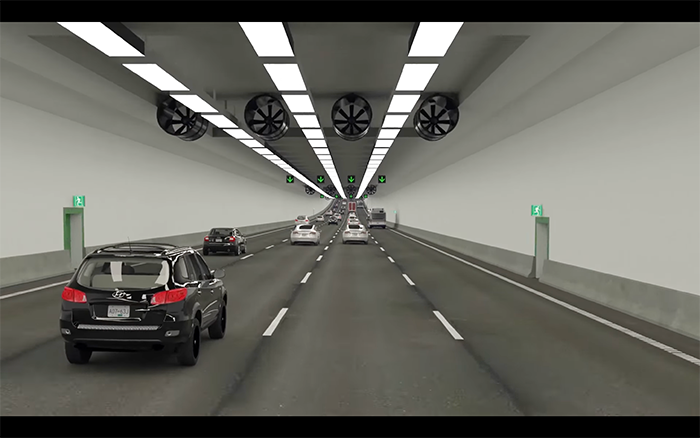 The program will see the construction of an eight-lane, toll-free immersed tube tunnel under the Fraser River to replace the George Massey Tunnel by 2030.
Preliminary documents from 2019 show the River Road overpass in a rendering on slide 16, though it is absent from other renderings.
A Traffic and Geometrics Technical Report Draft from 2019, prepared for the Ministry of Transportation and Infrastructure by Great Northern Engineering Consultants Inc., includes a detailed description of the River Road overpass as part of the immersed tube tunnel design, stating it would reduce "traffic demand at the Highway 17A interchange."
But sometime between 2019 and 2020 the overpass was removed from consideration and does not appear in multiple documents from 2020 onward.
"We were quite disappointed by that. We've been unanimous and consistent as a council in public meetings with the Ministry of Transportation from 2018, 2019, 2020, 2021 and 2022 about how vital this connection is for our community," said Kruger.
Most recently, in May 2022, Delta council unanimously supported a motion to request the overpass be implemented in the project.
Kruger said he has been given no direct reason from the provincial government as to why the overpass was removed from consideration.
The Ministry of Transportation did not responded to inquiries from the Journal of Commerce before publication.
Kruger emphasized the cost of including the overpass would be relatively miniscule.
"This would be less than one per cent of the total cost of the overall project. So, it's more or less a rounding error on a project of this scope," he said.
He argued the cost of its inclusion on this project would be less than if an entirely new project solely for the overpass was started, pointing to the overpass at Nordel Way and Highway 91 in Delta.
"It was many years later that an overpass system was put in place at Nordel at a much higher cost and with significant delays. So, we know it's cheaper and much more efficient to get it done right the first time rather than adding it on decades into the future," he said.
Kruger said he has received assurances from the government that the overpass' exclusion from the Highway 99 project does not mean it will never happen.
But he isn't interested in a possible future project for the overpass while the opportunity remains for its immediate undertaking.
"This is not a new ask," he said.
"This River Road exit is a critical piece of infrastructure for the future of our community. Our mayor and council are united on this and will continue to push for this. We are hopeful that through dialogue we can get this piece re-included in this project so we can get it right now, not just for our current residents but also for future generations."
Follow the author on Twitter @JOC_Evan.