Earlier this month, the Prince Rupert Port Authority (PRPA) got federal environmental approval for its proposed Ridley Island Export Logistics Project.
The preliminary cost estimate is $250-million for what will take about four years overall and require 250 workers.
"It's a fairly large and complex infrastructure project," says Brian Friesen, vice-president of trade development and real estate for the PRPA.
A joint project between the PRPA, federal and provincial governments and other unnamed partners, Friesen said final investments are not yet made, but he "fully expects" the project will happen.
A permit has been issued to clear the federal land, a forested site at the southern tip of Ridley Island, next to Porpoise Harbour.
Environmental approval was granted by Transport Canada, Fisheries and Oceans Canada, Environment and Climate Change Canada and the Canada Infrastructure Bank.
Early construction activity has started, Friesen says. The 71-acre area, part of the 115 acres designated for the project, will be cleared of trees and dug up. Drilling and blasting, to lower the elevation, will occur.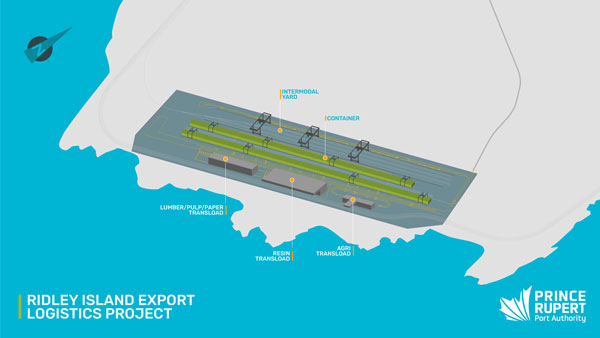 Friesen said 1.9-million cubic metres of rock from the site will be used to build up the rail embankments, bringing it to rail grade.
Plans call for three dedicated inbound and outbound loop tracks to be used by Canadian National Rail. The infrastructure will allow multiple, full-length trains to travel the system each day.
Products moving to the western port from the east include lumber, pulp, potash, resin pellets (i.e. polyethylene) and agricultural products.
"On top of that facility, a third party will build transload infrastructure," Friesen says.
The dedicated facility will receive products at multiple transloading stations where products such as potash will be transferred from rail cars to containers.
Friesen says much of the cargo is destined for the Pacific Region, which includes countries such as Japan, South Korea and China.
The project is forecast to create 400,000 TEUs (Twenty Equipment Unit or 20-foot cargo containers) of export capacity in the first phase.
Other elements of the project include upgrading access roads, construction of an intermodal container yard and various ancillary buildings and facilities.
The decision regarding additional commercial investment for the project will be made by June, Friesen predicts.
Prince Rupert's five product ports now handle about 1.3 million containers each year. It is Canada's third largest port after Vancouver and Montreal.