Kerr Wood Leidal Associates (KWL) has won a 2023 ACEC British Columbia (ACEC-BC) award of merit in the soft engineering category for its shoreline impacts calculator for changing climates (SICCC) that it developed for the Cowichan Valley Regional District on Vancouver Island.  
"Kerr Wood Leidal is honoured, humbled, proud and excited," said Craig Sutherland, senior water resource engineer in KWL's Victoria office. "We're pleased for us and for our client."
SICCC is a five-step procedure that estimates the impact on the shoreline of relatively modest changes in lake levels.
The tool estimates the change to the natural boundary, the line dividing the land from the lake, in response to variations in the annual water level from changes in water storage and climate change.
SICCC can be used to protect water resources that are under threat.
For example, recent droughts have been drying up B.C. rivers, putting community water supplies at risk, endangering salmon populations and damaging ecosystems that are culturally significant to First Nations and other communities.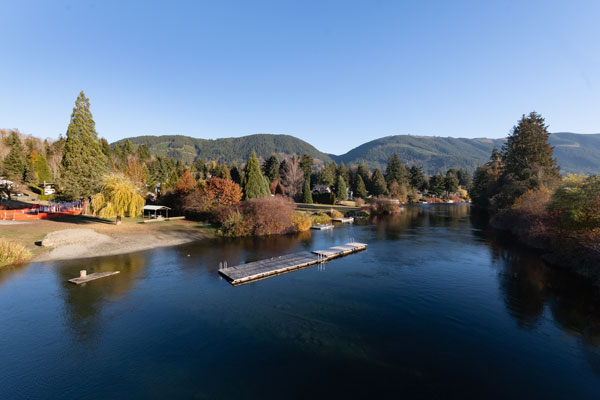 Constructing or upgrading weirs (low dams) at lake outlets allows more water to be stored during wetter seasons and released when it is needed during the dryer months of the year.
Sutherland says weirs are cost-effective and can be used in many watersheds to manage water supply and protect against drought. 
Weirs have a downside, however, because regulating lake levels can have a negative impact on shorelines. That possibility needs to be taken into account during the planning and permitting stages of a weir.
This is especially important on projects that can affect the owners of lakeshore property or sensitive waterfront ecosystems.
"There are approximately 700 residential and recreational property owners around Cowichan Lake," said Sutherland. 
A body of research on assessing shoreline erosion caused by large changes in water levels – for example, due to the construction of a new hydro dam – already exists, but estimating the impact on lake shorelines caused by more modest changes in water levels had never been done before. 
A lake's natural boundary is legally significant. It defines property rights and, because vegetation growth makes it recognizable, it is a useful benchmark for assessing shoreline change.
Because a lake's natural boundary is determined by observation, it is typically established in the field rather than calculated.
This poses a challenge for determining a future natural boundary; because it is still in the future, it cannot yet be observed.
What makes SICCC unique is that it combines extensive field observations with advanced statistics and computational modelling.
The SICCC tool is made up of five discrete steps:
At each shoreline segment, collect physical data (water levels, wave energy, sediment size, beach slope, vegetation) and from the data establish the existing natural boundary;
use the data to develop a statistically-based equation that predicts the natural boundary for any shoreline segment based on its physical characteristics;
using computational models, project changes in physical characteristics around the lake for various possible regulatory and climate change scenarios;
for each shoreline segment, use the projected characteristics and the predictive equation to estimate future natural boundary changes; and
use the changes in natural boundary elevation to quantify shoreline impacts.
KWL used the tool in its Cowichan Lake Shoreline Assessment Project for the Cowichan Valley Regional District.
SICCC was able to successfully evaluate the impact of raising the Cowichan Lake weir, which was built in the 1950s and updated in the 1960s.
The results of the modelling exercise for each lakefront property were delivered through a GIS (geographic information system) web tool that enabled shoreline stakeholders to visualize changes to the shoreline in detail.
Sutherland says there could be other applications of SICCC in the future, including a possible commercial version of the tool.
KWL's award was presented at the 2023 ACEC BC Awards for Engineering Excellence, which marked the 33rd presentation of the awards.