Residents of the City of Burnaby are getting two state-of-the-art recreational facilities in one as work on the new Burnaby aquatic centre gets underway.
Burnaby is building the new facility at a cost of $187 million, funded from its capital plan for the area. The facility will jointly replace the C.G. Brown Memorial Pool and Burnaby Lake Arena at the Burnaby Lake Sports Complex.
Both facilities were built in the early 1960s and, at more than 50 years old, have reached the end of their useful lifespan, according to the City's project page.
As of April, the C.G. Brown Memorial Pool has been completely demolished to make way for the new facility.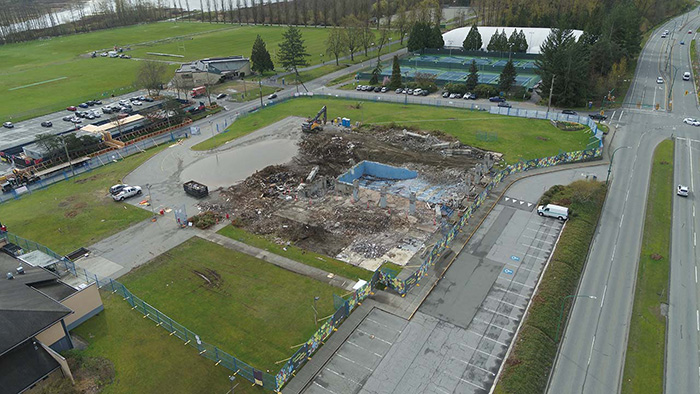 Burnaby Mayor Mike Hurley said the project is part of one of the largest capital construction programs in the city's history.
"We're a rapidly growing city and it's important we provide the amenities our residents need in order to thrive and live full, active lives," Hurley said. "In the next five years we have a vision to build and open an unprecedented number of new facilities."
He said the new 300,000-square-foot, three-storey aquatic centre should be a draw for residents from all over the city and is "unlike anything our city has seen."
"It will be a fabulous new amenity in the heart of our city for all residents to enjoy and it will solidify Burnaby Lake's reputation as a regional destination for sport."
The aquatic centre will be located at 3676 Kensington Ave. and integrated with the existing Bill Copeland Sports Centre.
The facility will feature an NHL-sized hockey arena measuring 200-feet-by-85-feet. The arena will have five change rooms, support offices, a multi-purpose room, skate shop and 200 seats for people to watch the games.
The city is also building an accessible, zero barrier 50-metre Olympic-sized swimming pool. The pool will have 10 lanes, recreational diving facilities and numerous features to support various types of activities such as a moveable floor and bulkheads.
The pool area will have 750 spectator seats – 550 in the upper area and 200 on the main level. The city can add an extra 250 seats on as as-needed basis.
There will be three diving boards ranging from one-metre, three-metre and five-metre heights.
When working through public consultation on the project, 22 per cent of respondents said they wanted the pool to provide swimming opportunities for personal fitness while 21 per cent said for fun and leisure.
As a result, the city is including three other pools in the aquatic centre: a six lane 25-metre pool, a leisure pool and a family-sized hot pool along with amenities such as a wellness zone, sauna and steam rooms.
General amenities include reception areas, multi-purpose rooms, a café, sports hall of fame displays, indoor and outdoor social areas, a public art display and underground and surface parking.
Design firm hcma said its main inspiration for the project was the ecological history of Burnaby Lake as a wetland and Indigenous fishing site.
"The lake was infilled by settler's activities, before being dredged to allow for recreation and rowing events. Over time, nature reclaimed the lake, changing it back to a seasonal marshland with salmon returning to their habitat," the firm writes on its project page.
It said the design was inspired by this tension between human building and natural reclamation.
Each of the larger structures thus features natural spaces separating them which contain elements such as the hot pools, universal change rooms, wellness features and shared social spaces.
Drawing more upon the area's natural history, the facility will be a benchmark setting project for energy performance.
According to hcma, it will be one of the lowest carbon emitting buildings of its type in the country, with the aim of being carbon neutral by 2030.
To accomplish this, hcma included all-electric building systems, a high efficiency envelope and water management system.
Among its environmentally-minded design features, the facility will use rainwater to top up the pool, divert 90 per cent of construction waste from landfills, draw power exclusively from BC Hydro, perform heat recovery between the rink and swimming pool, and use bioswales to manage stormwater runoff and preserve local water quality.
Construction is anticipated to last at least until the end of 2025.