SURREY, B.C. – British Columbia's premier was on hand Sept. 12 to ring in construction of a second hospital and a new cancer centre in one of the province's fastest growing municipalities.
Surrey, B.C.'s second hospital will add 168 more hospital beds to the region and a second emergency department with 55 treatment spaces and access to specialists through virtual technologies.
"Surrey has been experiencing tremendous growth and people are struggling to get the health services they need while health care workers are burning out. We're taking urgent action while carefully planning for the future. As we break ground on the new, state-of-the-art Surrey hospital and cancer centre, work continues on immediate actions to improve health services in the region, so everyone gets the timely, high-quality health care they need," B.C. Premier David Eby said in a statement.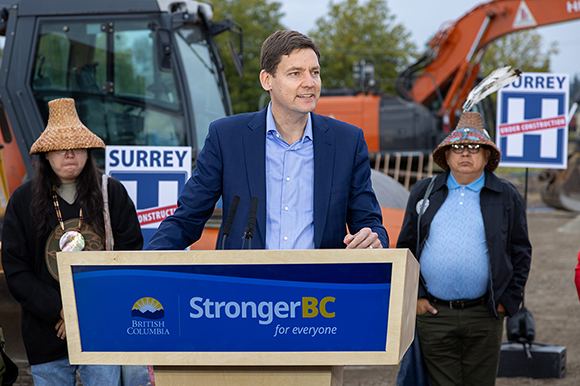 Fraser Health has executed a design-build agreement with EllisDon Design Build Inc., which will be responsible for completing the design and construction of the new facility, a release said.
The second hospital will also bring a medical-imaging department, including three CT scanners and two MRI machines, as well as a pharmacy, a full-service laboratory that can perform biochemistry, hematology and transfusions, and academic spaces.
The community will also see construction of a new BC Cancer Centre with a 50-room oncology ambulatory care unit as well as 54 chemotherapy treatment spaces and room for six linear accelerators for radiation therapy, two PET/CTs and a cyclotron.
The new hospital will be digitally equipped and fully electric. Construction of this new hospital and cancer centre is anticipated to be complete in 2029 and open in 2030. The total cost of the project is anticipated to be $2.88 billion, the release stated.