Planning is underway for a $1.5-billion redevelopment project at the Health Sciences Centre (HSC) in downtown Winnipeg. It will be the largest-ever health care investment in the history of the province.
The long-awaited venture will employ thousands of construction and skilled trades workers over a span of several years as they rebuild the core of the hospital and add capacity for care and surgeries.
"I spoke to a builder in town recently and they're ecstatic about this opportunity," says Jonathon Lyon, president and CEO of the HSC Foundation. "It's going to employ a lot of people and a lot of trades workers. It will be an enormous undertaking over many years at the HSC."
Plans call for a new facility to be built on the existing HSC property at Sherbrook Street and William Avenue, between the HSC Children's Hospital and a rehabilitation and respiratory facility.
As part of the venture, $75 million in upgrades will also be undertaken at the nearby Bannatyne campus of the University of Manitoba where infrastructure for the Rady faculty of health sciences will be expanded.
The HSC work will take place over six-years and entail rebuilding adult bed towers and replacing existing obsolete facilities, parts of which date back to 1897, and others that were built between 1911 and 1968.
Details and design of the new structure must still be ironed out, but the new building is expected to be at least 10 storeys in height and add about 240 new private patient rooms to meet current infection prevention and control guidelines as well as establish space for procedural and diagnostic imaging services.
The hospital's present emergency department and clinic spaces will also be expanded to support patient treatment and flow, and there will be space included to enlarge critical care units in future if needed.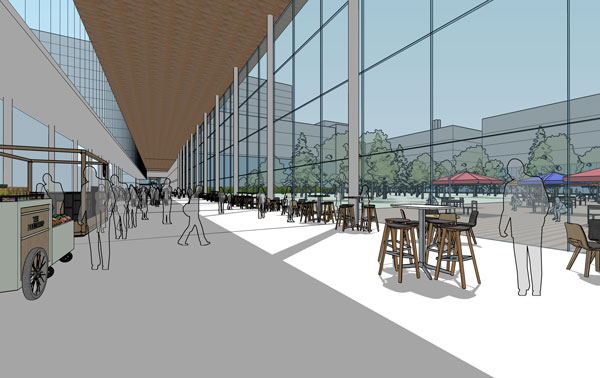 To pave the way for construction, a number of programs at the HSC will be temporarily moved into 70,000 square feet of space in a 10-storey building on Sherbrook Street next to the campus, known as the Manitoba Clinic. The six-year-old building is half empty and was put under creditor protection last year. The hospital foundation signed a deal to acquire the clinic and use it for outpatient services.
The original plan was to build new facilities to serve as temporary locations for programs while the hospital rebuild was being done, but acquisition of the Manitoba Clinic has moved up the start of the project.
"If you're going to build new you have to tear down and you have to move programs," explains Lyon. "Before you could really get into the project, you'd need five or six years just to build a building to put these programs into. That's where we saw an opportunity. This is going to fast-forward the redevelopment by a minimum of five years. We've got a sight line of potentially 11 or 12 years down to five or six."
The challenge will be the logistics of moving patient programs out of existing facilities and into the clinic.
"It is a chess game," says Lyon. "Our ability to acquire the Manitoba Clinic has enabled this to happen five years quicker so the planning will begin in earnest to move people out of those buildings so they can be torn down."
The foundation is presently working with leadership of the hospital to determine which clinical HSC programs will be moved into the clinic to accommodate the new construction.
Lyon, CEO of the foundation for 11 years, says the project is historic for the HSC and the thousands of families across Manitoba who count on the hospital for specialized care.
"This project will have impacts for all Manitobans for generations, so to have our foundation play a role in this development is unquestionably personally and professionally something that we're extremely proud of."
Lyon has a personal reason for seeing the new hospital built. In 2002, both of his parents had extended stays at the hospital after a car accident. He was a volunteer on the hospital board from 2004 to 2009 and also spent several nights in a ward at the facility in 2019 following a pancreatitis attack.
"You don't recover well when you're in a room with two others, or three others," he says. "You're separated by drapes and you have no privacy. I'm fundraising because I've seen first-hand the importance of health care and I know that government can't and won't do it alone, so there's a role for philanthropy."