An Alberta trade school is helping to build a pathway that will bolster skills development in Uganda.
The Northern Alberta Institute of Technology (NAIT) recently signed a three-year agreement with the Government of Uganda's Ministry of Education and Sports as part of the Uganda Skills Development Project, a program funded by the World Bank to improve technical school capacity to develop training programs in key industries.
The NAIT project is a twinning agreement with Uganda Technical College (UTC-Lira) where NAIT will develop a curriculum, provide equipment lists and infrastructure guidance, and train the instructors who will eventually teach at the school in Uganda, paying particular attention to road maintenance and construction.
"A lot of the needs expressed by the Ugandan government were bang on with NAIT's capabilities," said Ignacio Garcia, a senior account manager with NAIT's department of corporate and international training. "Their overarching need is to improve the capacity of their technical schools to deliver training in skilled capacities including road maintenance."
NAIT will also work with UTC-Lira management to revise their entire institutional plan and work with them to implement strategies around entrepreneurial and gender equity initiatives.
"The program caters to needs at a national level, but also includes both urban and rural areas. It teaches how to build in both an urban and rural setting, everything from asphalt to gravel," Garcia said.
"NAIT is not in this to build roads, but we have the instructors who know how to do it, and we have the curriculum for it."
Dalpreet Virdi works at Brookfield Residential in Edmonton as an estimator and is also a NAIT alumni and road construction subject matter expert who will provide guidance to the project and lead the push for curriculum adaptation.
"I became involved because I'm a continuing education instructor for construction and estimating fundamentals at NAIT and the program is run through the same department. I was excited to share my expertise internationally," Virdi said of his trip.
"The experience was phenomenal, it was very interesting to see where the level of development was in Uganda with road work and infrastructure, and the people were very welcoming and friendly."
NAIT offers a roadbuilders certificate supported by the Alberta Roadbuilders and Heavy Construction Association which teaches engineering and construction best practices related to transportation, pavement materials and geotechnical applications.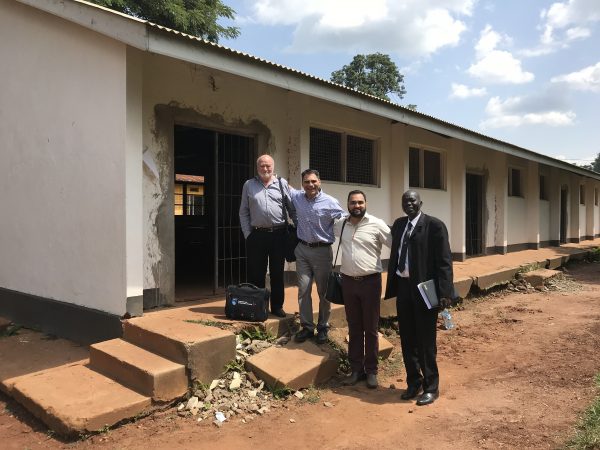 "We'll utilize this program and adapt it for use in Uganda," Garcia said.
The main topics covered in the Ugandan curriculum are bridge building, road construction and maintenance, soils and materials testing and topography. The curriculum will be taught over eight months. 
The curriculum, Virdi said, focuses on Uganda's infrastructure needs.
"We learned many contracts were going to foreign companies, mostly Chinese and Arab companies," he said. "We want (the Ugandans) to be able to execute their own projects to an international level of quality, to see what they need in terms of executing with their own workforce."
Before the courses are implemented at UTC-Lira, eight Ugandan instructors will spend three weeks in January 2019 at NAIT learning the curriculum during their own school's break. Training in Uganda will begin in August, with NAIT instructors taking turns teaching portions of the program in Lira.
Ugandan instructors will co-teach the program in this second phase and NAIT also work with vocational institutions aligned with UTC-Lira in Ora, Kitgum and Kalongo.
Part of the program, Garcia said, involves refurbishing a 1950s-era building and converting it for use with the training program.
"They have newer buildings on campus, but the point is to improve this building. We're going to redo the windows and doors and rebuild the steps. There are currently four classrooms and one will be turned into a shop area, with all the courses taught within the building," he said.
"We're not demolishing the building, we're just polishing it up. Structurally it's sound, it just needs a little TLC."
While the current program focuses on Uganda, Garcia said NAIT trainers work all over the world.
"We help build schools all over. Not just in developing countries. Right now we're training people from the United States. I've been at NAIT for 21 years and all I do is work in the international sphere," he said.
Garcia stressed NAIT is only acting in a training capacity and that Uganda will own the program.
"NAIT will have no equity, we act as consultants. We design it, but the Ministry of Education and Sports owns everything. They own the curriculum and they'll train their own people," he said.