A perfect storm may be brewing in Canada's construction industry as apprenticeship registrations have declined significantly due to COVID-19 and many journeypersons are set to retire which could lead to a shortage of some trades, according to a report released recently by the Canadian Apprenticeship Forum (CAF).
The report indicates the pandemic has taken its toll on the apprenticeship system, heightening the risk that there may not be enough certified journeypersons in some building trades four or five years from now.
Trades such as bricklayers, boilermakers and welders are not training enough apprentices to meet the demand nationally.
"Initial data from 2020 is indicating that apprenticeship registrations have declined significantly," CAF project manager and researcher Emily Arrowsmith explained in an emailed response to questions. "When further data becomes available from 2020, we will have a better understanding of the impact."
The report, titled Apprentice Demand in Red Seal Trades: A 2021 National Labour Market Information Report, was done by Prism Economics and Analysis. It draws together the latest apprenticeship trends and projections to provide a forward-looking assessment of demand and supply for trade certification.
While the industry will need 1,947 individuals to obtain bricklayer certification in the five-year period from 2021 to 2025, the number of projected completions is 1,143. For boilermakers, 1,847 are needed but only 766 completions are expected, while 10,032 welders need to be certified but just 5,868 are expected.
Arrowsmith said that preliminary results from Statistics Canada indicate that overall apprenticeship registrations across Canada dropped 43 per cent in 2020 and certifications declined by nearly 49 per cent.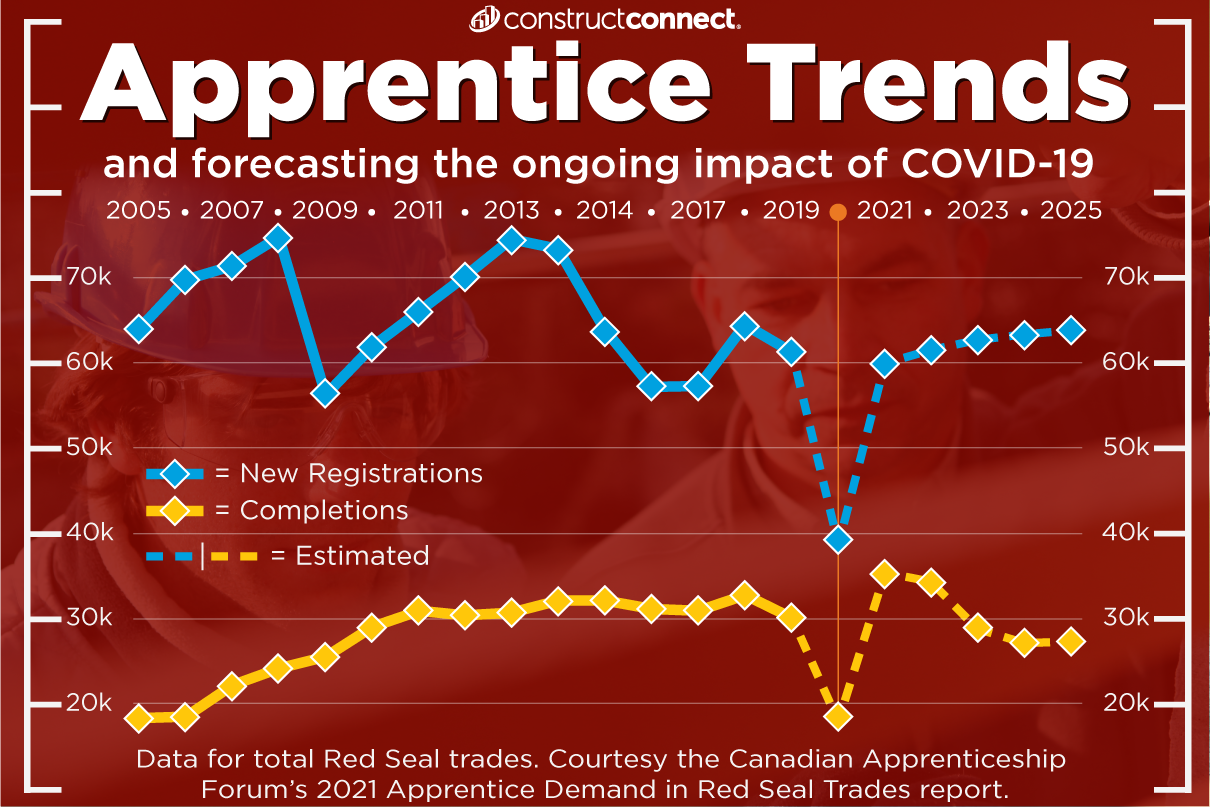 "These drops are a concern," she notes, "because it means we could potentially not have enough certified journeypersons four to five years from now."
According to the report, the COVID-19 pandemic has presented unprecedented challenges to Canada's apprenticeship system, as mandated shutdowns and social distancing measures created new administrative challenges and imposed many obstacles to the delivery of in-school training, testing and certification.
"These impacts contributed to significant declines in new registrations and completions during 2020," the 41-page report concluded, "and are likely to reduce the near-term numbers of new certified journeypersons."
Constraints on the supply of new certified journeypersons, combined with an aging workforce, heighten the potential risk for the future capacity of Canada's skilled workforce, the report stated.
Barriers due to COVID-19 resulted in apprenticeship completions declining to 18,200 in 2020, the lowest level since 2005. Women continue to be underrepresented in most apprenticeship programs. In 2019, they accounted for about 11 per cent of new registrants and 10 per cent of program completions in the top 15 Red Seal trades.
Although new registrations and certifications are expected to rebound in 2021, the report noted the impact of COVID-19 has been significant and is likely to increase the supply risk for new certified workers over several years.
According to the report, apprentices who have been laid-off are struggling to earn hours, prolonging the length of their program, and delaying certification. With some large construction projects delayed or cancelled, it also makes hiring new apprentices or rehiring upper-level apprentices more challenging.
A survey with 681 respondents who were mostly apprentices indicated the rate of unemployment for apprentices increased to 29 per cent during the pandemic from nine per cent before COVID-19 hit. Thirty-two per cent of respondents said they did not expect to work with their most recent employer again and 34 per cent were unsure. Meanwhile, 23 per cent of respondents were considering leaving the skilled trades.
Over the next five years, the report suggests Canada will need 163,785 new journeypersons to sustain workforce certification levels across 56 Red Seal trades in Canada. To keep pace with the requirements, more than 375,026 apprentices will be needed and 195,800 of them will be required for the top 15 Red Seal trades.
CAF executive director France Daviault said the findings are important because it gives employers an incentive to hire apprentices to ensure the skilled trades workforce is ready to fill the gaps created by retirements.
"Well-trained and productive apprentices are vital to the future of the Canadian economy as journeypersons retire. This apprenticeship-specific labour market data indicates the trades in demand, providing various industries with the insights they need in their HR planning. It is crucial we continue to offer apprentices and employers the supports they need to facilitate quality training and completion now and in the post-COVID-19 recovery period."
Moving forward, the report notes the economic and employment growth outlook suggests that between 2021 and 2025, new registrations in Red Seal programs will see a recovery in 2021 with continued growth thereafter in line with employment growth, rising from 59,800 to 63,800 new registrations per year.
According to Arrowsmith, employers can play a role in boosting the number of apprentices by championing best practices and selecting motivated and committed journeypersons to be mentors to apprentices.
"Offer an orientation, provide a vision for the apprentice and explain the career path within the company," she said, as well as organize regular check-ins and provide feedback about skills gaps and strengths.