B.C.'s construction industry is getting a lot of international play as a video of "that singing construction guy" has drawn viewers from across Canada and the U.S.
That singing construction guy is Gino Gerussi, nephew of actor Bruno Gerussi, star of CBC's long-running The Beachcombers series. 
Singer Gerussi's video shot at Jacob Bros Coquitlam worksite showcases his version of the song Just in Love With a Girl, written by legendary jazz songwriter Miles Black.
"It took them three weeks to convince me to do it," said Gerussi, as videographer Rayden Wickop pitched the idea of an onsite shoot with Gerussi donning a hardhat and construction gear.
What transpired has captivated audiences as the funny, light-hearted video has Gerussi singing and dancing with several construction crew members joining with high-stepping, chorus-line kicks.
The storyline begins with The Boss, who is Jacob Bros project superintendent Chris Watkins, saying he has heard Gerussi can sing.
Gerussi denies it and Watkins tells him to then "keep his day job." 
Gerussi fades into a dream with him singing about his special lady. At the end Watkins awakes him from "sleeping on the job."
Gerussi describes himself as a "crooner" doing jazz-pop geared to adult contemporary market.  
His style combines elements of Michael Buble blended with hints of the old classic masters such as Dean Martin and Frank Sinatra to evoke a youthful sound that is uniquely his.
Shooting the video at Coquitlam's Buchanan Square upgrade project turned out to be a lot of fun, said Gerussi. As on most construction sites, crews from different trades are often distant. This project drew everyone together, he said.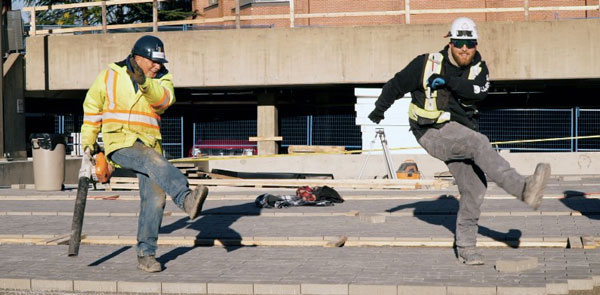 "We got Chris Watkins and other trades involved in the video and there was all this camaraderie and the morale at the site went through the roof," he said.
Someone sent the video to a television station and things began snowballing as newspapers and television newscasts spotlighted the singing construction guy.
"It got picked up by an American station and podcast with them," he said and is now running throughout the U.S. with radio stations airing his tune.
Gerussi said he is surprised at the attention the video has drawn, but pleased it is focusing on his style of music. He's heard from fans, who say the video has put a smile on their face and dignitaries who have drawn attention to the video.  
The publicity and success has prompted Gerussi to start planning a full album.
He has been producing music for 40 years. He grew up in a musical household, his father Dino owned a music store and played in a band at a local nightspot where Gerussi would join him on stage on drums for the closing number when he arrived with his mother at closing to pick up his dad.
He started singing lessons at age 13 with the training leaning towards opera.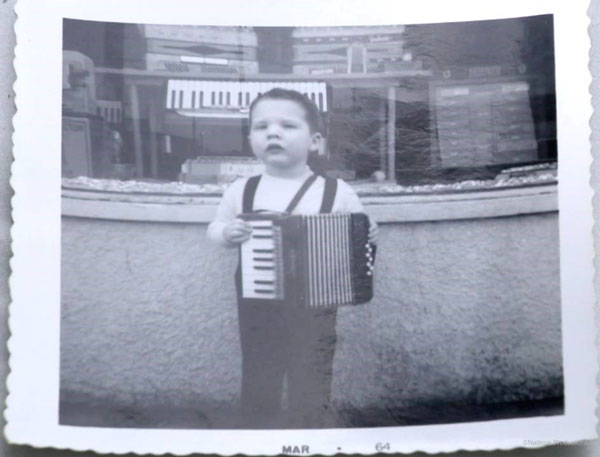 "I never performed opera," he said, but the techniques helped him with the technical skills of voice training over the four years he took lessons. He began singing and performing at age 16 and continued in the music business.   
"I was making my living as a musician before the pandemic hit," said Gerussi, who has a cover band called Dance Mob.
He also has an in-house studio where he produces material and commercials. 
That all came to a screeching halt when COVID-19 hit and Gerussi remembers the day last year.
It was March 17 and his band was booked to play a St. Patrick's Day event. Within in hours the green light turned red as restrictions crashed the band booking and future business fizzled.
He returned to working construction, which he had done in his early 20s.  
Gerussi, a single father of two, went hunting for a job and his son's girlfriend's father owned KTW Construction, a business started by Dan Andreassen, which was renovating and builds Starbucks outlets at that time. 
"He called me and said he heard I was looking for a job," tells Gerussi, who readily accepted. 
But, in fall last year business dropped and KTW Construction put Gerussi on loan to the Jacob Bros.  While working in construction he was still working with song writer Miles Black on new songs that suited Gerussi's singing style and issued Just in Love With a Girl which was gaining market favour. 
The need arose for a video that sparked the idea to shoot at the construction site.
"I've known Miles for about 20 years," he said. Five years ago they collaborated on Billy Joel's She's Got a Way which received local and national play. 
Black and Gerussi have since written a second song called Losing Myself. 
Gerussi, who is now back with KTW Construction, said he loves what he does and is a musician at heart.  He didn't like working construction when he started.
"But, now I kind of like it — it is OK," he said. Onsite as a labourer he does whatever needs to be done, whether it is digging a trench or installing equipment. 
He currently has a line on another video for a construction company and is open to more projects and performing at construction industry functions or doing commercials. 
While the Coquitlam video making the rounds has foreman Watkins advising Gerussi not to quit his day job if he can't sing, the writing is on the wall.
He will go back to music, although it always amazes him that each new experience gives his career a kick-start when things look down. 
A difficult marital split and the pandemic tanking his music business have led to some difficult times but like a song For Those Who Believe that he co-wrote with Black to inspire Olympians, he never gave up on going the distance.
"I've never given up on my kids and I've never given up on my music," he said.