The new communications manager for the International Union of Operating Engineers, Local 955, has had to overcome considerable health and career challenges to get to where she is today.
Red Seal certified mobile crane operator Ashleigh Kaliszuk accepted the position in March, capping off a 12-year-long career operating, "a little of everything," including rough terrain, all terrain, crawler and friction machines.
Now living in Edmonton, she didn't start out to be a crane operator. Her first major job was erecting scaffolding at construction sites in Fort McMurray.
"A friend of mine was working on a big project at an oilsands site, so I asked him if any trades were hiring. He told me they were looking for scaffolders and gave me an email address to send my resume. After I sent my resume, I googled what scaffolding was because I had no idea at the time. I ended up getting the job, and that was how I got into industrial construction."
Unforeseen circumstances, however, altered that career choice and the direction of her life a year later.
She was working on a jobsite, helping her crew, when she was suddenly hit with some form of paralysis that prevented her legs from moving.
"Everyone agreed I should go home, get some rest and come back to work when I felt better. At that moment, I never would have predicted what was to come."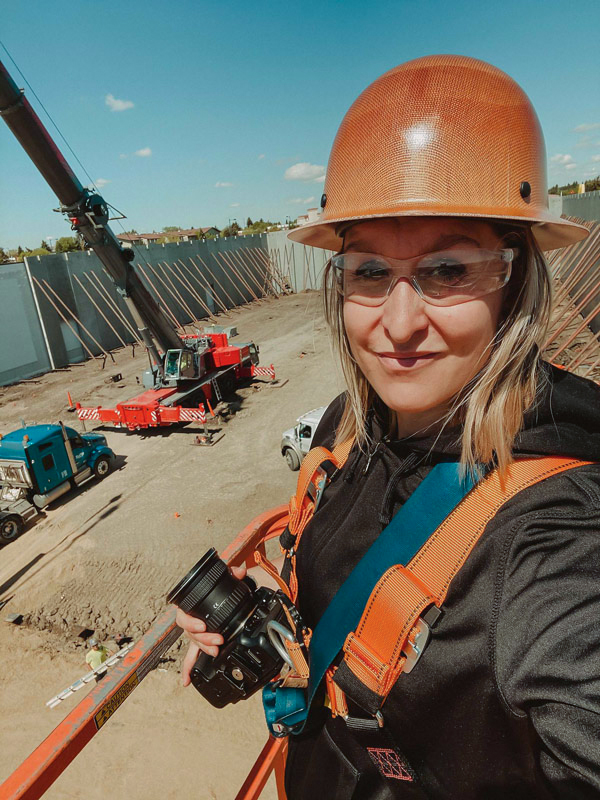 The condition continued to deteriorate and within 24 hours she started suffering from "intermittent paralysis" and had to be admitted into emergency at a local hospital.
Although not agreeing with the medical diagnosis, Kaliszuk says she knew she would never work as a scaffolder again because of its physical demands and struggled with the attacks for the next four years.
Forced to find less labour-intensive work, she enrolled in a telehandler forklift training course, which is required to operate a telehandler forklift or zoom boom. 
After completing the mandatory 300 hours of zoom boom work, she was indentured into a three-year, 4,500-hour mobile crane apprenticeship.
As described by Kaliszuk, it was not an easy or pleasant experience. Along with coping with unsafe working practices in a number of non-union companies, she was the target of bias from the male crane operators who, on occasion, sabotaged her crane.
"I hated every minute of it. But I was determined not to be a victim and to complete the apprenticeship. Now that I am a union member, I can verify that sexism is much stronger among the non-union trades," says Kaliszuk, who has been member of the International Union for six years.
Despite those hurdles, she completed the apprenticeship and obtained her Red Seal certification.
Her most challenging project was operating a 250-ton lattice boom crawler on a pipeline replacement at a tank farm. But it wasn't the actual work that was the challenge. It was the attitude and procedures of the non-union contractor that was renting out union cranes and operators, she says.
"They didn't have any workers that knew anything about cranes and refused to pay for crane supervision. It was difficult to get the job done right and safely. They also disliked women, and since I was operating the largest crane on site they treated me very poorly any chance possible." 
This past March she also obtained her Blue Seal Certificate, or Achievement in Business Competencies Program, offered by the Alberta Apprenticeship and Industry Training to individuals with valid Alberta Journeyperson Certificates. Acquiring the certificate required taking 150 hours of business courses through the Northern Alberta Institute of Technology.
Those credentials were also enhanced by studying photography, blog post writing and other subjects during down times on construction projects and she believes that helped her obtain the communications manager's role.
Kaliszuk has channeled her experiences into becoming a champion for women entering the trades, through efforts such as writing the 15 Tips For Women New to Construction article for her blog. Reaction to the article was very positive from the very day it was posted.
"It certainly spear-headed my passion work for advocating for women, and I haven't stopped since." 
Apart from blogging, she makes an effort to build relationships on the jobsite and has helped women overcome hardships at work when they didn't have anyone else to turn to, she says. 
In her role as communications manager, she interviews union members and then posts their stories on social media. She also serves on the union's women's committee as well a broad-based "inclusion in trades" committee.
"Both offer a safe space for women to discuss ways to improve diversity and inclusion in the construction industry."
Asked about the physical and mental attributes potential mobile crane operators need to be successful in their chosen field, she cites patience, critical skills, on-the-spot problem solving and the ability, in the case of crawlers, to build the cranes right onsite.