Caitlyn MacDonald, a concrete lab technician with CarbonCure Technologies, didn't think she would end up with a job in the construction industry but she's definitely glad she did.
MacDonald studied environmental engineering technology at Nova Scotia Community College. During the summer, she would work with her father doing residential maintenance and construction work.
"Over the summers I was not able to find student positions that really interested me or that paid a decent amount. They were all minimum wage and I had to pay my way through school somehow so my dad offered to let me come to work with him just doing small tasks," said MacDonald, whose father worked as a handyman for a company.
"I ended up getting into the maintenance, so fixing taps, fixing cupboards, patching walls, painting and that progressed. Each summer I would go back and I would do a little bit more. I got involved in redoing an entire apartment so ripping the walls entirely, gutting the place and being there from start to finish as we built it back into apartments for student living. That's where it really piqued my interest."
MacDonald said Women in Construction Week is important and a time to encourage women to consider a career in construction or try it out if they're not sure to see if it's a good fit for them.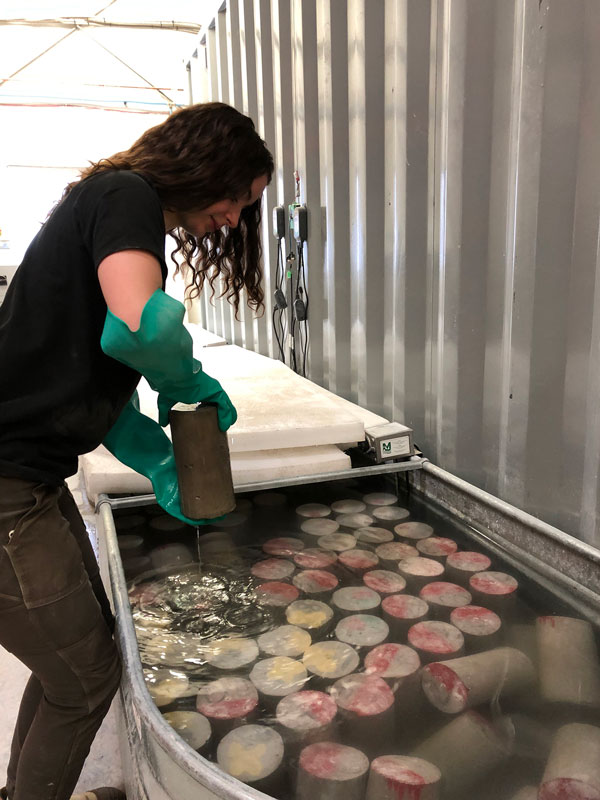 "I think it's very important for women to know that they are welcome in this industry and that they shouldn't be afraid to put themselves out there and do something that they're not quite sure of," MacDonald stated.
"There is no harm in trying. Like me, I didn't think I would like this, and I love it. This is something I would like to continue with and see where it can lead me. It can take everyone somewhere different that's the best part about it."
Spending time doing maintenance work as a student inspired her to work in construction once she graduated. She started in her current position in the research and development department at CarbonCure in August 2020 after completing school in May.
"After graduation I was still working, applying for jobs and a friend of mine reached out and said, 'I am working for this company called CarbonCure. I think you would really like it. They're hiring, I told them about you, you should apply,' " MacDonald said. "I did just that and I got hired on and that's where I've been ever since."
CarbonCure, headquartered in Halifax, manufactures a technology for the concrete industry that introduces recycled CO2 into fresh concrete to reduce its carbon footprint without compromising performance.
"I'm concrete lab technician. There are no two days the same," said MacDonald. "What we do is we will make concrete, we will do compressive strength testing, we will do furnace testing, we will see how our technology responds to different producers and their products, see how we can help them out."
She recognizes there are some challenges to working in a male-dominated industry. As a maintenance worker, there were times when she was not taken seriously.
"I would go in and they would automatically be asking 'who are you with?'" she recalled. "Sometimes even now when I go into stores if we need supplies, some fittings or some hardware people always rush over and say 'you look like you need help' and I tell them 'I don't need help. I know what I want and I know what I need.'"
When she got hired at CarbonCure, she said she was surprised by how diverse and inclusive it was and how many women worked at the company. When asked what she likes most about the job she said the culture and the people.
"I've never worked somewhere where it's so focused on making employees happy and making them want to come to work every day," she said. "We have organized events coming up we are trying to plan something for our team.
"They really focus on making sure everyone is happy and they feel welcome and included."
Follow the author on Twitter @DCN_Angela.