When B.C. Red Seal plumber and Class B gas fitter Andrea Durdle first began her job search after apprenticeship training she found nobody willing to take her, despite concern from the province and industry for years over the shortage of skilled trades people. 
After a career in the culinary sector, Durdle wanted a change. So, in 2006 she moved to Victoria from Nanaimo to join the pipe trades pre-apprenticeship training program at Camosun College. 
"It was never really anything that was pushed when I was in high school, but I really fell in love with the program and did really well in school," said Durdle.
Her instructors' comments were glowing. They wrote in her final evaluations that if given the opportunity, she would make an excellent tradesperson.
Durdle said she was somewhat oblivious to what he meant by "if." She assumed finding a job would be a cinch.  
After moving back to Nanaimo, she began job hunting and there were almost no takers. 
"I pounded pavement for days and days on end and applied to what seemed like every plumbing company in Nanaimo," said Durdle. "I found out that there was a lot of bias."
But eventually she found a mechanical contractor willing to take her on. Durdle was able to complete her entire apprenticeship at the company, doing all manner of projects including service work, commercial construction and stick frame homes.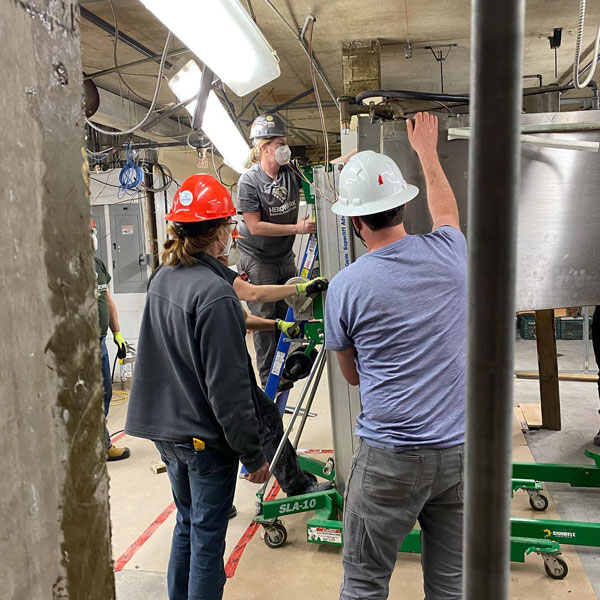 She also was able to connect with industry mentors. Her site superintendent never questioned her abilities and had no problem giving her complex tasks. 
"He never looked at me like I was the token woman on the job," she said. "I was just like any other apprentice who was there to learn. That is what my hope for the industry really is, that you are not looked at as your gender or another underrepresented group you belong to, you are looked at as an apprentice that is there to work and learn." 
However, she still faced comments questioning her physical abilities and even seven years later when her resume was full of experience, she had trouble finding work in Victoria. 
"Walking in and dropping off resumes as a woman really was the same experience I had as an apprentice, and at this point I was a journeyperson," said Durdle. "It's the same barriers over and over again." 
She believes while these barriers still exist, progress is being made with policies like B.C.'s community benefits agreement which includes provisions for hiring women for projects. 
"While things have shifted some, I don't think they have moved enough to make a significant impact," she said. 
Durdle is now back at Camosun but not as a student. She is a pipe trades instructor and also works on the school's Women in Trades program which gives women the chance to explore a variety of trades careers. She is also working on obtaining her provincial instructor diploma.
Durdle said the school's programs aimed at recruiting women are seeing high participation but she urged companies to implement inclusive hiring practices so graduates don't have to face the same struggles she did. She said ads showcasing women in trades roles also go a long way in helping other women see themselves doing that work. 
"That really attracts and brings in other women who can see that the company is supportive of female apprentices," she said. "That visibility is important."
When it comes to bullying and harassment, she asked companies to take action when it comes to light and advises her students not to put up with abusive behaviour. 
"Taking that kind of abuse is not good for you," said Durdle, who added it's important to build up one's self confidence to confront those who question your abilities. 
For those already in the industry, Durdle urged them to be willing to mentor young women and stand up for them if they are not treated fairly. 
"These men on these sites have mothers, wives and daughters and I doubt they would want them to be treated the way some women are treated on some sites," she said. "Shut down those behaviours and intervene. Be an ally"
Despite some of the challenges, Durdle noted the trades offer immense benefits. Not only is the pay high, you get to work outdoors with your hands on complex problems.
"I love the constant problem solving and using your brain while at the same time being physical and doing a physical job," she said.
Follow the author on Twitter @RussellReports.