Tracy Primeau had originally planned on being a history teacher. But after graduating as an arts major from the University of Waterloo, she figured it was not the career for her.
"I found that I didn't want to spend the rest of my life with teenagers, so I started to look for something else," she recalls. "My dad worked at Ontario Hydro and he said, 'Why don't you apply to be an operator?'"
Primeau heeded her father's advice and applied for a job with the company. It was the right move. She was hired at Pickering Nuclear Generating Station. Now retired, she spent more than 30 years in the nuclear industry.
She started as an operator in training at Pickering and became a stationary engineer in the field before eventually transferring to the Bruce Power plant and becoming an authorized nuclear operator where she was trained to run reactors from the control room. Later, she became control room supervisor and afterwards was promoted to the position of shift manager in charge of operations staff at the entire plant.
She was the first woman to be in charge of the control room at Bruce A.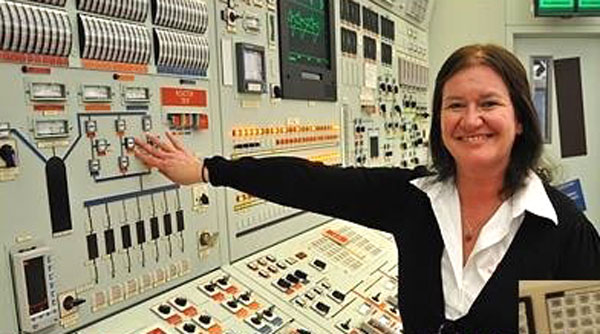 The mother of two sons, an Indigenous woman, is on the board of Ontario Power Generation. She was a founding member of the Ontario Hydro Native Circle and served as chair of that organization and the Bruce Power Native Circle for many years. Though retired, she is still very active in the local community.
When Primeau started her career, it was a man's world. There were no mentors for her.
"Women weren't actually working in the nuclear stations until 1985," she says. "You could work for the company but not in the stations. So, there wasn't a lot of us."
Times were different.
"There were pinups in the office," she recalls. "There was a lot of, 'You're taking a man's job. Why aren't you taking care of your husband?' There was a lot of judgment. But I just worked harder. That's how I proved myself. Do I think that's right? Absolutely not. I don't think women should have to work twice as hard just to be respected, but that was the case then."
On the job, Primeau got along with most of her colleagues because she acted like one of the guys. She fit in mostly because she accepted the cursing and didn't rock the boat. But she wasn't being true to herself.
"I was pretty cool with the cursing, and none of that really bothered me. It was fine until I got pregnant. Once I got pregnant, it was like they realized I wasn't one of them and they started to treat me differently.
"I even tried to play golf and I was like, 'This is so not me.' I would rather read a book in my spare time or go for a walk. I was just doing it to move up," she says. "So, I was unhappy, and once I let that go and refocused on being myself and being authentic, I just got more opportunities. I became more successful."
There were obstacles. As she transitioned from being in the field to the control room, she encountered resistance from some men.
"There was a certain generation that wasn't really cool with it. They were like, 'We don't want a woman in the control room, they'll be emotional.'"
But Primeau persevered. She also gained a lot of respect and trust because of her experience in the field. Most shift managers have an engineering or physics background and were not from the shop floor as she was.
"I'd lived in work boots, I'd put on plastic suits every day, I'd done all the jobs. So, when I said to them, 'Look, I need you to do this,' and they said it's going to take two hours, I'm like, 'No it takes 25 minutes, I've done it before.' Because I'd done all that stuff, I ended up having an easier time.
"That's not to say that there weren't people who walked into the shift manager's office and asked me to photocopy things. That would happen sometimes. But once people knew where I came from, it was actually quite enjoyable."
Although there were struggles, Primeau is glad she chose the career path she did and says it opens up many doors.
"I really think you can kind of go anywhere with the trade. You learn how to run boilers and turbines and, in my case reactors. Maybe it's a chemical plant, maybe it's a hydroelectric plant, you can work in a hospital, you can work at a dam, you can work at any of the chemical companies. There are all kinds of opportunities.
"Being a nuclear operator, once you're trained in how everything works, you learn everything on the reactor side and the turbine side, so you're learning about all the pumps, and the turbines and the generators and transformers. You can take that not just anywhere within your company, but even outside your company."
Her advice to young women?
"I always say, be authentic. Don't try to be someone you're not in order to fit in. I would encourage all women to be themselves because you'll be happier and more successful."