If you were to ask most people to describe a job in construction, they'd probably say pounding nails into a two-by-four, pouring concrete into a form or maybe digging a trench with an excavator.
But Lisa Stevens wants young people in B.C. who are looking for an exciting and rewarding career to picture such activities as skiing, riding a motorcycle or rock-climbing when somebody says "construction."
Stevens, who is chief strategy officer of BC Construction Association (BCCA), is in charge of Builders Life, a recently launched BCCA campaign to attract new apprentices into the trades.
"The key message for jobseekers is that this is the kind of life you can live as a successful builder in B.C.," said Stevens. "It's about how your life is going to be, not just what your work is going to be. Its message is aspirational."
B.C.'s construction industry is looking for apprentices. Construction faces a long-standing skilled worker shortage during a time of high demand for services.
Stevens says the point of the Builders Life campaign is to find apprentices for employers to hire, and it does it by promoting the lifestyle that people working in the trades can enjoy.
"For example, I'll bet one-half of the boats you see moored at the marinas in B.C. are owned by people who work in construction," said Stevens. "They have the means to live the B.C. life, as well as the free time."
Builders Life is aimed at people who are either unemployed, under-employed or looking for something better.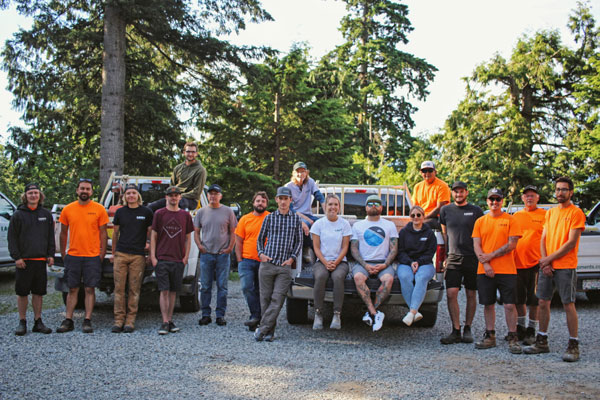 The campaign, a first for BCCA, is multi-channel, and will operate on radio, TV, social media, billboards, bus shelters and public transit.
"The goal of the campaign is to change the conversation around the choice of career," said Stevens. "Our goal is to find 2,100 apprentices over the next 18 months, and we'll be looking everywhere in B.C."
Stevens says Builders Life has only just begun, but it's already showing signs of success.
"We know it's working," she said. "There have been many visits to the website and many of the visitors have used the application form and they are excellent candidates."
To encourage B.C. contractors to hire all these enthusiastic apprentices, BCCA is offering some financial incentives that many companies will find attractive.
Employers will receive $5,000 for hiring or registering any new first-year apprentice in one of the 39 Red Seal trades, plus an additional $5,000 if the worker self-reports as a woman, new Canadian, LGBTQ2S+, Indigenous, a person with a disability or a visible minority.
Employers can receive payments for up to two first-year apprenticeship positions per year during the two years of the drive, for a maximum of $40,000 per employer.
There are no conditions on how employers spend the money they receive.
"I encourage every trade contractor to access this funding," said BCCA president Chris Atchison. "I also ask every general contractor to make sure their trades on their projects are made aware of the money available. If you have 10 trades, and each accesses the funding, that's $400,000 to the combined bottom line."
Lacey Developments Ltd. of Mission, B.C. was one of the first adopters of the program.
"I heard about the grants from an email," said business manager Lesa Lacey. "When I saw BCCA was a funding partner, we were thankful to sign up as soon as possible."
Lacey Developments employs more than 15 apprentices in four different Red Seal trades – painting, plumbing, carpentry and heavy equipment operator.
Lacey says apprenticeship improves the company's team skill levels and adds depth to the apprentices' careers in construction.
 "Our first apprentice registered in the BCCA program is in carpentry," she said. "After that we'll be registering a first-year tradeswoman in heavy equipment. We've been a sponsor of apprentices for many years, and the grant will help us with onboarding and buying clothing and other necessities for our team members."
Lacey says she has seen "tremendous" interest in the BCCA's apprenticeship funding.
"I see a lot of companies that might not have sponsored apprentices in the past taking the steps to start registering their team members now," she said. "We often hire employees who have been with other companies for years, but have never been registered as apprentices. I think the BCCA grants will really have companies starting to re-engage with their apprenticeship programs internally."
To find out more and to apply, go to https://bccassn.com/skilled-workforce/apprenticeship-services/
Applicants will be contacted by BCCA to assess their eligibility and apprenticeship requirements.