You have to know your audience.
On April 22, dozens of industry members, parents and kids gathered at an event that highlighted technology as a way to get youth interested in a career in construction and skilled trades.
"We're trying to drive interest in technology in the process with young people to make them recognize that there is more to the plumbing trade than cleaning toilets," said Steve Robinson, owner of Pitt Meadows Plumbing and Mechanical Systems Ltd., at the company's Future of Work event in Maple Ridge, B.C.
Like construction and trades companies across B.C., Pitt Meadows is feeling the labour shortage. Robinson said his business is currently hiring for 19 different roles and needs about 45 new employees.
"The problem is so big because we just don't have adequate people," he said.
Robinson said the weekend event was about exposing youth to the possibilities of the industry and creating an event where parents could "engage with their kids."
Amy Marks, YouTube personality, VP at Autodesk and construction expert known as the "Queen of Prefab," spoke at the event and emphasized the importance of bringing young people into construction.
"It's a critical state of emergency," Marks told the Journal of Commerce.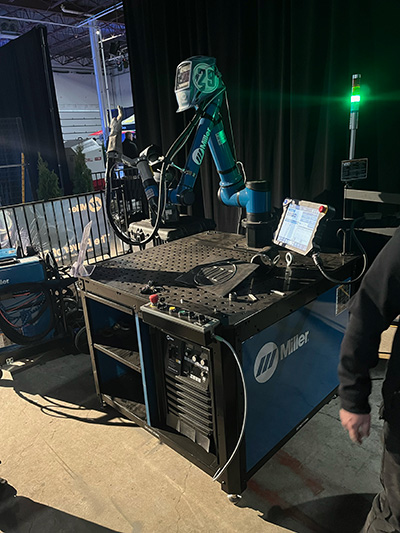 Marks said just as the world rightfully focuses on issues of sustainability, the notion of industry sustainability cannot be left behind.
"We have to really make sure that we can sustain these industries. We need more housing, more hospitals, more schools, more manufacturing facilities, right now," Marks said.
It's imperative the industry not only reach out to young people, but equally so to diverse groups that it has not traditionally drawn labour from such as women, she said.
Technology is seen as a natural bridge between newer generations and the old, yet evolving industry.
"We thought if you get a kid into this kind of environment, where they can recognize how much technology drives the industry ― manufacturing, design and construction ― they're going to realize, 'maybe playing games on my phone at home has actually been a good thing for my career,'" Robinson said.
Marks told an audience of youngsters the industry needs AI experts, drone operators, computer programmers, virtual designers and robotics experts among many other tech-based jobs. She also emphasized the fact that being in construction doesn't mean working a trade; you could be in sales or administration or human resources, for example.
Daniel Kaiser, 18, was on the trade floor with his father Michael. Daniel had previously worked at Pitt Meadows and is considering a career in the trades.
"I'm definitely interested in getting my Red Seal. Regardless of what my career may end up being, I'm interested in being in the trades," he said.
Daniel said his experience working at Pitt Meadow's taught him the trade community is a great thing to be a part of and he's interested in exploring what that career may look like. He is currently leaning towards pursuing his Red Seal in the plumbing trade.
His father Michael, a local teacher, said he brought his son to the show to help him understand the options that are out there once he graduates from high school this year.
"He's doing well, he's getting straight As and he's got a future ahead that he's got to make some decisions about. I just want him looking at what those options are," said Kaiser.
Jeremy Lake, district manager with Miller Electric Mfg. LLC, was at the event displaying a 1,500-pound collaborative welding robot.
"This is for monotonous jobs. Maybe you're doing a high-volume worth of parts and the guys are just tired of welding the same thing day in and day out," Lake said.
As a tech salesman, Lake said he knows how important an emphasis on technology is for bringing young people into the trades.
"It certainly catches their eye. I was at Skills Canada BC on Wednesday and, man, all the kids flocked to something like this. Robotics and automation are certainly something that the kids are interested in," he said.
But the relationship between tech, youth and the future of the industry is not one sided. Marks said the industry is converging with technology and it is up to today's tech-savvy youth to innovate and drive progress in ways older generations simply cannot.
Marks stressed younger generations have different expectations on what technology can do. She provided the example of how ordering pizza has changed. You order online or through an app, you can customize the pizza digitally, you can follow the timeline of when it is put in the oven, boxed and on its way to your home.
"Now, let me tell you about how most construction sites work," Marks said.
"Some guy or woman calls somebody to call somebody else to then call somebody else who will maybe leave a voicemail to call another person to find out what's happening with a $400,000 piece of equipment they're waiting on."
She said that kind of frustrating disconnection would not be tolerated by younger generations.
"Because you're expected experience is, 'No, I'm going to order it off my laptop and it's going to come when I want it to come.' We are older and our expected experience is we think we have to call."