Some seven years on, the Electrical Joint Training Committee's (ETJC) Indigenous cohorts have become a strong part of the construction sector in British Columbia and now the program is eying expansion.
"Our Indigenous apprentices have been highly successful in the field and add a lot of value to the industry," said Phil Davis, managing director of the committee.
Soon, Indigenous electrician apprentices may be able to go through their entire Red Seal in Indigenous cohorts.
The EJTC started Indigenous specific cohorts for its apprenticeship training programs in 2017, known as the Electrical Entry Level Trades Training (EELTT) program.
The program offers extensive training for Indigenous people in B.C. to set them on the path to achieving a Red Seal designation.
But the ETJC program has demanding prerequisites, particularly around math and science. The EJTC found Indigenous people who had the qualifications were extremely in demand for other jobs and thus hard to recruit, Davis said.
"We realized we needed to provide a pathway to engage in this wonderful trade. So, what we did was we put together a program whereby math and science upgrading could be done prior to our pre-apprenticeship program," he said.
"We're wanting to have a broader pool to be able to draw from and this enables that."
Through SkillPlan BC, students are given eight weeks of math and science training to ensure they have the essential foundational knowledge that leads to success as an electrician.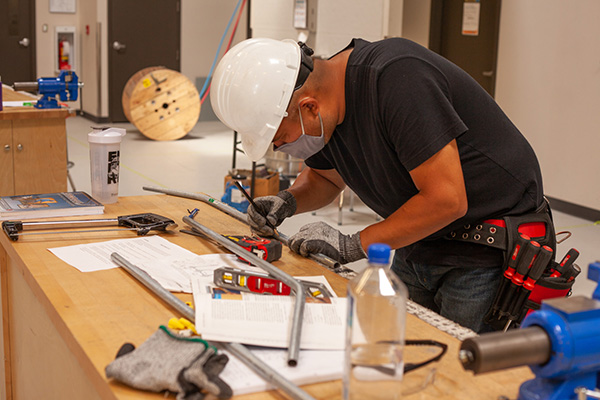 After that the program follows the traditional EELTT schedule and cohorts participate in 15 weeks of in- class training, followed by 10 weeks of paid work experience with contractors.
After that, Davis said the training team will sit down with the cohorts and help organize future plans and a possible seat in the electrical apprenticeship.
The EELTT runs parallel to the province's Red Seal apprenticeship program. That means upon finishing the first level of training, graduates receive a certificate for level one technical training.
But Davis said his team saw opportunities for continued support for Indigenous people going through the apprenticeship.
"We were finding some of the Indigenous apprentices were not responding well at some of the bigger institutions, so we've since added a level two and level three with really amazing success," he said.
"And we're going to be piloting a level four."
That means an Indigenous specific cohort for all four years of technical training for a Red Seal as an electrician.
The program's success has been able to speak for itself, with the EJTC managing some 70 Indigenous along with 850 non-Indigenous apprentices.
"We are soon going to be graduating our first-ever all Indigenous class of apprentices, probably within the next six months."
One of the program's graduates, Wakenniosta Cooper, was the top electrician in their year, Indigenous and non-Indigenous alike, and will be competing at the Skills Canada British Columbia competition in Abbotsford.
"She's been a top student. She was voted the number one apprentice in their entire company of 200 or 300 people, she was part of the group that hosted Justin Trudeau when he was here visiting our site and now she's competing," Davis said.
"It's just amazing success on behalf of these Indigenous apprentices, like, they've just excelled. It's an exciting program."
Davis said building in a robust system to help Indigenous people get into the skilled trades as electricians was a simple matter of values.
"We want to have, along with the IBEW and our contractor group, an inclusive and diverse workforce that is robust and able to manage the ever-changing electrical world," he said.
It also behooves the industry to ensure training is accessible and designed to support students on their way to a Red Seal designation amid shortages of skilled trades workers.
"It's a good thing to do and it's a smart thing to do. We absolutely need their participation, just logistically and by way of having the robust and inclusive workforce that we want, that all of us want. all of us need realized support."
Davis said partnerships have been key to the program's success and thanked Buddy Cardinal and ACCESS for their support.
He said the Two-Eyed Seeing Network has been essential in strengthening communication between the ETJC and Indigenous communities in B.C.
Looking at the future of the program, Davis said he just wants to make it more accessible for Indigenous people across the province.
"We want to ensure that we're reaching out of our Lower Mainland catchment."