Women account for more than 50 per cent of the Canadian population and an Alberta-based advocacy group is calling for more female inclusion in the increasingly politicized dialogue surrounding Canada's energy sector.
"We're in the dialogue about pipelines and energy policy and it just felt like that balanced middle-voice is being forced out of the conversation," said Susan Riddell Rose, co-founder and board member of Canada Powered by Women.
CPW was founded in 2019 to seek ways to address the underrepresentation of women in the dialogue and decision-making world of the Canadian energy sector.
"Our founders group came together and we thought, 'There must be something that we can do for women that are looking for a positive, constructive, solutions-oriented conversation and is there a way to bring that voice to the table in way that it wouldn't be drowned out?'" said Rose.
CPW recently completed a national survey that revealed women across the country are thinking about and generally united in their views on the Canadian energy sector.
The survey, completed by Leger, interviewed 1,500 "engaged" women. CPW considers an engaged woman to be someone who reads or listens to the news, is informed on politics and is "somewhat left to strongly right on the political spectrum," outlines a news release.
The survey revealed the number of women who want to be involved in the dialogue around the energy sector is already robust and growing.
"Our stats suggested that about 61 per cent of women are tuned in and about 24 per cent of women are really engaged, like they're willing to dive in, listen and make a difference," said Rose.
"Our goal is to actually bring that voice of engaged women to the forefront."
The survey found 93 per cent of qualified respondents agreed a growing economy is important for the country and 69 per cent said the oil and gas sector is an important factor to its success.
Quebec was the only province where a majority of women said the oil and gas sector was not important to the country's economic success, with only 44 per cent of respondents saying it was.
The province with the highest positive response was Alberta at 89 per cent, followed by British Columbia at 70 per cent, Manitoba and Saskatchewan at 66 per cent, Ontario at 62 per cent and Atlantic Canada at 61 per cent.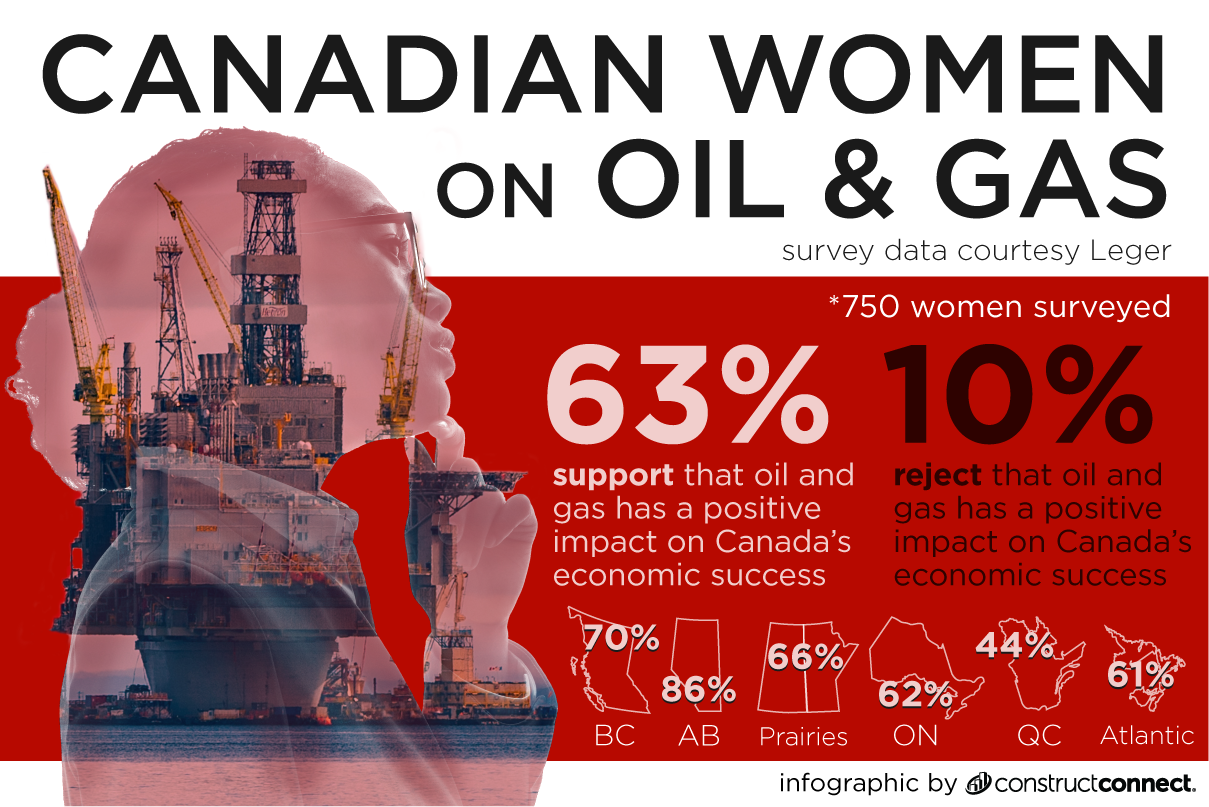 The survey also revealed while many women do know and can speak about the energy sector, there is room for further education.
"There's a lot of information gaps and not everybody across the country has all the pieces of the puzzle," said Rose.
Only 43 per cent of respondents rated themselves as informed regarding the contributions oil and gas make to the Canadian economy.
And only 37 per cent said they were likely to share their opinions on the subject with friends and family. This number jumped up to 69 per cent when asked if they would do so with support from others or with anonymity.
Rose said those statistics are all connected.
"It's not just the anonymity but the notion of support that really stands out," she said, "Because if they have support than they've heard more pieces of the puzzle and how it all fits together.
"Depending on what you do for a living determines what you're connected to, it gives you a small piece of the puzzle but not the whole picture. Whether it's information on renewables, information on oil and gas, it's very complex."
This is also tied into the fact that women wanted to engage with the topic as a collective.
"Being able to speak as a collective voice with deep engagement seemed to be really attractive to (respondents)," said Rose, "They want to be able to make an impact and they think the voice of many women that have been through a more comprehensive learning journey and solutions journey together would give a voice that they really want to be a part of."
Tapping into the underutilized power of Canadian women in shifting the conversation around Canadian energy is an obvious goal.
"Women's voices are important in every dialogue. Excluding them from a dialogue on energy would be wrong," she said.
"Our raison d'être is to facilitate and inspire these conversations on energy transformation and never to exclude anyone."