"Dehumanizing."
That's how Carla Visscher Hensel depicts the reality for menstruating women lacking access to proper facilities on jobsites.
As an apprentice just starting out her journey within the ironworking and welding field, Hensel's insights were part of a candid conversation during a Women in Construction panel at the Delta Hotel in Burnaby, B.C.
Joining the dialogue were panellists from various corners of the industry: Tamara Pongracz, head of the BCIT Trades Access Department; Jeannine Martin, president of the Vancouver Regional Construction Association; and Joanne Zoleta, senior civil design manager at Beedie.
Together, they dissected systemic barriers in construction, proposed industrial as well as societal changes needed to create a more inclusive environment, and shared career advice for women looking to thrive in a domain long dominated by men.
The event was hosted by the Burnaby Board of Trade, with Canadian Construction Women's Seema Lal as moderator. The guest speaker was Chris Atchison, president of the BC Construction Association.
While selecting a man to take centre stage at such a gathering might appear counterintuitive, it underscored one of the critical themes: the necessity of male allies in achieving workplace equity.
Zoleta recounted how impactful it is when male colleagues and superiors actively seek her perspective in meetings. This simple act of inclusivity goes a long way, she said.
Another area explored was the importance of mentorship in nurturing a supportive professional environment.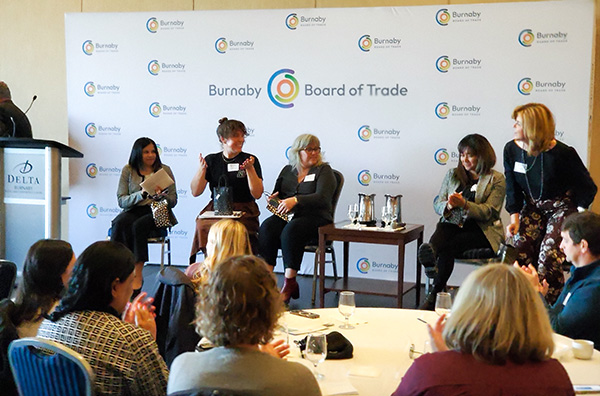 "Wedge the welcome mat in the door so that others can follow," said Pongracz. "Sometimes you just need a boost."
In terms of getting ahead, she pinpointed another hindrance for women – this one self-imposed. "We don't brag enough," she said. "Women need to highlight their accomplishments on the job." One of the reasons women don't, according to the panel, is they're often too busy overproducing to prove their worth in the workplace.
Martin put forward a strategic shift in this mindset.
Rather than succumbing to the pressure of overproducing, she suggested synchronizing with the company's pace.
By aligning with this rhythm, women can reclaim time, she said, using these valuable hours to foster professional connections and strategically plan their career trajectory, thereby positioning themselves not just as workhorses but as invaluable assets within the construction sector.
The discussion took a sobering turn as panellists delved into the subject of mental health.
Even for newcomers like Hensel, the sometimes gruelling hours onsite are unmistakable, underscoring the need for self-care.
She engages actively in sports, exercise and personal hobbies to maintain a semblance of balance amidst the demands of her profession.
Echoing Hensel's sentiments, Zoleta emphasized the practice of regular self-assessment, ensuring equilibrium across various aspects of her life. This self-check routine is not about achieving perfection but about acknowledging one's limits and recognizing when you're feeling depleted.
The panel also championed the growing recognition of the importance of mental health first aid. This approach equips individuals not only to conduct regular self-checks but also to spot warning signs in colleagues.
Despite the multifaceted challenges discussed, an undeniable passion united the panellists: their deep-rooted love for their work.
"You gotta love the work," Pongracz asserted.
Lal then opened the floor to a vibrant question-and-answer session.
One attendee pointed out that the responsibility for change shouldn't solely rest on the shoulders of female trailblazers.
Leaders themselves need to actively orchestrate welcoming environments. This encompasses providing adequate onsite facilities, alleviating the pressure to overproduce and introducing work flexibility, allowing women to tend to different facets of their lives.
Then the conversation evolved into strategies for cultivating a more inclusive environment, suggesting interventions as early as pre-high school to foster interest and counteract the societal push towards traditional university education paths.
The panel's conclusive thought was a call for a paradigm shift in celebrating achievements; for instance, rather than fixating on a mediocre English grade, parents and educators should applaud excellence in areas where kids are actually excelling, thus nurturing innate strengths and potential future career paths in trades.
This reframing, they believe, could be a key in unlocking a more diverse, satisfied and skilled workforce in construction.