Sarina Hanschke did not set out to become an advocate for roadside workers facing uniquely hazardous working conditions. Her original career plan was to be a teacher.
But even the best ideas sometimes change in life and today Hanschke is the president and CEO of Vanguard Road Safety Network, an organization she founded earlier in 2018.
Based in Surrey, B.C., with associates in Canada and the U.S., Vanguard's goal is to combine training, education and advocacy to protect roadside workers from injury or death.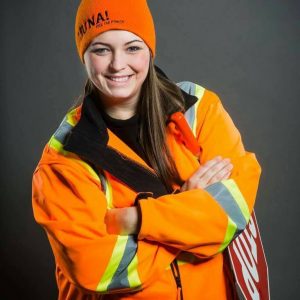 "We want to be at the forefront of development and change for roadside workers, and to raise the profile of roadside safety with labour, government and industry," said Hanschke. "Our goal is to increase situational awareness (also called visual intelligence) of roadside workers and improve site safety and productivity through better communication and pre-planning."
In addition to traffic control personnel (TCP) — flag persons — with whom all Canadian drivers become familiar during the summer, there are many other types of roadside workers.
They include, for example, ambulance workers, landscapers and gardeners, roadbuilders and heavy equipment operators, municipal workers, utility workers, police and firefighters.
In B.C. alone there are more than 25,000 roadside workers, of whom Hanschke was once one of.
"To pay for university, I followed my father's footsteps into the roadbuilding industry," she said.
"I became a third-generation labourer, with my grandfather, dad, uncles, brother and me working on various road infrastructure projects throughout B.C."
After completing her education, Hanschke worked for a short time as an elementary school tutor for young children with learning and language problems.
Soon, however, the road called her name, Hanschke answered, and she was hired by Winvan Paving Ltd. as a TCP.
The negative perception of TCP helped to spark my activism
— Sarina Hanschke
Vanguard Road Safety Network
For eight years Hanschke worked for Winvan, where her duties included training other TCP. That was followed by a stint with the BC Construction Safety Alliance (BCCSA), where she helped manage its traffic control program.
After four years with BCCSA, Hanschke decided to spread her wings and founded Vanguard.
Hanschke says she loved the action and movement of traffic control.
"It was unique and it prompted me to be more vocal and to learn the art of interacting with other people," she said.
Hanschke enjoyed the camaraderie that came with being a TCP, making new friends and mentors.
"But there are also a lot of other things I wish were different, such as the perception held by some people that traffic control is an unskilled and menial occupation," Hanschke said. "We expect workers to know and to understand the engineering terms used in road work, apply them to specific site, weather and road conditions and, at the same time, to focus carefully on everyone working in the cone zone and keep everyone safe, at the same time as traffic is coming at and from behind them. That's a lot to ask of someone, don't you think?
"The negative perception of TCP helped to spark my activism, to move onto the safety side and then to move on to starting Vanguard," Hanschke said.
Too many roadside workers are injured and killed — or almost injured and killed — every day, she says.
"Despite worker harm, and the fact that it's well publicized, driver behaviour hasn't changed much. In fact, drivers seem less attentive than they were years ago.
"And roadside safety isn't helped when the laws pertaining to the cone zone can vary considerably from jurisdiction to jurisdiction. In addition, the training requirements for TCP are different in different jurisdictions, too."
Hanschke says roadside safety is a "huge topic" that needs to be broken down into smaller, more manageable subjects and examined carefully, in order to identify the reasons why roadside work can be so dangerous.
"We are often told that the best way to learn is on the job," she said. "Although practical experience is certainly helpful, I have found that anything I learned at work about road safety had already been said many times before in research papers and studies that I either found online, by attending conferences or meeting and working with other safety experts.
"The research that is being undertaken will help combine the theoretical and the practical, and the results will enable TCP and the people who train them to feel confident that they are doing all the right things, to the best of their ability, to bring everyone home safely from the roadside at the end of the working day."