Vancouver recently marked the anniversary of one of its darkest days for workplace safety.
On Jan. 7, 1981, four men went to work on the under-construction Bentall IV tower in Vancouver's downtown core.
Gunther Couvreux, Brian Stevenson, Donald Davis and Yrjo Mitrunen fell 36 floors to their deaths when the fly form they were standing on collapsed.
In the years since the event British Columbia labour, government and business leaders, workers and the families of the deceased have marked the date with a memorial at a plaque near Bentall IV.
BC Building Trades executive director Tom Sigurdson said the memorial is a chance to not only reflect on the loss of the four construction workers but also others who have died at work.
"Every year when we come to this memorial, we remember other construction workers who died in the previous year simply because they went to work to do their job building a project, a community, the economy of our province and building our country," Sigurdson said.
In the last year, 32 workers in the construction industry lost their lives, with 22 due to exposure to hazardous materials in the workplace and 10 due to trauma, he added. The industry still has work to do to ensure worker safety.
"We've just got to continue to be ever vigilant about what goes on in our industry and at our worksites," he said. "Training is so important to make certain we have young people who know what it is they're doing on the worksite and are not taking unnecessary risks."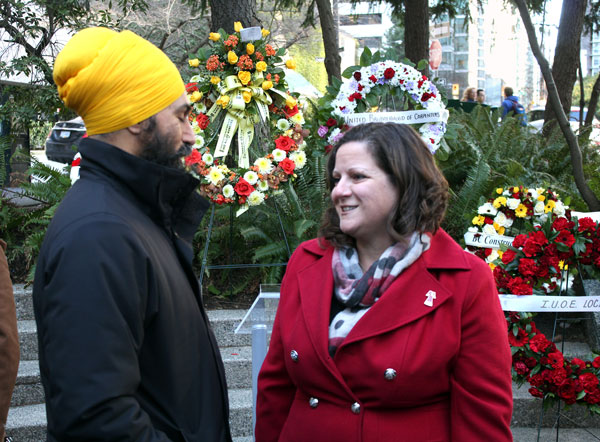 Sigurdson also pointed to the new community benefits agreement the B.C. government introduced last summer as a template for safety practices on projects.
"Under the community benefits agreement, the government has indicated they're going to want to utilize training on publicly funded projects. It's going to be very important because we know that if young people going on worksites don't have the full scope of training, they'll be assigned tasks, think they know how to do it and take greater risks," Sigurdson said.
"With the CBA, they'll be paired up with mentors who show them how to work safely, how to work the tools and respect the environment they're in."
WorkSafeBC vice-president of prevention services Al Johnson said the memorial gives individuals and organizations a chance to recommit to workplace safety, and added physical injury is not the only way in which people can experience trauma in the workplace.
"The more classical areas of health and safety are expanding into areas like bullying, harassment and discrimination, violence and discrimination, things that we really didn't think about in years gone by," Johnson said. "We're focused on those things today. If someone is bullied or harassed in the workplace, we hold employers accountable to correcting things."
Newly elected BC Federation of Labour president Laird Cronk said his organization helps promote safety in ways beyond advocating for workers.
"We have a workers' health and safety centre that works in conjunction with funding from the Workers Compensation Board which trains hundreds, if not thousands, of workers this year on workplace health and safety. We also have a committee of the affiliates of the federation that deals with pressing health and safety issues and pushes for changes in health and safety legislation," Cronk said.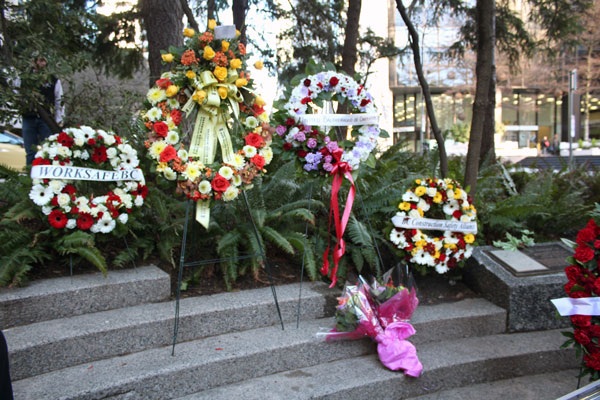 "One of the other things the centre does is travel the province and do facilitations in high schools to educate students on their health and safety rights so that when young people are entering the workforce they have some basic knowledge of what they can and can't do and what an employer is allowed to do with them," added BC Federation of Labour secretary and treasurer Sussanne Skidmore.
One area where progress has been made is asbestos regulation. The deadly substance is still one of the biggest causes of workplace death. As of Dec. 20, 2018 the federal government has prohibited the import, sale and use of asbestos, as well as the manufacture, import, sale and use of products containing asbestos, with a few exceptions.
"Asbestos is now a banned product in Canada and for that we can thank the workers that came before us, who suffered the consequences of asbestos exposure, their families and all the workplace health and safety advocates who fought so long and hard for the rights of workers to be safe," Sigurdson said.
He added more work is needed to answer the health threat posed by asbestos.
"We need a registry of buildings containing asbestos…so that when renovation work is done, we know that we have to go in and treat it carefully. There's a proper way of removing the asbestos and disposing of it, and we owe it to all of the workers and those in the building after the renovation is done to make certain their workplace is safe as well," Sigurdson said.