A Vancouver Island plumbing company is taking COVID-19 on with common sense, warm water, soap and a little social distance.
Victoria-based Oceanview Mechanical Ltd. is building and installing washing stations on its projects along with other guidelines to ensure its employees are both working and safe as new precautions are required while still delivering solutions to their clients.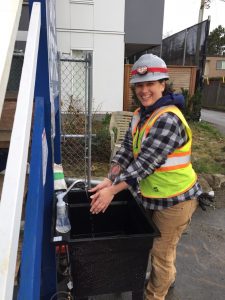 "We want to keep working and keep my guys working, and we do a lot of low-income housing and said to ourselves 'a lot of people need to move into this housing at some point'," Oceanview Mechanical project manager Rick Smith said.
"We put stations on site and they clean the washroom every half hour to an hour depending on who is on site. We maintain social distancing by dividing up suites so if you're in a suite working nobody can go inside while you're there," Smith said. "That's all we can do, limit the number of people in the suites and in the area and coordinate with our sub trades to keep people working."
Smith explained that his company works on both multi-residential condominiums and houses. With residential work "we make sure we have only one person on site. It's a little slower but it's better than no progress," he said
As a plumbing company, Oceanview is well-suited to deal with new workplace conditions brought on by COVID-19, Smith said.
"We wear gloves anyway. When a plumber has hands in pipes, they aren't putting their fingers on their face," he said.
"We're just doing wash stations for our own projects, but every single condo has at least one wash station and as projects progress, we put more in. We're bidding on a project at the moment and we have to put in a different price to account for the hand-washing stations," Smith said.
The stations are simple but effective since they've been built by experienced plumbers, he added.
"we just got laundry tubs, the stand-up kind you have at home and put water and soap in them. We instructed our guys to put their hands down deep so there isn't any splashing, and we drain the tubs properly, so people aren't walking through it," he said.
"Being plumbers, it's easy for us, as we're bringing temporary water in anyway. Plumbers are really the ones to do this," Smith said. 
Smith and others in his staff are also able to work remotely and still manage projects, he said.
"I packed up everything and I've been working from home for about three weeks. I'm estimating and coordinating everything from here, and if a foreman needs to talk to me, they can put me on FaceTime and I can (virtually) walk around the site," he said.
Smith emphasized that Oceanview views the current crisis with grave concern and will do what it takes to work within the pandemic's new restrictions.
"Nobody is like they were eight weeks ago, where we didn't think it would end up here. We know it's going to get more serious and we need to be more careful," Smith said.