While COVID-19 has upended the construction industry, along with the rest of society, a B.C. regulatory leader sees hope for a focus on safety post-pandemic.
Technical Safety BC president and CEO Catherine Roome said COVID-19 has brought a higher level of safety vigilance in British Columbia.
"We've had to heed the call of integrating safety into all our daily lives in a way we've never seen in recent memory," Roome said. "It will continue and will be a part of a broader view of safety. Out of all this tragedy there will be a higher expectation of behaviour and a higher standard on how that's delivered."
Technical Safety BC concentrates on the effects and safety risks of technical equipment to the general public, but with COVID-19 the organization has had to adopt to new methods to get the job done. In a recent survey the organization received a positive response to the possibility of remote or virtual assessment through photos, video or real-time streaming.
"We want to support clients in the best way we can, which is doing remote assessments. It's gone quite well but we will move back to physical along with remote assessments in June," Roome said.
Artificial intelligence (AI) is also being used to streamline the evaluation process, she said.
"It's an extremely straightforward system in that we get a lot of pieces of data and the algorithm examines each piece of data one at a time and says 'does this tell me if we are more or less likely to see a hazard on this site at this time?'" she said.
"It calculates probability and the safety officer gets that on her iPad in the form of a percentage. If it's over a certain threshold you have to inspect either physically or virtually. We use the discretion of our frontline talent, and if a hazard is found, the system learns from that so it's a closed loop.
"It's a socially positive use of AI, which is to use it to protect the public where they might be harmed and this will also remove the burden and cost of the regulatory regime going forward," she added.
Roome said the organization's latest annual report showed 600 incident reports last year up over 2018 and highlights an increased awareness of the importance of reporting.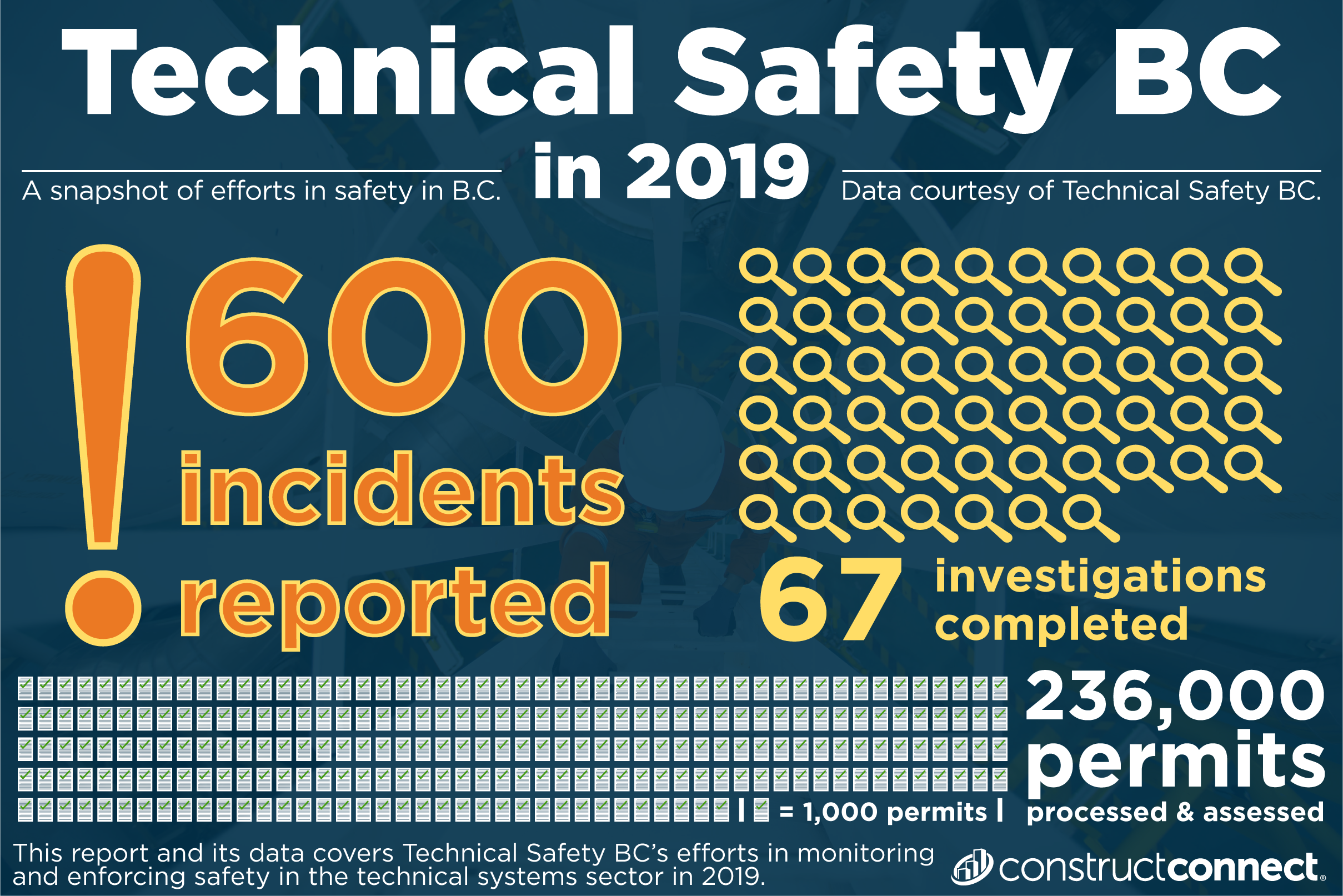 "The most important thing to do for safety is daylight issues and not make people afraid to report," Roome said.
"There's a particular way we know B.C. is as safe as it's ever been (in terms of) technical equipment, and that's because we find significant hazards year-over-year which means we can take those hazards out before they affect the community."
The report also stated Technical Safety BC undertook 555 compliance and enforcement actions to address unsafe work, individuals and companies working without the proper permits or certifications and completed 67 investigations to determine root causes of problems and assist with prevention efforts. Overall 52,314 assessments of equipment were made.
Roome added the construction industry is overall one of the best performers in terms of technical safety.
"Construction in general continues to do great work with 72 per cent of all contractors in compliance. We're helping the others to attach to safety systems so they can also do great work," she said.