A candlelight vigil was held in downtown Kelowna to remember five men who were killed when a construction crane collapsed last week. Attendees laid flowers, wore high visibility vests and shared their thoughts about the tragic incident.
The event was organized by the North Okanagan Labour Council (NOCL) and livestreamed on Facebook.
"He was one of the most ambitious men on my team," said one attendee to the crowd through a megaphone with a lit candle in his free hand.
He explained 23-year-old Cailen Vilness, one of the victims, was part of his large team of concrete workers.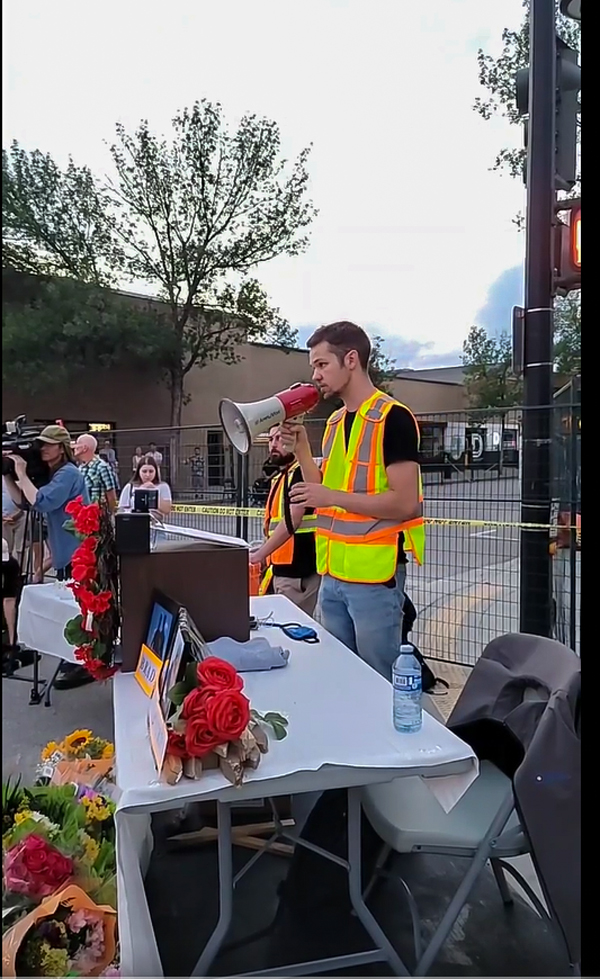 "I loved working with him. When I thought I was done, he gave me the ambition to finish my 12, 14 or 16-hour day. I wish there was more men like him," the man said.
The crowd also heard from NOLC spokesperson Kelly Hutchinson.
"A worker is a worker is a worker and on Monday we lost five workers, tearing a hole not only in the hearts of their families, but in our community, which cannot be filled," he said. "They were more than working men. They were fathers, brothers, significant others, nephews, cousins, best friends, colleagues, mentors, sons and the list goes on."
Loyal Wooldridge, a Kelowna city councillor, stressed workers deserve a safe environment.
"We lost five people in our community too soon," he said. "We stand together in solidarity and healing. Everybody deserves the right to a safe workplace, and everyone deserves to know their loved ones will return safe at the end of the day."
He said the victims represent the thousands of construction workers who build Kelowna and that their legacy will be felt forever.
Southern Interior Construction Association (SICA) Fund announced its effort to remember the victims during the weekend. It plans to partner with the Construction Foundation of BC on the Kelowna Crane Incident Legacy Education Fund. The funds will go towards supporting future post-secondary education for the children of the victims.
"We were deeply saddened to learn of the tragic crane accident in Kelowna on July 12. Our hearts are grieving for the families, friends, and co-workers of those victims of this terrible event," said Scott Wild, CEO of SICA, in a press release. "We know this has sent ripples across the entire country as we have had many colleagues in the industry reach out to us with compassion for and solidarity with our community in grieving these losses."
The group stressed the fund is not intended to take any attention away from the current GoFundMe campaigns that have been established by the families. They explained it is instead an additional avenue and opportunity to be able to build a fund that will benefit the victims' families.
The fund will be managed by the Construction Foundation of BC so that charitable donation receipts can be given and in hopes that the contributions can be invested and grown over the coming years.
"While there are no words we can say to offer comfort to the grieving families, we can instead come together as an industry and community to build a future for the families these men were working hard to care for," said Wild.
Follow the author on Twitter @RussellReports.