Despite major setbacks in court, advocates of Sam Fitzpatrick, who was killed in a workplace incident on a Kiewit hydroelectric project in 2009, are continuing their efforts to seek justice and reform the system.
A group recently met with B.C. Labour Minister Harry Bains and Attorney General David Eby to discuss the Fitzpatrick case and how criminal workplace incidents are investigated and prosecuted. Presentations were made by the BC Federation of Labour (BCFED), the United Steelworkers (USW) and Fitzpatrick family friend Mike Pearson.
"We identified ourselves as victims of Sam Fitzpatrick's death and talked about his dad who fought tirelessly to bring this to the forefront," said Stephen Hunt, USW director for Western Canada. "To end a 12-year fight with a stay – we thought that was inappropriate."
In September, just days before the matter was set to go to trial, prosecutors scrapped their case against Fitzpatrick's employer Kiewit, stating issues with witnesses made a conviction unlikely.
The Crown explained a shakeup in witnesses and testimony changes prompted the stay of charges.
"The death of the main Crown expert, the nature and content of the replacement opinion, changes in the anticipated testimony of witnesses, and additional information received during pretrial interviews, have all led to the conclusion that the charge assessment standard can no longer be met, and the information must be stayed," said Dan McLaughlin, communications counsel for the B.C. Ministry of the Attorney General in a previous article.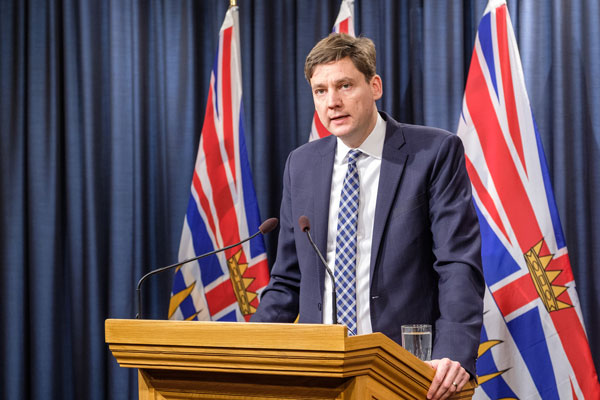 Bob Kula, vice-president corporate communications for Kiewit, told the Journal of Commerce in a statement at the time that the decision by the British Columbia Prosecution Service marked the conclusion of a "long, difficult chapter for our company and our people – and also, in particular, the family and friends of Sam Fitzpatrick who lost his life in a tragic accident on the Plutonic Power Hydroelectric Project nearly 13 years ago."
Fitzpatrick's father Brian, who died in 2017, came to the Steelworkers for help after finding their campaign to use the Westray Act to stop workplace deaths. The union worked with Brian to pressure officials to investigate the incident and file charges.
Hunt believes co-ordination between the Crown, WorkSafeBC and police is poor and noted the province's own reports have called for better training on criminal workplace incident investigations and prosecutions.
"When these things come off the rails the Crown points to police or workers comp and say the evidence was tainted or whatever excuse there is," said Hunt. "There seems to be no continuity between different agencies, and it is time we addressed that issue head-on with training."
Lawyer Lisa Helps was tasked by the province to review the system in 2019. She stated training must be "continued and pursued vigorously, especially as investigators dealing only with a handful of cases every year must accrue experience either in the field or via training and that experience must be maintained."
Hunt said presentations from BCFED president Laird Cronk and Pearson were particularly stirring.
"They have passionate positions on behalf of working people," said Hunt. "It was an emotional meeting."
Pearson, who has pushed for action on the case following Brian's death, said if there wasn't going to be prosecution in a case like Sam Fitzpatrick's, then what sort of case would it take?
"Everyone at the meeting pressed for stronger deterrents for companies that blow past all recognized safety standards," said Pearson. "It was clear that there was an overwhelming desire to not suffer one more workplace death in this province."
Pearson told Eby that the stay of charges was unacceptable and that something needed to be done to make it right.
The province was contacted to give comment about the meeting but did not respond before press time.
In 2009, 24-year-old Fitzpatrick was struck and killed by a boulder on a project near Toba Inlet, B.C.
Falling rock hazards at the site were well documented and the day before Sam's death a massive rock had fallen and damaged equipment. Investigators wrote hazards weren't properly controlled and crews continued to work in dangerous areas. WorkSafeBC found the company failed to adequately train workers for the land clearing work. An appeal tribunal for fines levied against Kiewit determined they had "committed high risk violations with reckless disregard."
Follow the author on Twitter @Russellreports.