Technical Safety BC has released its 2021 State of Safety report, which showed how extreme weather in the province is impacting building systems, adaptation during the pandemic and what the top risks are.
Technical Safety BC oversees the safe installation and operation of technical systems and equipment across the province.
This year's report found some of the most significant risks to B.C. and its safety system are the risks emerging from continued climate change impacts in communities across the province.
Phil Gothe, Technical Safety BC president, said the atmospheric river that hammered the province in the winter of 2021 has been a learning moment for the industry.
"The overarching learning is that when these events happen, the impact is not just on equipment, but it's on an entire system – the equipment, the licensed individuals, companies and owners and everything they need to do."
In the Fraser Valley, most, if not all, electrical and gas equipment required full replacement. However some savvy contractors raised elevator cars before the flood waters hit, saving damage. Gothe noted incidents like this could impact future code development.
Another learning moment during the storm was at Metro Vancouver ski and snowboard hills where heavy rains were causing water flow near chairlift towers. The water was able to be diverted to prevent erosion, but the incident revealed a new hazard to be aware of.
The heat dome also brought its lessons. Gothe explained wiring for roofs may require a material rated for higher temperatures. Technical Safety BC also noted the heat triggered safety relief valves on gas storing vessels highlighting the need for safe storage.
"This gives us a much broader scope of work that needs to be done to prepare not just equipment, but the people that own the equipment and the people that operate it," said Gothe. "We need to make it more resilient."
The COVID-19 pandemic was also a major part of Technical Safety's work and the 2021 report captured some signs of economic recovery in the province.
Gothe noted the year saw a 15 per cent increase in installation permits, including an 18 per cent increase in electrical permits. In total, 98,888 electrical permits were issued – 87,042 installation permits and 11,846 operating permits.
"We saw quite a surge in construction," said Gothe. "Not all of our activity is connected to construction, a majority of it is, like people doing renovations, homes, highrises, updating hospitals and schools and things of that nature. The more of that, the more electrical and gas permits."
The pandemic also forced the group to rethink how it administers inspections.
"Our inspections are a way of ensuring that individuals and organizations are doing what they need to do and if we can support them," said Gothe. "When the pandemic hit and everyone went into full lockdown we quickly looked to adapt. We didn't want to create a bottleneck in the economy."
Safety officers leveraged relationships with certified individuals and began to conduct inspections using photos and videos. The group has continued to develop its remote assessment capabilities which have proven useful in situations beyond the pandemic, including remote areas that may only see an inspector visit once or twice a year.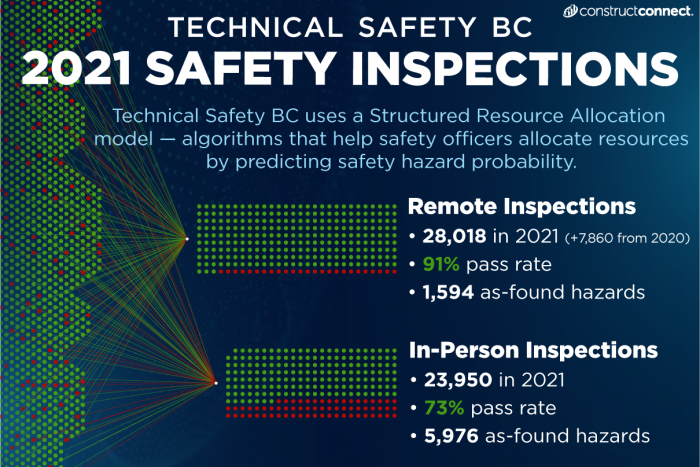 "It's a tool that will support our reach," said Gothe. "It's something we always thought about doing but the pandemic pushed us to digitize more rapidly. It's not accepted everywhere and it's not perfect, but we are seeing early indications that it does have potential to create more safety and connection."
The number of inspections carried out in 2021 increased from 45,121 in 2021 to 51,968 with a total pass rate of 83 per cent. Of those assessments, 28,018 were conducted remotely and 23,950 were conducted in person.
The report also profiles other key initiatives from the past year, including raising awareness around the risks associated with carbon monoxide (CO) exposure. A 2021 survey found 49 per cent of households in B.C. still do not have a carbon monoxide detector. Gothe stated this remains a top concern and every year there are incidents of people dying from CO exposure.
Another major source of concern is unlicensed individuals, companies and contractors performing work.
"When we find this work and inspect it, typically it's not done to code and has some undo hazards left behind that are more than should be," said Gothe.
The 2021 annual report can be viewed here: https://www.technicalsafetybc.ca/annual-reports/annual-report-2021. The full State of Safety 2021 report can be viewed here: https://www.technicalsafetybc.ca/state-of-safety-2021.
Follow the author on Twitter @RussellReports.