Since early June in the Vancouver area, there have been four incidents of trucks hitting highway overpasses, shutting down major routes and causing extensive damage.
One of the most recent happened on July 18 in Langley when a transport truck, hauling a cherry-picker, couldn't clear a 4.46 metre overpass on Highway 1, leading to snarled traffic for hours.
Just a week before, a flatbed hauling an excavator on Highway 1 created major damage to an overpass in Surrey.
In mid-June, a dump truck towing an excavator made contact with another Highway 1 overpass in Langley.
And in early June, a transport truck hit a Highway 99 overpass in Richmond, closing the road for almost 18 hours.
The July 18 smash represents the eighth such hit to an overpass in the last 12 months in the Lower Mainland.
"We don't know what's going on," says Dave Earle, CEO of the B.C. Trucking Association. "Obviously something's not going well."
In response to recent incidents, on July 15, the Ministry of Transportation and Infrastructure (MOTI) released what it says will be a monthly list of B.C. carriers who have had their licences cancelled for cause under the Motor Vehicle Act.
The inaugural list contained 10 firms, the most recent cancellation occurring May 17, 2022.
The registry will cover a three-year period.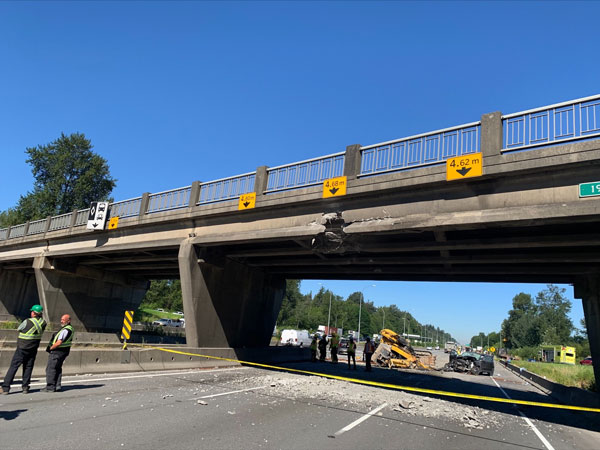 The list is a start, says Earle.
While B.C.'s Commercial Vehicle Safety and Enforcement does a good job, it should be sharing its stories.
"Tell us what's going on," he says. "We've been asking for this for years."
Because there are so many moving parts in commercial trucking, many things can go wrong. More information about why the collisions happened will go a long way to preventing similar incidents, Earle says.
For example, some throw out excuses that pavement measurements are not accurate due to movement or that overpasses may be shifting, but Earle says at most, there would be a two-to-three-centimetre difference.
Problems do arise when equipment that's being moved was not secured or configured properly. If a pin moves, a piece can pop up.
Measurements of the load may not have been accurate. Or the driver may take the wrong route or attempt a shortcut.
This leads to the excessive distances some drivers have to take to avoid too-low overpasses.
"This speaks to a decades-long infrastructure deficit," Earle says. "We need to create an efficient road network for the longer term, not today."
MOTI has a minimum height standard that it uses in building all new infrastructure, which is five metres.
Earle acknowledges overpasses are being improved, but that's only part of the solution.
"More important than building higher overpasses is building better bypasses," he says.
One failure is the McCallum Road interchange in Abbotsford, which he says is "sterilized" against oversize loads. Big rigs cannot navigate the tight, six-legged roundabout, so avoid it.
Faced with such challenges, trucks with tall loads take to the side streets on infrastructure and in neighbourhoods not meant for huge vehicles.
"It's madness," Earle says.
No one from the MOTI was available to comment directly, but on July 19, it issued a statement outlining that permits are required to carry over-height and oversized loads and that operators are responsible to meet the conditions of the permit.
If there's any consolation, Earle notes there are thousands of truck movements in B.C. every day. This latest cluster of unfortunate hits could be the last for years…or not.
"Loads are not getting smaller," he says.