The designers and builders of British Columbia's best wood projects are in the spotlight.
WoodWORKS! BC held its 14th annual Wood Design Awards on Feb. 26 at the Vancouver Convention Centre, with winners spanning the gamut from small and large institutional structures to the multiple award-winning Brock Commons — Tallwood House building, currently the tallest wood structure in the world.
This year's event was the largest yet, with close to 500 contractors, architects and others from the construction and forestry sectors in attendance.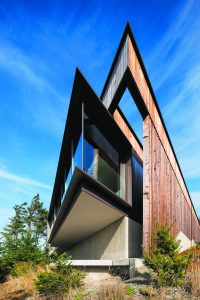 WoodWORKS! BC executive director Lynn Embury-Williams said the increased attendance is indicative of a growing wood sector.
"It reflects certainly more wood projects being designed and built and more nominations, so we have more people here from the design side. WoodWORKS! has been trying to target new audiences beyond the designers. We have been trying to engage and connect with contractors, builders and developers because they're key. They make the decisions in some of these market sectors," Embury-Williams said.
Brock Commons won in the wood innovation and architecture categories, netting Acton Ostry Architects Inc. two awards. Fast + Epp and fire engineering and building code consultants GHL Consultants Ltd. shared the engineering award for their work on Brock Commons.
The residential wood design award went to D'Arcy Jones of D'Arcy Jones Architecture for work on the Okada Marshall House in East Sooke, B.C., and the multi-unit residential wood design award was given to Adera Development Corporation for their work on Prodigy, a wood-based condominium project located near the University of British Columbia.
"We're seeing a lot more innovation in terms of design for these projects, which are outside the current building code," explained Embury-Williams.
"You're also seeing, certainly in Vancouver, an emphasis on affordable housing and we have great market sectors where wood plays a big role, such as mid-rise or even seven to 12 storeys, where I think wood can play a big part."
The commercial wood design award went to HDR | CEI Architecture Associates Inc. for their work on the Penticton Lakeside Resort and another Okanagan project won in the institutional wood design — large category for Okanagan College's trades renewal and expansion project, with the award going to Diamond Schmitt Architects in association with David Nairne + Associates.
The winner in the institutional wood design — small category was Kimberly Johnston of Johnston Davidson Architecture + Planning Inc. for work on the Logan Lake Fire Hall in the District of Logan Lake, B.C.
Vancouver-based Cornerstone Architecture won both the environmental performance award for The Heights in Vancouver and the interior beauty design award for their use of wood in the Crofton House School Dining Hall, also in Vancouver.
The prefabricated structural wood award went to StructureCraft Builders Inc. for their work on their own Abbotsford industrial shop and office, which employs dowel laminated timber, the company's own new product.
The western red cedar award went to Larry Adams of NSDA Architects for work on the Goodlife Fitness Family Autism Hub in Richmond, B.C., and the international wood design award was won by Jinjiang Zhou of Suzhou Crownhomes Co Ltd, in Suzhou, China for the Timber Structure Enterprise Pavilion project at the Jiangsu Horticultural Expo.
The Jury's Choice award was given to Bill Downing, the president of Penticton-based Structurlam Mass Timber Corporation and Urban One Builders Construction Management Inc. senior project manager Karen Fraser won the new technologist award. The Wood Champion award went to Kevin Mahon of Adera Development Corporation.
Embury-Williams also said the provincial government has made an effort to help support and grow the B.C. wood design industry.
"B.C. is a leader in wood design and many of the designers here at the awards work all over the world. It's a great thing to keep innovating in B.C. because it helps ensure that demand continues to increase." she said.