Master Canadian architect Douglas Cardinal will be bringing a message of both hope and defiance as he leads a team of 18 Indigenous architects to represent Canada at the 2018 Venice Architecture Biennale in May.
Cardinal, best known for his design of the Canadian Museum of History in Gatineau, Que., said the installation created by his team will not be a work of architecture per se, but rather an exhibition of multimedia artwork with curved video screens flowing through "territories" representing the North American Indigenous experience and how architects translate cultural needs into community spaces.
He said the exhibition, titled Unceded: Voices of the Land, expresses the pride and resilience of Indigenous architecture. But, he added, the analysis has to recognize colonization, dirty dealing, even apartheid and genocide.
Examples of principles Indigenous architects tend to embrace are the need to create spaces for the people who will inhabit them, not for a process or the "book," said Cardinal, and ensuring respect for natural surroundings.
"First of all, a building should be able to sit in the environment and be in harmony with the environment it is in," Cardinal explained.
"I want to respect the people that are being served by this building, how should they function, what is the best for them, what is the environment they should have so they can be respected and do their jobs better in the building.
"You are talking about the environment for people, like proper lighting, air quality, all of these things."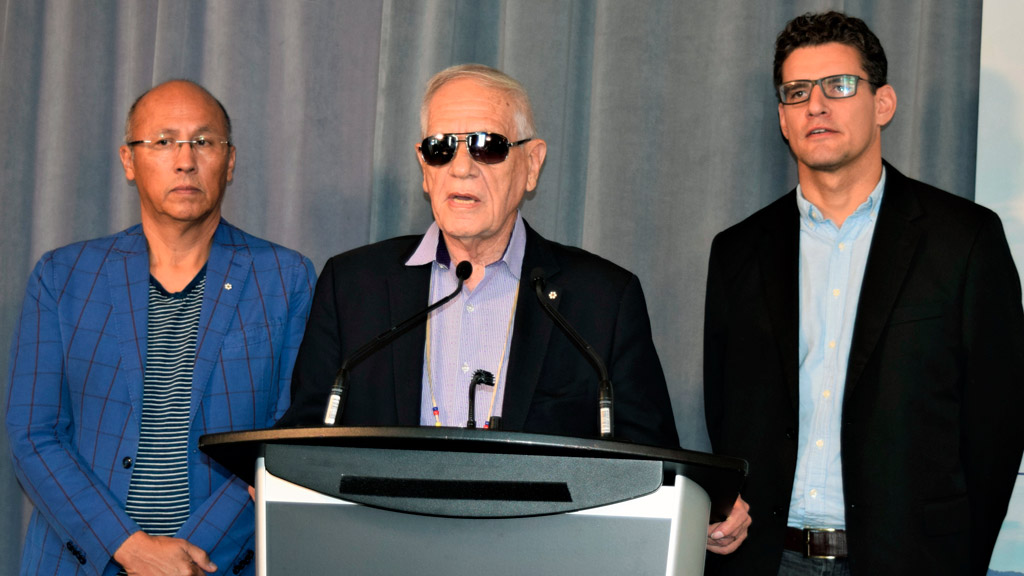 Cardinal's co-curators for the Canadian entry are David Fortin, a Metis architect who is the director of the McEwen School of Architecture in Sudbury, Ont., and Gerald McMaster, a Canada research chair in Indigenous visual culture at Toronto's OCAD University. The team is sponsored by the Canada Council for the Arts.
With the invited architects assembled for collaboration, Cardinal explained, the curators followed traditional Indigenous practices of listening with honour and respect as the participants discussed how they had been affected by the four chosen themes — indigenuity, resilience, sovereignty and colonization.
"When you hear each person expressing their personal experience in being a product of colonization in this country, it covers those issues," he said. "I just thought that is something that affects everybody, given the policies of apartheid and genocide under the Indian Act.
"Each person is respected, is sovereign over themselves, and they have their own inherent rights as human beings. Having them express where they are coming from, you are going to see those themes come out but from 18 different perspectives."
Cardinal has visited the Canadian exhibition under construction in Venice several times. He works closely, he said, with the filmmakers, artists and technical experts who are assembling the curvilinear video walls that are to flow like a river through the structure. Interpretive story-tellers will be on hand to explain how the exhibition reflects Indigenous spirituality and respect for people, communities and all life-givers such as rivers and forests.
Architecture is a form of art, Cardinal said in explaining the Canadian exhibition space.
"That is how it was defined originally," he said. "But architecture is much more impactful than art because it's not only 2-D in terms of surface treatment, but also 3-D because of its sculptural treatment, you can make it any shape. But also it has another dimension because you are moving through it so it is space. The space itself is part of your palette."
Cardinal, originally from Calgary but now based in Ottawa, is a member of the Order of Canada and recognized as a human rights advocate. He said despite how Europeans with their "crooked good" inflicted colonization, the Canadian Venice exhibition can be said to represent hope.
"The agreement that we had originally with the Europeans was that we would come together and respect each other's world view and share our resources," he said. "But people came in and overwhelmed our people, put them in reserves, took away our children and tried to obliterate our culture, and our land and everything else, and left us in the situation where there is poverty and misery.
"But we know the proper way to be a human being is loving, sharing and caring.
"We have never ever given up. We are still sovereign over ourselves. We have survived by not buying into this whole colonizing system, by being resilient and adapting to all the terrible things that have been done to us and our lands. We are still here and not only here but we have something to contribute."