CALGARY – The Canadian government is putting $6.8 million in funding towards improvements to the WinSport sliding track at Calgary's Olympic Park.
Approximately 360 metres of track will be remodelled and the structure will be realigned to integrate the bobsled and luge tracks, and sun shades and a new refrigeration system will be installed to boost the efficiency of the track's cooling system.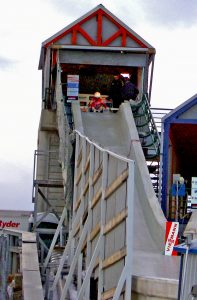 "We're happy the Government of Canada is joining us with refurbishing the sliding track at WinSport. Last year the Government of Alberta announced a total $10-million investment over two years to modernize the sliding track through the province's capital plan," said Alberta Minister of Culture and Tourism Ricardo Miranda in a statement.
"It is an investment in our athletes, economy and tourism industry. I'm pleased that today's additional funding will enable Alberta's athletes to continue to train at an outstanding facility and maintain WinSport's standing as a world-class sport centre."
Canada Olympic Park was built for the 1988 winter Olympic Games in Calgary and since the Games the WinSport sliding track has hosted national and developmental programs, with 14 Olympic medals for Canadian athletes in the three sliding sports since the 1988 Games.
"Investing in recreational infrastructure like WinSport's sliding track at Canada Olympic Park helps ensure Canadians have the opportunity to pursue sporting activities and reach their full potential as individuals and part of a community," said federal Minister of Infrastructure and Communities Amarjeet Sohi.
"I am proud that the Government of Canada is investing in this exciting project, which will ensure safe and reliable training grounds for athletes, attract more tourists to the region and help foster Canada's reputation for excellence in winter sports."
The upgrades will allow the venue to continue to host bobsled, skeleton and luge events along with provincial and local competitions and community sport programming. The track is only one of two bobsled and luge facilities in Canada.
"WinSport's Canada Olympic Park is a living legacy of the 1988 Calgary Winter Olympics and the refurbishment will help us maintain our standing as a world-class facility and allow us to continue to provide a place for Canadians to discover, develop and excel at sport for generations to come," said WinSport president and CEO Barry Heck.