Construction artist Brad Burns recalls growing up in San Jose, Calif. with a cherry and apricot orchard behind the house.
"One day I looked out and the trees were all gone, and builders were moving in," he says. "It impressed me that something incredibly powerful was happening here, brought about by people and their machines."
He later studied fine art at the University of California at Santa Cruz with an emphasis on painting and printmaking.
"I had a boutique agency in Silicon Valley and was producing a wide range of art, but in the early 1990s I was commissioned to produce covers for EUCA, the magazine of the Engineering and Utility Contractors Association," says Burns. "Construction companies began to ask me if they could buy the original artwork to hang in their offices. At that point I was becoming more and more enamoured with painting for the construction industry."
He soon began taking on commissioned work, producing a series of paintings for California contractor Preston Pipelines early on. While he continues to paint a wide range of subject matter, he specializes in work for construction industry clientele under the shingle of Brad Burns Construction Fine Art.
"I used to travel out and begin work by doing sketches onsite," he says. "But that was dusty and messy. I found that it's far better to use photographs as reference material."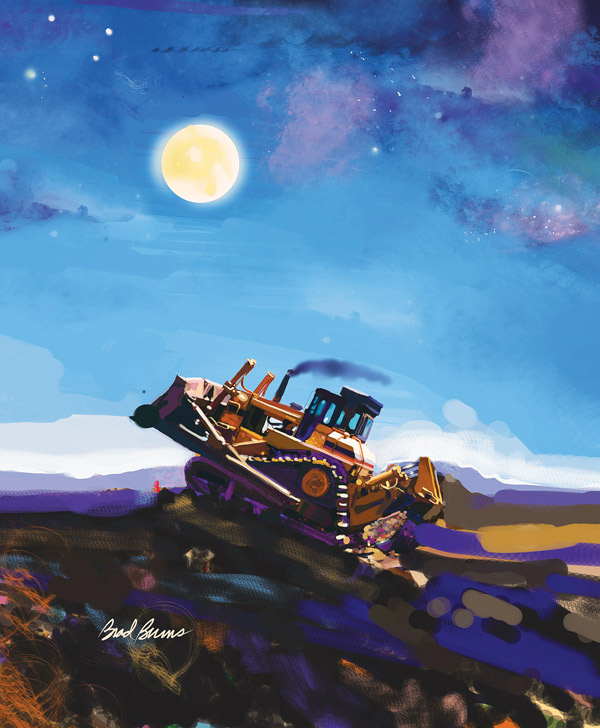 Burns typically works from a series of photographs sent to him by the client. He amalgamates the best elements from each of those photos and recomposes them, emphasizing people, machinery or construction processes. He then cleans up the background, removes extraneous elements, such as powerlines and billboards, and has the rough images digitally printed on canvas.
"I use that image as my sketch and add in geographic elements such as a mountain, or a beautiful sky or sunset," he says. "From there, I build up the final artwork on canvas, using acrylic paints, glazes and varnishes. The works are finished with a UV protectant coating."
Burns quotes US$3,200 for an original composition in a 30" by 40" format, although he's worked as large as nine-by-12 feet for client Appian Engineering in San Jose. Customers often purchase additional giclée reproductions of the same image, digitally printed on canvas, for US$800. He retains the creative rights to each image and sells smaller reproductions of the paintings on his website.
His subjects have included historical construction scenes, but mostly feature the meat and potatoes of contemporary construction work — concrete formwork, drilling, dewatering, shoring, excavating and busting up concrete.
He lives and works on the Hawaiian island of Kauai. In most cases, clients find him online, although he's also been noticed during showings at the World of Concrete Trade Show in Las Vegas.
He's appeared there twice at the Western Star truck booth, where he painted live as part of its exhibit.
While there in 2017, he took on a commission for Canadian company W.K. Dahms Manufacturing, which builds the Stone Slinger truck conveyor system.
His work has been purchased by construction clients in countries as diverse as Italy, France, Germany and China, and of course, Canada.
"I love Canadians not only because they're so polite, but because construction companies in Canada have seemed to be calling me with the most commissions," says Burns. "My last 10 commissions were completed for Canadian clients. I recently completed five paintings for Great Canadian Solar in Edmonton."
While he loves to paint heavy equipment in all its diesel glory, Burns prefers compositions that include a human element to bring context and meaning to the work.
"My favourite painting is Caterpillar Scrapers," he says. "It tells the story of a crew of guys doing foundation work at sunrise and it includes a particular Colorado mountain range. It was a lot of fun to put together. But I have a particular fondness for painting the people who own the construction companies that they've worked their whole lives to build. I know those paintings will hang on the office wall for generations."