The University of B.C.'s Brock Commons Phase 1 student residence, now the world's second tallest wood building, is reshaping traditional construction through fabrication and winning awards for its' construction crew.
Three B.C. construction companies have received Vancouver Regional Construction Association Silver Awards: Urban One Builders Construction Management (general contractor — $15-$50 million), Seagate Structures Ltd. (Chairman's Trade Award for trade contractor up to $1 million), and Trotter & Morton Building Technologies Inc. (mechanical contractors — $3-$9 million).
"The wood structure came together in nine weeks," said Urban's senior project manager Karla Fraser, as that work included 16 wood storeys plus envelop and concrete floor topping. Throughout the build, prefabrication components, just-in-time delivery, and crews employed on carefully sequenced work cycles sped the building's rise.
Construction could have moved even faster as a building cycle was removed. "We were going too fast — they sent us home early for a long weekend in July. How crazy is that?" said Ralph Austin, owner of Seagate, a company known for of mass timber and cross-laminated timber wood (CLT) construction. Seagate installed the CLT floor plates, the glulam beams and floor columns. Seagate worked closely with Urban One, Structurlam, and structural engineer Fast + Epp to ensure that the installation process rang smoothly and Structurlam ensured that all panels were pre-cut to the trade specifications.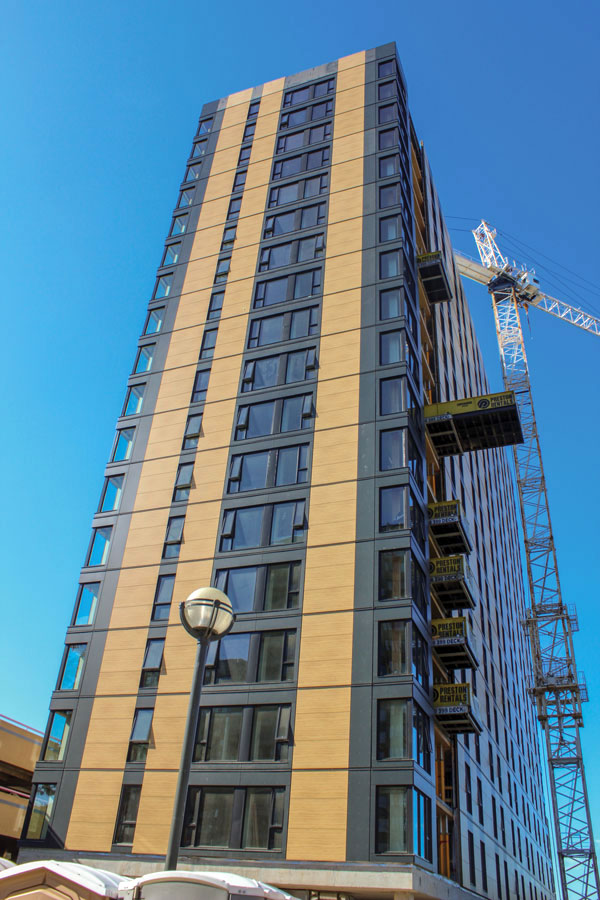 Trotter & Morton Building Technologies' David Stefanchuk, senior project manager, said the speed with which the building was being assembled was the real challenge as mechanical crews had to keep up. Prefabrication became the solution. "We completely modeled everything. We did the prefab off site and assembly on site, including the mechanical room and roughed-in materials were also prefabricated. We do prefab but not to this extent," he said. It became a process of crews placing the components as other prefab components were installed. The mechanical room components were installed and the room completed in half or less time than would normally take to install a built in-place room.
Stefanchuk sees it as the emerging trend. "We are moving towards more prefab," he said, adding the technology has also evolved to the extent that modeling is more viable. "Modeling takes down the labor costs and the labour is the number one unknown on a project."
When Fraser, with site senior project superintendent Bill Leininger, first approached the task of building the tall wood structure, there were immediate challenges. "No one had done a project like this and we were wondering how it would work," she said. It was to be the world's tallest wood hybrid building rising 53 metres in height with 18 storeys. (Norway's 18-storey, 80-metre structure Mjosa Tower has now taken the title and completes in early 2019).
The proposed student residential building would house 400 students, plus provide amenity areas. The foundation, ground floor, and second storey slab plus elevators and stairs are concrete while CLT floor panels supported on glulam beams with parallel strand lumber were used as columns. The building exterior used prefabricated steel studs framing panels holding wood-fibre laminate siding.
Fraser credits modelling and animation with taking a proposed project and transforming it into a virtual reality allowing the whole construction team to visualize the process.
"We used CadMakers — they did the virtual modelling and the animations," she said. Each building trade was able to view how their role contributed to the project, what needed to be done, and how it needed to be staged in relation to the other trades.
"That was a big turning point, everyone could see how it could come together," Fraser said.
If one trade rushed ahead or fell behind, it would throw off the building cycle. "It became very clear that if anyone trade failed all of the team would fail. As a result we had a great collaborative working environment," she said, adding that the degree was collaboration ranging from the engineers through to the trades was greater than seen on the normal construction project.
Centura Building Systems supplied, engineered and installed pre-manufactured sections of the panel for the building envelope. Lafarge Canada and Equs Surfaces installed the 40 mm acoustic topping on the same day as the mass timber installation. Whitewater Concrete and LMS Reinforcing Steel Group achieved an impressive two floors of concrete every five to seven days.
Seagate's Austin said the Brock Commons structure was "pretty easy" once the preplanning was done. But, the building does show how the whole concept of construction is evolving today and change is being fuelled by both new labour-saving software programs but a changing labour pool, both in terms of skills and management.
Prefabrication places employees in a controlled environment rather than in the elements. As well, Austin said, the old-breed of site superintendents who arrived at 5 a.m. and stayed on site doing hands-on trouble-shooting is fading into retirement. He said the new breed of construction management is not run by the job, arrives at 7 a.m. and leaves at 3:30 p.m., is computer savvy and are comfortable using software modeling programs to resolve conflicts.
"They don't have the seasoning or the experience (of the older superintendents), but you know — they get it — and resolve problems before they happen," he said.