Asphalt milling is a cost-effective means for addressing asphalt deficiencies on roads, highways and parking lots. When asphalt reveals cracks and potholes that aren't deep — and the base and sub-base are intact, scraping away just the asphalt is both cost-effective and quick compared to replacing the entire road.
"Milling of pavement surfaces can be for several different reasons. Main reasons are for removal of worn or degraded asphalt layers, to improve ride-ability, re-shape the road or improve traction/grip," says Matt White, North American Sales Manager-Milling & Recycling/Stabilizing, Bomag Americas.
"Preparation of the milling machine as well as the job site are crucial pieces to the milling process. Preparation of trucking (how many trucks are needed, how long turn-around times are and logistics) is crucial," says White. "Communication between crew onsite and milling operators is key as well."
Asphalt milling is achieved through the use of a cold planer. Also known as a planer, asphalt grinder, asphalt milling machine, cold milling machine, a cold planer cuts the asphalt with a rotating drum equipped with teeth and then vacuums the milled pieces and places them on a conveyor, which transports the pieces to a truck positioned immediately in front of the planer.
The grinded asphalt is known as reclaimed asphalt pavement (RAP); it is processed into engineered aggregates and then gets used in asphalt mixes.
"Asphalt 'cold' milling with self-propelled cold mills prepares a road driving course for an asphalt overlay or pavement preservation surface treatment," says Tom Chastain, Applications Specialist, Wirtgen America.
"By removing an aged, oxidized driving surface in advance of paving, cracks that may reflect from existing surface up through a fresh asphalt surface are eliminated; existing crown and slope are restored or altered; low clearance under bridges due to multiple overlays is corrected; and curbs are revealed that were covered up by multiple overlays."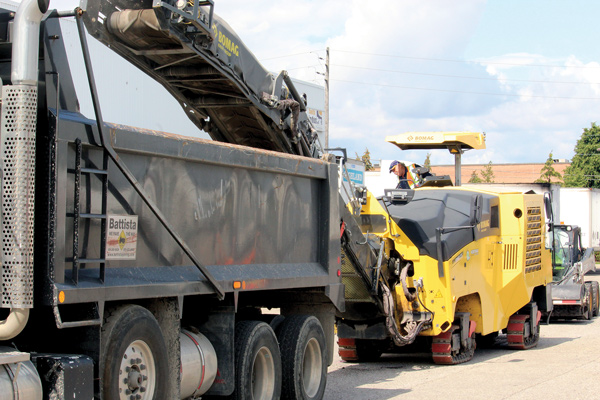 Chastain continues: "Asphalt milling is not to be confused with cold in-place or hot in-place recycling, in which a single machine or an equipment train removes, recycles and replaces the surface in one pass. Nor should it be confused with full-depth recycling or reclamation, in which a failed pavement is pulverized in-place and mixed with the layers below and compacted as the base for a new asphalt overlay."
Machine control has been part of a cold planer's DNA for a long time. For nearly two decades, these machines have come equipped with grade control, which senses the height of the material to be cut and automatically makes drum height changes according to the specifications input into the machine by the operator.
"Proper setup of grade controls, combined with drum maintenance and machine maintenance will ensure the machine is capable of producing at 100 per cent," says White.
Then, manufacturers developed slope control, which senses the side-to-side angle of the machine and automatically makes adjustments according to specification.
More recently, manufacturers have developed a way to change the drum speed from the operator's station; instead of getting under the machine to change a belt, an operator simply pushes a button on the control panel.
A cold planer operator has to maintain two speeds — the speed of the drum's rotation and the forward speed of the machine. The drum's rotation speed has to correspond to the machine's forward speed, otherwise you can end up with choppy asphalt and damaged cutting teeth.
"Milling speed is critical. Typically, a steady, consistent speed will produce better results and less wear/tear on a machine, than running as fast as possible," says White.
Another important feature of a cold planer is its ability for quick and easy drum changes.
Finally, an efficient dust suppression system (water) on a cold planer protects the operator and workers from inhaling it, as well as cools down the drum. This is called "water on the fly", because the water is used while the machine continues to work.