Vancouver and London may not seem at first blush to have much in common, but both are aiming for sustainability while facing similar challenges.
The Emily Carr University of Art and Design hosted not only a group of Vancouver's sustainability, construction and design leaders but their counterparts in London via Skype. Both sets of experts shared sustainability solutions based on their own experiences. Diamond Schmitt Architects hosted the event in Vancouver with New London Architecture running the London portion.
Vancouver is hemmed in by water and mountains as well as maintaining an agricultural land reserve, said City of Vancouver general manager of planning, urban design and sustainability Gil Kelley, but those restrictions help the city "punch above its weight" with an iconic global image.
"We're clean and green, but we're doing a very urban experiment here on the west coast," Kelley said.
Transport is an important sustainability factor for both cities, Kelley said, and both are looking at putting plans in place to reshape their landscapes.
"I think the number one takeaway (from the seminar) is that London Transport has taken on the role of doing a city-wide plan very recently for London that in spirit is much the same as the plan we're thinking about here in Vancouver. City council has just asked us to initiate a multi-year city-wide plan that would result in Vancouver's first city plan."
These initiatives, he said, require extensive planning.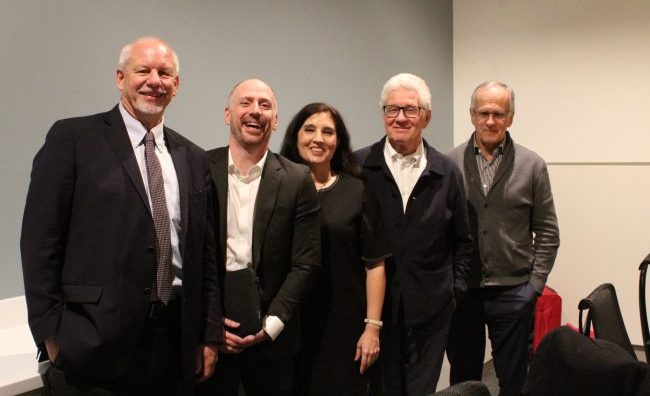 "Strategic thinking, a focus on transformative change, integrative planning — we're looking at health, sustainability, prosperity and urban form, and housing affordability all in one plan. I think it is a great step that they've made in London and I think it'll be London's blueprint for the next 30 to 50 years. That's the kind of thing that we're after in Vancouver," he said.
Both cities are experiencing a housing affordability crisis, Kelley said, and in Vancouver's case "we're victims of our own success. Livability has turned into a housing crisis."
Transport for London property development senior sustainable development manager Derek Wilson said the city is looking to implement a similar plan to Vancouver, and that it faces many of the same problems along with its own challenges.
"London is 47 per cent green and we also have statutory lands like a greenbelt, but that puts constraints on London's growth," Wilson said.
London sees population growth of 70,000 new citizens each year, with a population of 10.5 million by 2041 and will need 60,000 new homes each year along with 40,000 new jobs.
At the same time, ridership on the city's public transport is dipping due to ride-sharing apps such as Uber and Lyft while maintenance costs rise, which could cause a long-term revenue gap.
London is also looking at a mandatory net gain in biodiversity and a tree canopy increase of 10 per cent by 2050.
"Nine thousand Londoners are dying each year due to air toxicity, with 50 per cent of that coming from street level transport. One in six deaths could be prevented by walking or cycling 20 minutes a day," Wilson said.
"Trying to tackle all of this simultaneously is a real challenge, and that's where sustainability planning comes in."
Unlike Vancouver, London's mayor is responsible for transport, and the transit strategy is focusing on housing, health and a shift from private to public transport and where possible from public transit to walking and cycling.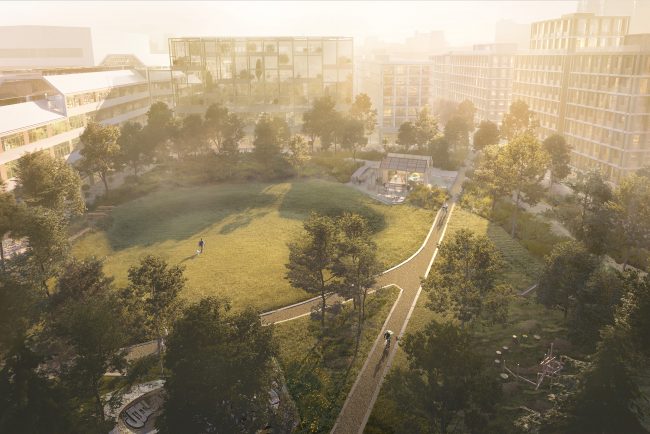 "We're looking at people before cars, and also a cycling 'superhighway,' which is quite common to Vancouver but new to London," Wilson said.
Fast + Epp founder Paul Fast pointed to timber use for building as "the talk of the town in Vancouver. It's all over North America, even more so than Europe."
"As structural engineers, we let the dust settle and say 'does it really make sense to use more wood?' It does because it's a resource that grows quickly and there's a lot of timber out there. We have to be careful on the forest management side and not upset biodiversity, but it's best at sequestering carbon and can be built quietly and quickly," Epp said.
Canada Water is a former port in the Docklands area of southeast London where Canadian timber was received once it arrived in London. It is being reworked into a sustainable new neighbourhood, said British Land head of operations for Canada Water Emma Cariaga.
"Canada Water is one of the best-connected sites in London, with 360 degrees of connectivity at the junction of two major tube lines. It's a growing area with a young demographic and a place where companies are looking to bring talent," Cariaga said.
A masterplan is in place for 16 new streets, six new public spaces and a 50-50 split between retail and residential, she said.
"We want to build a retail centre that encourages people to come out and be social in an age where you can order what you need off of an iPad," Cariaga added. "This will be the first new High Street in London in a century and over 90 per cent of transport will be by non-car mode, which means 10,000 cycle spaces. It's a huge opportunity for London to create a town centre for the future," Cariaga said. 
Diamond Schmitt co-founder and principal Don Schmitt said each city is facing similar problems but is handling the situation in different ways.
"The conversation creates an interesting possibility to see what practices in London might inform activity in Vancouver and vice versa," Schmitt said.
He highlighted transit investment as a shared factor that could be used to increase sustainability.
"Canada Water is really benefiting from transit connectivity, and it was interesting to compare that to Vancouver and the challenges of connection in this city," he said.
Recently, Vancouver City Council voted to extend the Skytrain transit system to the University of British Columbia down the city's busy Broadway corridor, and Schmitt pointed to the decision as an example of balancing Vancouver's different social needs.
"There's the issues of affordable housing and how you can develop planning policy to accommodate growth but do so in a way that doesn't lose affordability while investing in transit. Those policies were interesting when comparing between the two cities," he said. 
Schmitt also pointed to global growth as a call to action for sustainability.
"The volume of buildings across the world will more than double over the next 40 years, so it's incredible growth we're experiencing whether it's London, Vancouver or elsewhere. Building that sustainably is key, but what came up today was the importance of retrofitting existing building stock for better environmental, thermal and closer to net energy zero," he said.