The new Skilled Trades and Technology Centre (STTC) on the Notre Dame campus of Red River College (RRC) in Winnipeg is a training centre for more than 1,000 students in high-demand fields of employment.
But its exterior suggests something quite different. It resembles, if the viewer uses a bit of imagination, the trees that cover part of Manitoba.
Inspiration for the exterior was a birch forest, said Doug Hanna, an architect with Number TEN Architectural Group in Winnipeg and the principal in charge of the project.
"The seemingly random patterns of black, white and wood-coloured aluminum panels and windows were inspired by the visual cues from a birch forest and was done to create a non-institutional feel and make a more informal and inviting environment for students," said Hanna.
The exterior of the STTC is a focal point of RRC's Notre Dame campus, located approximately five miles northwest of downtown Winnipeg.
Work on the two-storey, 104,000-square-foot building started in August 2015 and finished in July 2018, in time for classes in September.
The building is oriented around a skylit central galleria which serves a pedestrian street that is nearly two-football fields long.
It is flanked with floor-to-ceiling windows that look into the each of the workshops.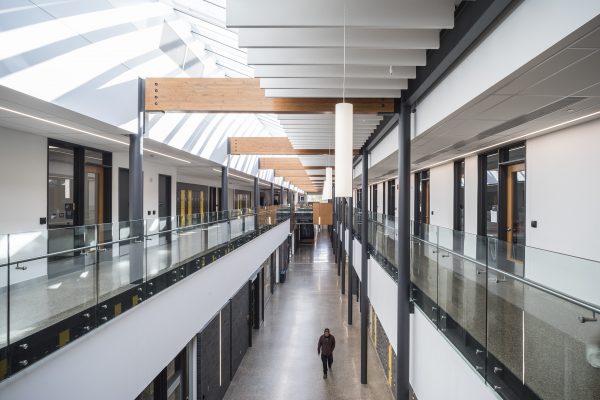 "Every workshop and classroom has extensive glazing into the galleria to encourage transparency, collaboration and sharing of knowledge," said Hanna. "Think of it as a shopping mall of education for the trades."
A number of programs were moved from existing buildings on the RRC campus into the STTC: electrical, sheet metal, refrigeration and carpentry.
Manufacturing and aerospace are located in the 6,000-square-foot Smart Factory, which is part of the new centre.
The Smart Factory will contain such emerging technologies as robotics, automation, additive manufacturing, high-speed robotic inspection and industrial networking.
"The existing buildings were built in the late 1960s and early 1970s and were past the age at which they could be successfully retrofitted," said Patrick Kuzyk, RRC's chief capital projects officer.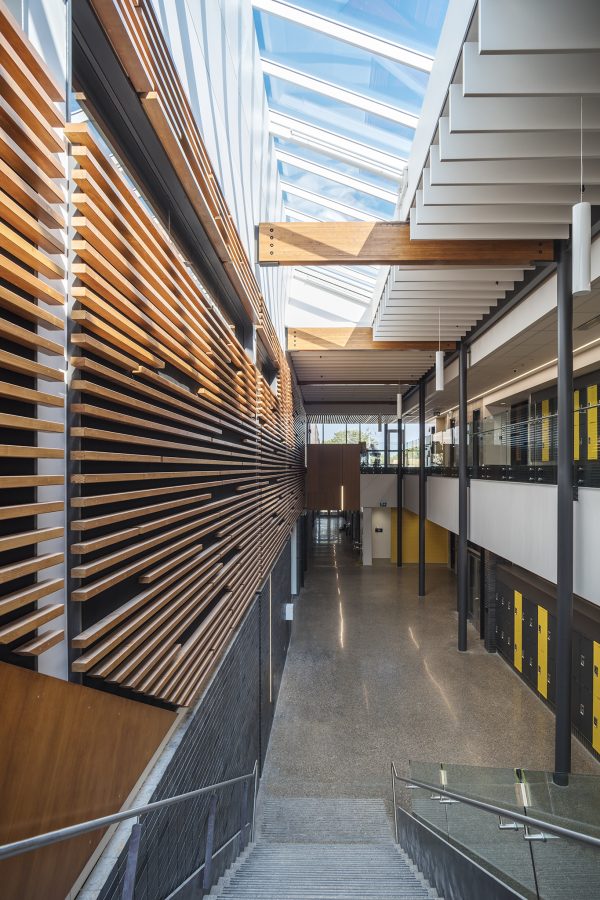 The project was designed by Number TEN, the prime consultants on the project, with Pico Architecture, which was known as Ager Little Architects Inc. when it took on the STTC project.
"We split the design phases 50/50 with Number TEN," said Gail Little, principal of Pico. "During the design phases we had two senior architects from each company in every design meeting. In the construction documentation phase, Number TEN took a leading role in the detailing and we led the equipment co-ordination and layout."
Little said two of Pico's architects in the STTC project were also involved in a similar building at Assiniboine Community College in Brandon, Man.
"A school of trades and technology relies heavily on building infrastructure to function efficiently, and we implemented many of our lessons learned in Brandon into the project at RRC," she said. "Program equipment has a significant influence on design and workshop layouts and having that experience and knowledge background with similar equipment and tool requirements greatly contributed to the success at Red River."
RRC, Number TEN and Pico developed a project charter to guide the design and development of the STTC.
"The guiding principles were sustainability, innovation accelerator, context and connections, image and showcase," said Little. "The decision matrix for every aspect of design was measured through these principles."
Each trade was celebrated in the design and detailing of the project, said Little. 
"Each workshop entry has a trade showcase, a display case that celebrates the materials, tools and processes of each program and helps in building way-finding," she said.  "Cut-offs and tools collected during construction are embedded in the polished concrete floor as artifacts to discover."
The STTC has many sustainability features. They include, in part, stormwater management through a rain garden, a well-to-well geothermal system, green roof, solar panels, raw forms of interior materials wherever possible, a green dashboard showing sustainability statistics, over 1,000 building envelope sensors, LED light fixtures and abundant use of natural light.
The STTC is targeting LEED Gold status from the Canada Green Building Council (CaGBC).
RRC students played an active part in the design and construction process. 
"Masonry students built mock-ups to help review brick selections, mortar joint types and to test anti-graffiti coatings," said Little. "Carpentry students constructed workshop benches for the new shop spaces. Architectural technology students tested the building's BIM models."
For their efforts on the STTC project,  Number TEN and Pico were recognized with the 2018 CaGBC (Manitoba Chapter) Excellence in Green Building – New Construction award and the 2018 Manitoba Masonry Design Award of Merit.