Edmonton's Blatchford neighbourhood, which aims to eventually be one of the world's largest sustainable communities, is currently searching for a method to fund its utility infrastructure construction.
Cheryl Mitchell, manager of marketing and sales manager at the Blatchford Redevelopment Office, explained the current model foresees a total of $660 million required to build out the entire distributed energy storage system (DESS), of which $420 million would be paid for by the Blatchford Renewable Energy Utility through rates and connection fees, and an additional $147 million of utility infrastructure contributed by builders.
This leaves a $93-million non-refundable cash infusion required over the first 10 years of the utility's operation.
"City council, representing the regulator for the new utility, has set a fiscal policy that rates in Blatchford should not exceed the rates for the same energy services for the rest of Edmonton," said Mitchell.
City officials have come up with five options to pay the $93 million over the next 10 years. These options include federal and provincial grant funding, higher utility rates, using the retained earnings from the sale of the land, using tax-supported debt and partnering with other utility providers.
"It is important to note that these were presented as a suite of options for council," said Mitchell. "City administration was not recommending using tax-supported debt and is currently seeking grant funding.
The utility is a key part of the project's main goal: creating a carbon neutral neighbourhood using 100 per cent renewable energy."
To achieve this, the team will be building high performance structures to reduce the amount of energy needed for heating and cooling.
The energy will then be supplied through the energy-efficient DESS, which can reduce overall energy consumption by 15 to 20 per cent by sharing energy between buildings on a large scale.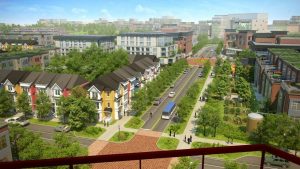 Renewable energy sources, like geoexchange and sewer heat exchange, will tie into the DESS.
Instead of a traditional furnace or boiler system, each residence and structure will have a heat pump-based energy transfer station, which extracts the thermal energy from the DESS and upgrades it for the structure's heating, cooling and domestic hot water needs.
Heat pumps upgrade energy more efficiently than a typical furnace, reducing Blatchford's greenhouse gas emissions compared to a traditional community.
"While building a utility company based on a DESS is new to Edmonton, the utility services we all use on a daily basis were also created from the ground up," said Mitchell. "We have the quality of life that we do today because governments and companies have historically invested in utilities and utility infrastructure like transmission lines, pipelines, power and water treatment plants."
Mitchell explained the utility infrastructure will be built in multiple stages to align with the land development and to ensure it can adjust as emerging renewable energy technologies come to market.
Crews have already finished the first geoexchange field and work on the project's first energy centre that will handle the first two stages of the land development is already underway. It is expected to be running later this year.
The geoexchange field consists of 570 geothermal wells drilled roughly 150 metres into the ground underneath one of the site's two future stormwater ponds. The energy centre will deliver the energy from the ground into the neighbourhood utilizing underground pipes connecting to the neighbourhood's buildings.
Mitchell added that elsewhere on the site, other progress is being made. This month the first homebuilders –  Carbon Busters, Encore Master Builder, Mutti Homes and Ocheller by RedBrick – began selling townhomes which will be built later this year.
Residential construction is the first phase of development in Blatchford West – Stage One. Additional builders are being selected for the next phase of development in Stage One, which includes condo townhouses and four-to-six-storey mixed-use buildings.