Turning a 50-year-old concrete warehouse from a place to store books into a bright and airy community space for collaboration and learning is no easy task.
Front and centre in the transformation of Edmonton's Stanley A. Milner Library is a heart of steel and a zinc skin exterior which has drawn both accolades and awards for architect Stephen Teeple, including a 2018 Canadian Institute of Steel Construction (CISC) award.
It has also drawn a serious amount of criticism, something that rankles Teeple because those denigrating his work aren't seeing the vision from the inside, which ultimately influences the exterior impression.
He is truly passionate about his design and earnest in his approach to bring light and a sense of community to places where it never existed in keeping with a more modern approach to designing space and structure.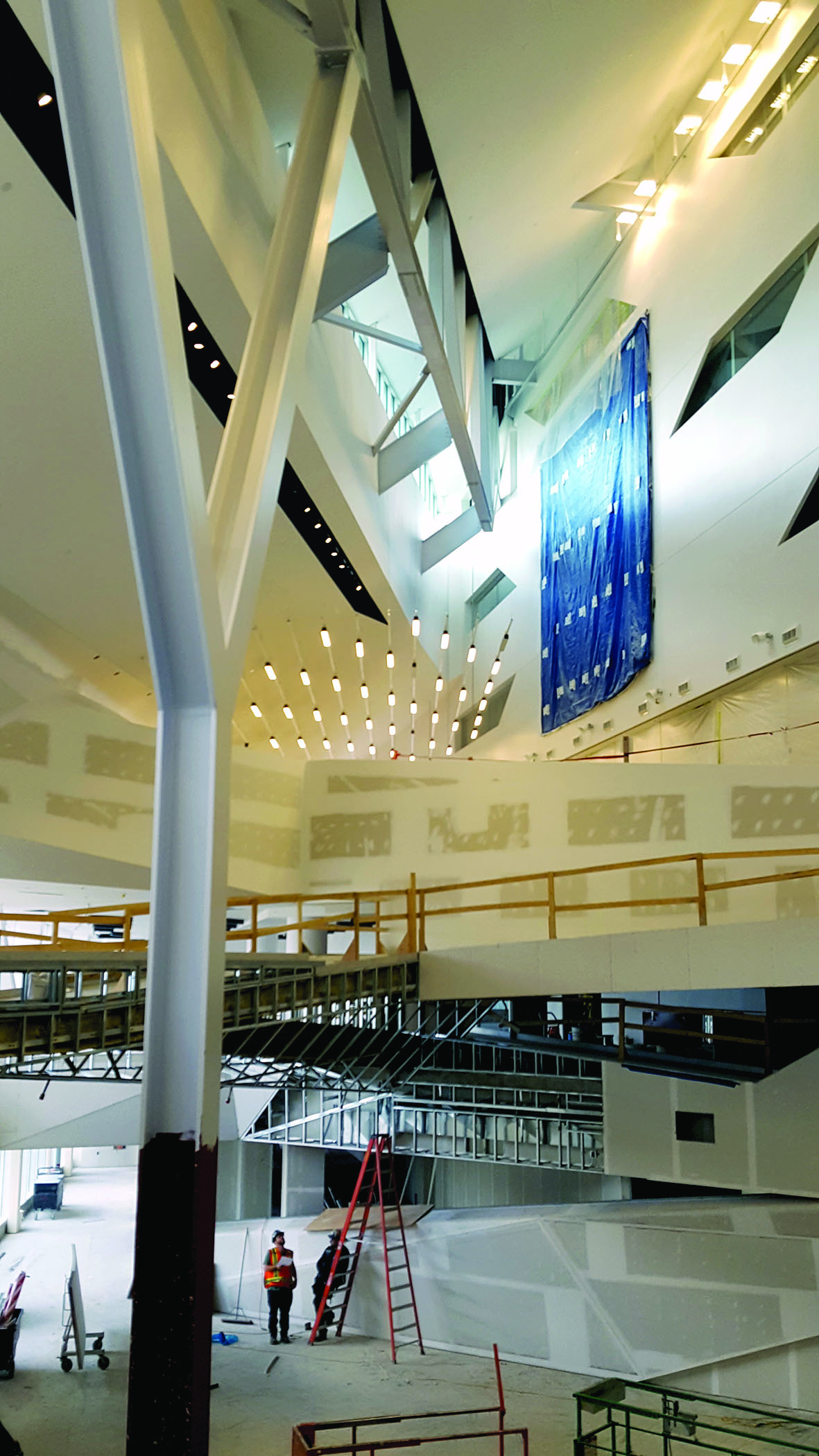 More on that later. First, it helps to understand the challenge Teeple and his team faced in bringing the downtown library into the 21st century. The existing monolith was more reminiscent of a warehouse than a centerpiece of Churchill Square in the heart of downtown Edmonton.
"Total demolition wasn't an option," Teeple says. "There's a lot of multi-level rental design space. The library was two floors and there was a big theatre in the basement. There was some merit to it."
So, first there was extensive demolition, hazardous material abatement and removal of the old facade.
Then, following the Teeple Architects' design came the steel, including a structural steel facade, interior steel seismic reinforcements of existing concrete columns, stairs and access ramps.
Open-web steel joists and floor/roof decking were added. A new structure was put in place on the south side while a new lower-level connection to the Light Rail Transit was installed.
Within the newly emerging space created by the added atrium, the design also called for innovative uses of structural steel, to support the dramatically contoured façade. This was achieved through a creative system of trusses.
A steel reading ramp that wraps around that open atrium space creates niches for solo contemplation or collaborative teams to meet, work and share.
The design team wanted to stretch out the space, with few columns to clutter up the visual impact. As such giant trusses were built to provide support yet not fill in the space.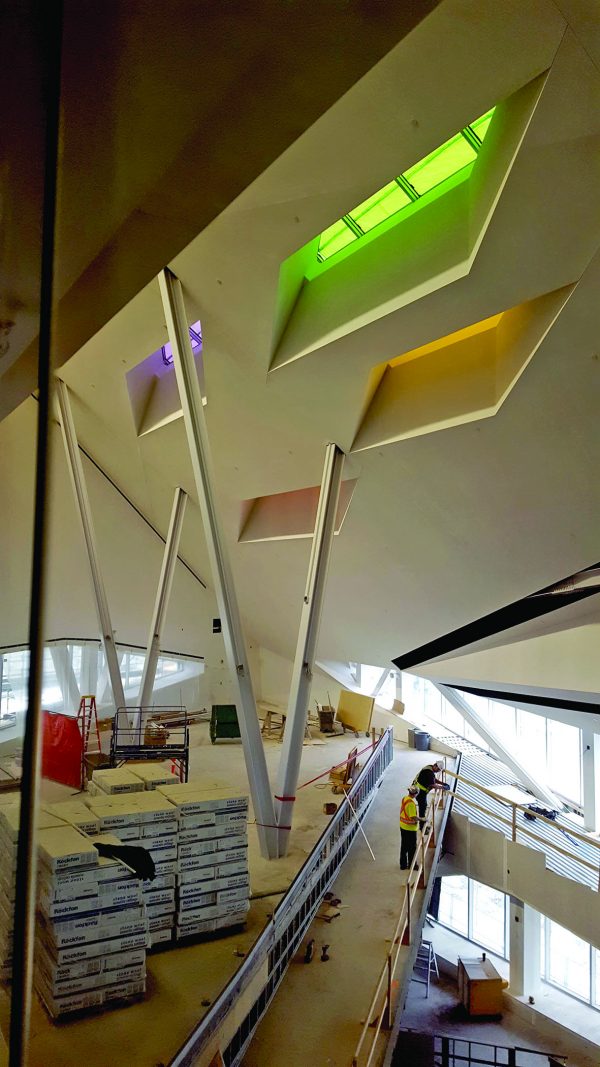 "The idea was to stretch the atrium across the face of it and for it to look almost suspended with very few columns," Teeple says. "So we used a giant truss cutting across an entire city block that slopes from the sixth floor to the third floor and supports the whole thing with this big triangular truss so there are only three columns which branch out. You can only do this with steel."
 The interior will be the proof of concept, he says, and the air and light it provides will put everything else into perspective.
"When you flow in from the corner you can see your whole journey, it creates a connection for the community and all the services," he says.
While Edmonton isn't particularly regarded as an earthquake zone, the building code has since changed to require seismic upgrades and that too has been done with steel, Teeple says, with cross-bracing of concrete columns.
"Steel helps make that public gesture of extending the space out," he says. "The flow of space starts from the outside and goes inside. We've created public space that wasn't there before."
While the exposed steel is treated more esthetically, there's a fair amount of "working" steel which is not seen and serves to structurally bind components together, he says.
And where there is drywall, it's an acoustic panel to ensure that the ambient sound levels are kept under control. It is, after all, a library.
Even the centerpiece artwork is steel: a hydro cut plate by artist Peter von Tiesenhausen.
The exterior was a conscious choice, Teeple says, given that using glass would have created all kinds of energy issues with heat gain and loss.
Azengar Zinc panels were chosen. Teeple has used zinc cladding previously, notably at the the Stephen Hawking Centre at the Perimeter Institute in Waterloo, Ont.  There, the exterior zinc panels and gold-coloured glass complement and contrast with the existing building.
"And we like the stretching of the skin," he says of the Edmonton library which opens in February 2020. "We're taking a dull box and then stretching this metal skin across it.
"It's a beautiful, durable material and has the advantage over something like copper in that it doesn't discolour over time. Basically it lasts forever and Azengar, the new coating, is really popular in Europe where it is everywhere."
Teeple says the wall system is a light-gauge metal roof deck which takes the load and then there is a clip, which is thermally broken. The zinc is then cleated to be thermally broken.
"It's a 100-per-cent thermally broken system," he says noting the system brings a high energy conservation factor to the envelope and scored highly with LEED. "It's a very high performing building envelope."