Preparatory work is complete and heavy equipment is now on site for the start of construction on The Paramount, a large $267-million residential and office building project in a busy area of downtown Richmond, B.C., directly across from Richmond Centre shopping mall.
If all goes according to plan, three residential towers and one office tower will soon rise from the site of a former strip mall. Construction is expected to take about two and a half years, finishing in spring 2022.
The office tower will have a very unique appearance as architects have incorporated a slanted curtain wall design into the structure that will make it look distinctly lopsided and much different from other buildings.
"Currently we have seven subcontractors on site," says James Cassano, senior project manager at Graham Construction which is in charge of the work. "We expect manpower to peak at 400 to 500 people."
Three 15-storey residential towers and one 12-storey officer building are slated for the sprawling site on the eastern side of Number 3 Road and north of Cook Road. A presentation centre on Cook Road and enabling early prep work were completed earlier this year, paving the way for construction to begin.
Keltic Canada Development is developing the mixed-use complex. The company has nearly $1 billion of residential communities under development in Metro Vancouver.
Vancouver-based GBL Architects has designed The Paramount, which is just steps away from SkyTrain stations.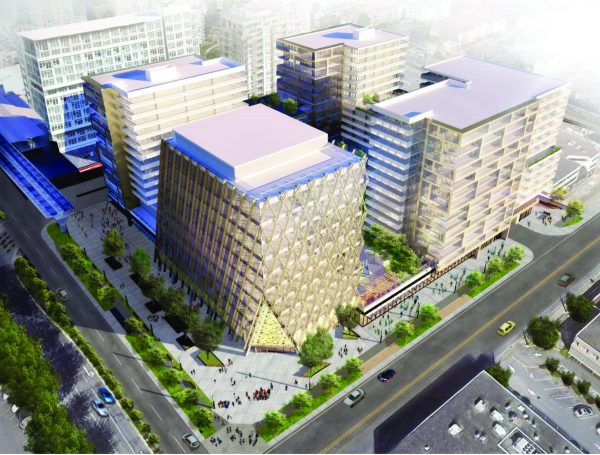 The development will include 533 residential suites, 27 low-income market rental suites, 618 parking stalls, a 19,000-square-foot early childhood development hub, 102,600 square feet of office space and 28,600 square feet of retail space. There will be multiple retail units at the ground level portion of the project.
The residential towers will have a window wall facade and the office tower will have a curtain wall system. Aluminum composite material, or ACM cladding, will be used to accent areas and membrane roofing systems.
There are now cranes, earthmovers and pile drivers on the site. The first part of the project involves bulk excavating, shoring and dewatering of the site. Hoarding has been erected around the worksite perimeter.
All four towers will be concrete-framed and consist of 625,000 square feet of floor space which will sit atop a 375,000-square-foot podium and four-level parking structure.
The developer chose to use cast-in-place concrete for project.
Cassano says construction crews will face a number of challenges in constructing and erecting the buildings, namely that the building site is in a busy downtown area with heavy vehicle and pedestrian traffic. Construction work must also take place close to other existing structures.
"The project is tight against two busy roads and is also adjacent to the SkyTrain station," explains Cassano. "Logistics is challenging with the delivery of materials and movement on the jobsite."
Richmond also has a high-water table, which is another challenge, he notes. The contractor dealt with the issue by installing a deep soil mixing, or DSM wall, for excavation support and using a dewatering system.
The DSM wall was built as part of the site prep work that was completed earlier this year. Deep soil mixing for excavation support involves constructing a support wall by mixing in situ soils with a stabilizing agent. Such mixed-in-place walls are well-suited for urban areas with high groundwater levels.
Cassano says a district energy system is being built into the project.
Graham's involvement in the project started with construction of the presentation centre which was completed last October. The company also undertook abatement and demolition for the main site, followed by an enabling works package that consisted of site preparation works including soil densification and the construction of the DSM water cut-off perimeter wall that was completed in January.