VANCOUVER – Project manager Paul Warwick is proud of King Edward Villa, a seventy-seven-unit rental project achieving LEED® Platinum status in East Vancouver that Performance Construction built—it's six storeys high and was built entirely using prefabricated wood-frame construction. It was a pioneering project, launched not long after city building code amendments increased the allowable height of wood-frame residential construction to six storeys. Prior to the 2009 change, only four-storey wood-frame buildings were allowed in B.C.
More multi-family developers are discovering that the innovative use of wood and mass-timber construction doesn't just save money, it can be an advantage that sets you apart in a sea of condos that begin to all look the same. Increasingly, both buyers and renters are placing importance on organic materials, sustainability, and warm, inviting interiors—all areas where wood construction excels. Wood can offer performance and thermal benefits, adding to energy efficiency and occupant comfort, while at the same time offering aesthetic warmth and a visual selling feature.
In the case of King Edward Villa, Warwick and his team introduced double-insulated prefabricated walls and floor trusses to the project. Those techniques boosted energy efficiency significantly and helped the project achieve LEED Platinum certification, all the while keeping costs down. "We made the case to the owner that if we built a more efficient building with a really efficient envelope, they would have very low operating costs, because a person renting out almost eighty apartments is definitely looking to cut back as much as they can on their energy use," says Warwick. "We now have a year and a half of performance data, and the numbers are really good," he adds. "A small, six-hundred-square-foot apartment costs less than one hundred dollars a year to heat. So, it's very impressive." His clients are increasing looking for sustainability and energy efficiency. "These buildings use about 50 to 60 percent less energy than is mandated currently by energy codes."
King Edward Villa was part of the City of Vancouver's Rental 100 program, an initiative to increase the stock of affordable housing in the city. Cost savings and energy efficiency can benefit renters and are a boon for developers who must keep starting rents below certain thresholds to participate in the program.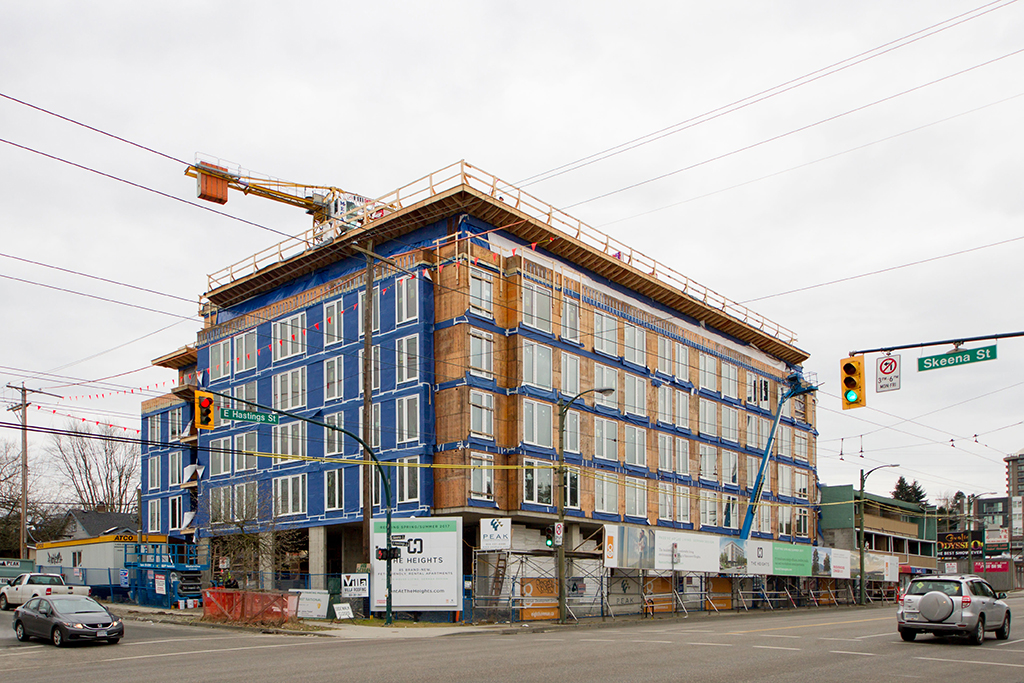 Warwick is at work on another mid-rise that follows the exact same wood-frame template, at West 35th Avenue and Quebec Street in Vancouver. It is a five-storey condo building with eighteen units, and their anticipated energy savings is expected to boost their value. "Properly built, wood-frame is a much more efficient building thermally, and also very sound proof," says Warwick. GBL Architects project manager Greg Ellingson says a significant amount of time was spent up front, planning the template for the manufacturer of the prefabricated components.
"It took a bit longer planning wise, but once it went out, it went up fast," he says.
Warwick forecasts that in another decade the majority of buildings will be constructed out of prefabricated wood components, based on cost benefits and efficiency alone. "In six-storey mid-rise construction, I believe a wood-frame structure is the most cost-efficient way to build a building," he says. "Concrete has its merits, but it's very expensive. There is a premium in both cost and time to build a concrete structure as opposed to a podium wood-frame building," says Warwick. A typical forty- or fifty-unit concrete building takes about five thousand metric tons of concrete, and an enormous amount of steel is used to reinforce it, while a five-storey eighteen-unit wood-frame building can take as little as two months to put up. A concrete equivalent would take two or three times as long, says Warwick.
Wood construction has long been a differentiator for Vancouver mid-rise developer Adera Development Corporation, but the company took a bigger leap into mass timber prefabricated construction with its Virtuoso building at the University of British Columbia's Wesbrook Village. After the success of Virtuoso, in 2018, Adera launched North Vancouver's first mass-timber development, a 179-unit six-storey multi-family project called Crest. Before construction had begun, the developer had already sold 150 units of the mid-market project.
Another way the developer stands out is in their use of cross-laminated timber (CLT) to block sound transference between floors. Adera's patented technology—which they call "Quiet Home"—blocks sound that is airborne, such as human voices, as well as sound created by impact, such as furniture dragged across a floor.
Because seeing is believing, their showroom featured a slab of CLT that ten people could jump up and down on, in order to show its strength. Eric Andreasen, vice president of marketing and sales at Adera, says, "we trademarked the Quiet Home system because for the longest while, noise concerns had been top of the list for our customers. We substituted the concrete slab between each floor with a wood slab, and showed it performs better than concrete." And prefabricated panels mean his company can build far more rapidly than they had with traditional construction. There are greater efficiencies for both the developer, the community, and the consumer. "There are a whole bunch of benefits, to the environment, to the community, and in time savings, that can be captured by building with CLT," says Andreasen. "Those savings make a difference to the consumer at the end of the day."
Another project that saw savings from creative use of mass timber is the Penticton Lakeside Resort, which used glue-laminated timber and CLT to maximum effect in its newly expanded hotel. A major cost-saving measure of mass timber is that it's five to six times lighter than concrete. "They saved over a million dollars by not having to install piles," says Stephen Tolnai, vice president of sales and marketing at Structurlam Products, whose plant is based in Penticton. "And now they have a better building that is sustainable and beautiful—they exposed all the materials— and not only did they save time, they saved a significant amount of money."
Brannigan Mosses, director of regional sales and marketing at the resort, says the new seventy-room wing is a major draw for guests wanting an "elite experience." The mass-timber design is attracting people who are environmentally conscious and interested in sustainability, including tourists visiting the local wineries, mountain bikers, and even a few dignitaries. "I think it gives us an opportunity to cater to people who are looking for something just a little bit different," says Mosses.
These projects and others are featured in a newly released book, Naturally Wood, which showcases British Columbia's cutting‐edge wood architecture and design. The beautifully illustrated, 160-page publication contains more than 65 innovative wood buildings and projects, including how wood is being used in multi-family residential projects and accommodations. Four continuing education units have been developed based on the book. They are recognized by the Architectural Institute of British Columbia and are available at naturallywood.com/naturally-wood-ceus.
Download the Naturally Wood e-book at naturallywood.com/nwbc.