A new pilot project to gather data on building performance is gaining momentum in B.C.
More than 50 of the province's commercial real estate owners and managers have agreed to voluntarily measure, report and disclose their buildings' energy use and greenhouse-gas emissions with Building Benchmark BC.
Building Benchmark BC is an initiative of the Open Green Building Society funded by Natural Resources Canada and BC Hydro. It also receives support from the Real Estate Foundation of British Columbia.
The program's participants manage 730 commercial, residential, industrial and institutional properties that collectively represent roughly 22 million square feet of real estate.
David Ramslie, vice-president of sustainability for Concert Properties and one of the Building Benchmark BC organizers, explained participating building owners and managers can see how their properties perform compared to their peers on energy and climate pollution. The data will also help participating local governments identify areas and building types that will need extra support from energy-efficiency rebates.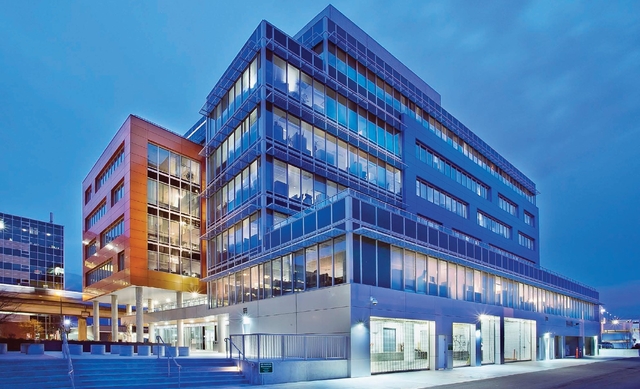 "There's also a tangible value to transparency," said Ramslie. "Many of our owners are institutional money, like unions, looking to invest for members. We can show our funders that we take sustainability and our business seriously and that we are completely transparent with no bodies to hide. We are trying to walk the talk and be a leader. That doesn't mean all our buildings are perfect. I would argue a couple may even be in the bottom end, but that helps our investors build confidence."
The City of North Vancouver, City of Victoria, District of Saanich and Township of Langley recently joined Burnaby, Richmond, Surrey and Vancouver in the pilot, which launched in January. Metro Vancouver and the University of British Columbia are also participating. Ramslie said the first round of data is expected to be released in the fall.
He said Concert expects that monitoring and releasing building performance in some required form is inevitable and becoming familiar with the process and having an opportunity to shape the system is key.
"They have heard from industry that we don't want a patchwork solution," said Ramslie of government. "It should work in Burnaby, Richmond, Saanich, anywhere. I think it is laudable that government is showing good leadership and co-operation."
The program is using Energy Star Portfolio Manager, software which allows building owners to input data.
Ramslie said the tool has been on the market for years and embraced by the commercial real estate sector. The pilot will take it a step further by also using software developed by OPEN Technologies that is able to compare all the data and visualize it.
"This will allow for a deeper level of insight and transparency that currently doesn't exist," said Ramslie.
The pilot is still open to any B.C.–based owners or managers of commercial real estate. Those interested in signing up can do so at BuildingBenchmarkBC.ca.
Follow the author on Twitter @RussellReports.