Two Vancouver projects are forming steel skeletons while workers face the challenges of an ongoing pandemic.
Steel fabricator and erector Supermetal Structures Inc. is wrapping up work on the former downtown Vancouver headquarters of Canada Post and is near the finish line on 400 West Georgia, a tower project which, once complete, will be a unique sight on the city's skyline.
The tower will resemble a series of boxes stacked on one another, which project manager Eric Sauve said "is a lot different, because Vancouver hasn't seen a large structural steel job like this in over 30 years.
"Each box is made of four floors and what you don't see is a truss tied into the core. That's what supports the box," Sauve said.
By building the side of the box as its own frame as a truss, weight can be placed on the floors allowing the box to be cantilevered outward, and each box has temporary support systems left in place until the box above it is built, he added.
"This was a challenge all on its own," Sauve said.
Esthetically, he added, the tower is in a class of its own.
"It's a beautiful building. It's nothing like we've dealt with in the past. When it's done it's going to be just gorgeous," he said.
The former Canada Post building nearby was built in the 1950s and required a different approach. As it was considered a heritage structure, "we had to deal with the existing conditions of what's currently there," Sauve said.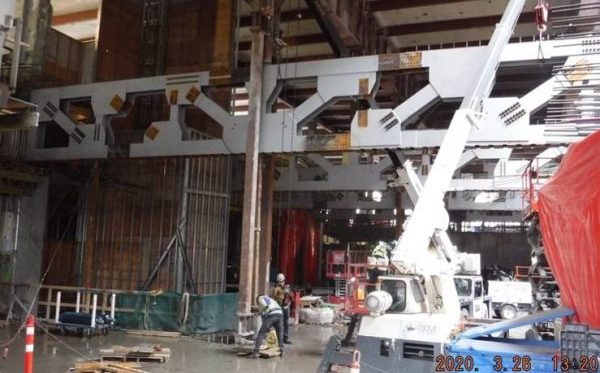 "(It was built) back when blueprints were blueprints and as-built was someone's handwriting," he said.
"The existing structure was reinforced with concrete and as we progressed and concrete was removed, there was a lot of surveying and getting that information to our engineering team and Read Jones Christoffersen to see what we could do with the structure that was there.
"For a new ramp for the parkade in some locations we had to tie into existing steel, but that steel had the outside facade tied into it and we didn't want concrete popping and cracking. We tried to make everything as bolted as possible and watched as we applied heat to those areas," Sauve said.
COVID-19 was a new wrinkle to deal with on each project but systems were quickly put in place to make sure work continued while new safety protocols were implemented.
"For the post office with PCL as the general contractor, in the beginning of COVID-19 they set ground rules to keep people two metres away. It's hard to keep everyone spaced out, so they went down to the first parking level and put in working wash stations set out in two metre increments," he said.
"We also switched the existing stairwells so one goes down, one goes up and people aren't crossing paths."
The nature of steel work meant sometimes workers needed to get closer than two metres but already had appropriate personal protective equipment such as ventilators and face covering.
"At certain times we need two people working on one thing, like when equipment is too heavy for one person. In situations like that we manage as best we can. But welders all have half masks and we're able to use that and full-face shields," Sauve said. "They're working close but breathing into their own respirator."
COVID-19 social distancing rules on both sites were also addressed through careful scheduling to stagger breaks, meal times and entry and exit into sites. The 400 West Georgia project had a sizable crew, he added, which meant scheduling groups of 10 to take lunch breaks in a room normally meant for 50 people.
"In between all those we would have young apprentices wiping things down and making sure everything is sanitized," Sauve said.
Mental health considerations were as important as physical measures, he added.
"We also encouraged the guys, as did PCL, to just go sit out by yourself in the sun. It's a hard time and people's emotions aren't in check, so to get outside and get fresh air was always looked at," Sauve said.