The third and final phase of Calgary, Alta.-based Triovest's monumental River Landing project in Saskatoon, Sask. kicked off last fall. 
The 18-storey, 279,000-square-foot Nutrien Tower will be the tallest office building in Saskatchewan, according to Triovest's executive vice-president in charge of development Blair Sinclair, while River Landing is the most significant mixed-use project in the province to date.
Work began on the ambitious $300-million project back in 2016. 
Thus far, two towers have been completed and are ready for occupancy. 
The first tower is a 17-storey hotel and condo complex. The second phase was the 13 storey, 180,000-square-foot East Tower, which was completed last fall.
The construction of all three towers had been straightforward and on schedule, Sinclair reports, until the current pandemic hit.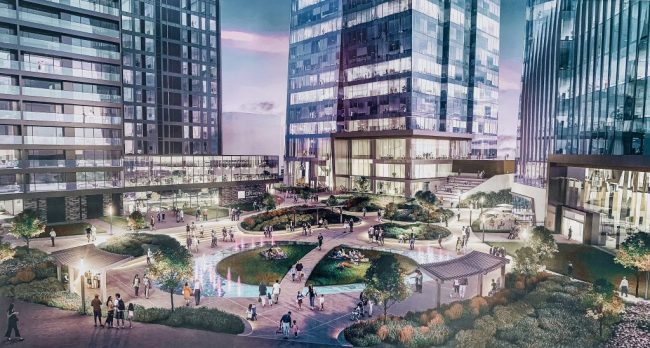 "The pandemic slowed us down by a week or two while we put new safety protocols in place," he says.  "We installed hand wash stations throughout and introduced distancing measures. We re-sequenced who was to be onsite at any given time. Fortunately, we were able to make up for the lost time and the weather co-operated so that we are ahead of schedule."
He notes all office buildings are LEED-compliant. There is also LED lighting on both office towers and the plaza area.
"For our Nutrien Tower, we are using the most energy-efficient glazing on the market and our mechanical systems are state-of-the-art," Sinclair points out.  "We are, for example, installing pad-type destination dispatch elevators. Individuals punch in their floor numbers on the central keypad and the system annunciates which cab they are to go to that will take them directly to their floor without any stops."
The Nutrien Tower is scheduled to be complete early next year. 
The complex will also include the W.K. Nasser Plaza flanked on the east, west and north by the three towers and facing the Saskatchewan River on the south. 
Sinclair reports the plaza will have patios with restaurants on the tower sides, a water feature and areas for people to congregate. 
The plaza is scheduled to be complete by September.
Sinclair states the plaza will be the focal point of the development and at this time will be the only office development in the city that includes an outdoor plaza as part of its design.
The contractor for the project, Sinclair says, is Ledcor Group out of Edmonton, while the architectural firm is Calgary-based Gibbs Gage, one of Western Canada's largest architectural firms.