Site prep work has been completed and utilities installed for a new, $51.4-million RCMP detachment in Fort St. John, B.C., that is being built of locally-sourced mass timber and will have many green features.
The hope is that the building will be a showcase of how energy efficient building practices can be used in northern B.C. It will be the first municipal building in the city built to a net zero energy efficiency standard.
"It's a three-storey building, so using mass timber is a good option," says David Wilkinson, principal of LMNTS Project Services Inc., who is consulting project director. "We're using glulam for the beam and column structure and nail-laminated joists. It's like the way we used to build warehouse floors."
Wood was chosen because it's easy to work with and some of the pieces for the build can be partially assembled off-site and trucked in. The speed at which wood can be assembled was a compelling feature.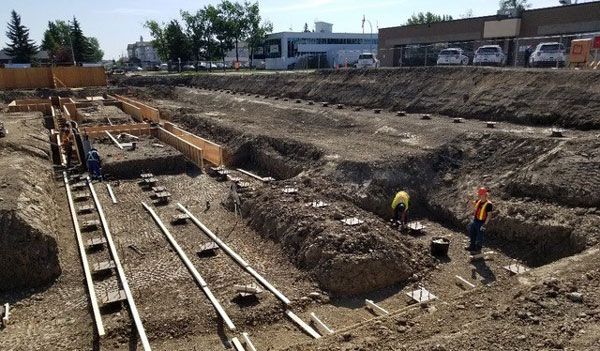 Shovels for the building went into the ground in June. The structure is expected to take a year-and-a-half to build with occupancy set for January 2022. Initial work involved installing underground infrastructure, which included pilings and grade beams, and a series of wells to support a geothermal exchange system that uses the earth's energy to heat or cool the structure.
The new structure is adjacent to the existing RCMP building on 100 Street and across from city hall. It is being built to Passive House energy standards and will be a modular-looking building with large windows. The structure will replace the current detachment which is too small and doesn't meet building codes.
No energy-efficient detail has been overlooked. Inside, there will be water-efficient plumbing fixtures. Outside, drought-tolerant trees and shrubs will be used and LED light standards will reduce light pollution.
It'll be very stable thermally, so that, combined with the geothermal exchange system…will make it very efficient,
— David Wilkinson
LMNTS Project Services
The detachment will have wood stud framing and most of the floors and roofs will be built with B.C.-sourced nail laminated timber (NLT) decking. Mineral wood semi-rigid wall insulation is being used because it is environmentally friendly, and fire and moisture-resistant. Extruded polystyrene foam insulation and fibreglass triple-glazed windows are being used to reduce energy loss.
Sunshades will supplement window insulation and low VOC paint and green label carpeting will be installed.
Wilkinson says a lot of energy modelling preceded the build. Even the solar orientation has been factored into the equation.
"It's almost like living in a thermos bottle," he explains. "It'll be very stable thermally, so that, combined with the geothermal exchange system, which is a heat pump system where you're pulling energy back and forth from the ground in order to trim it up or down for comfort, will make it very efficient."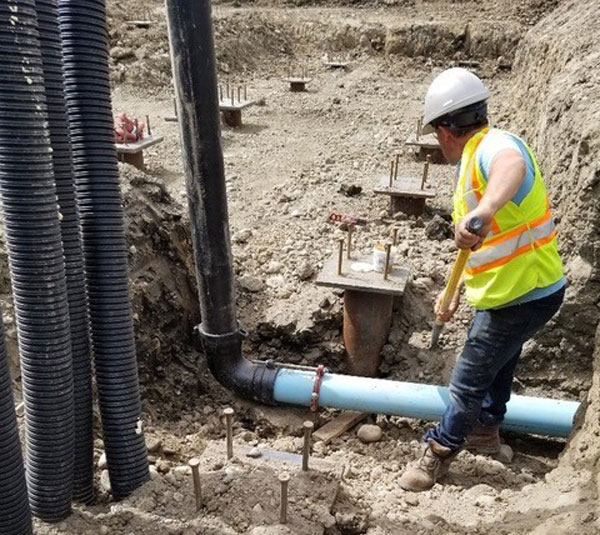 The city has secured a contract for the NLT for the detachment to be grown, sourced and fabricated in B.C. This means it will have a lower carbon footprint as it will not being trucked large distances to reach the site. Parts of the building will also be prefabricated which will produce less construction waste.
Wilkinson says the esthetics of the building were important as it's in a prominent area of Fort St. John.
"It's on the main drag, so it's got city hall across the street and the courthouse next to it. It's really a dignified, modern-looking building. Stylistically, these are the kinds of buildings that B.C. is really known for."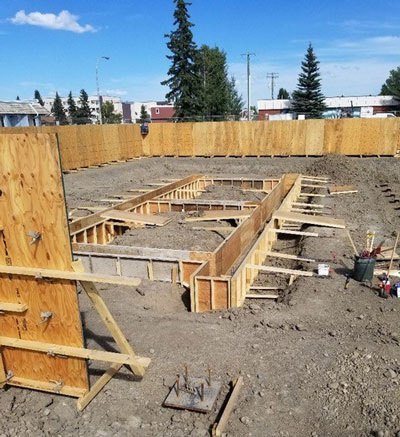 The trades are working to get the building envelope enclosed by November so they can do interior work throughout winter.
"Fort St. John is not that friendly a place for building from a weather point of view," notes Wilkinson. "It gets colder than Mars and it's no fun to be outside in the winter, so we've worked as hard as we can as a team to advance the shell of the building in a way that will get us through the worst of the winter so that we don't have discontinued construction or try and do really low-quality dangerous work in the middle of a dark night blizzard."
The city will own the building and is fronting all the financing. The RCMP will lease the premises. Per the building code, the structure is being built to withstand certain disaster elements like earthquakes and, because it's to be used as an RCMP building, will also have "much more robust" infrastructure, says Wilkinson.
As for specifics about the interior, the building will have a single-storey concrete cell block, but Wilkinson has been sworn to secrecy about the rest of the build.
"I'd be arrested if I told you anything. I can't even tell you where the bathrooms are in the building. All of our room references are numbers. I can't say it's the lab or it's the gun room or where the drugs are stored for obvious reasons. All I can say is that the program for the building reflects a regional strategy."
The Fort St. John detachment covers an area that extends south to the Peace River, east to the Alberta border, west to Williston Lake and north to the Sikkani Chief Bridge.