A distinctive large warehouse made of cross-laminated timber (CLT) and glulam that is taking shape in Langford, B.C., is the latest in a series of wood buildings going up on Vancouver Island since a number of local councils there committed to adopting mass timber technology for taller wood buildings.
The build holds the distinction of being one of Canada's first mass timber warehouses using CLT and the third project in the city using the materials.
"It's pretty incredible," says Tom Moore, founding partner at Studio 531 Architects, who was lead designer of the building.
The structure, located on Field View Place, is concrete, slab on grade, but the rest of the building is timber.
"It's almost entirely built out of timber," says Moore. "We were able to use five-ply mass timber panels that were constructed running vertically and we have 24-foot ceilings inside the warehouse with free-standing CLT walls all around the perimeter of the building and the interior demising walls."
Work on the building began near the end of 2019. The structure is expected to be ready by end of October.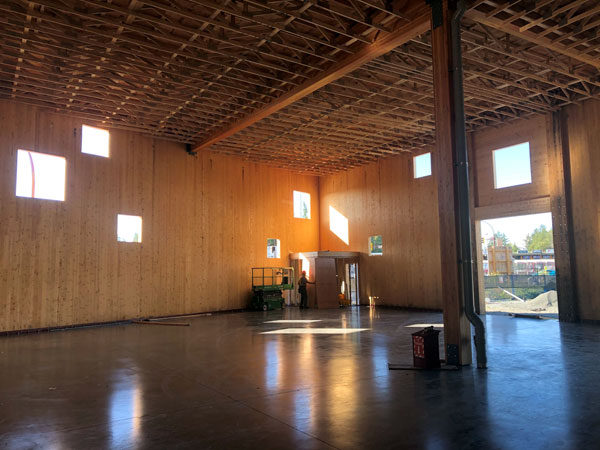 The 10,000-square-foot build is being erected as a turnkey warehouse and showroom for EMCO, one of Canada's largest plumbing supply companies. Victoria-based Oakcrest Park Estates Ltd. is the developer and Citta Construction of Saanichton is the contractor. Panels for the building were supplied by Katerra.
Building crews at Citta were used to working on tilt-up construction projects, but with concrete slabs and not CLT panels.
"What's interesting about this project is that we hired the contractor, Citta Construction, who was well-versed in building warehouses as a turnkey, but their typical warehouse was always built with a tilt-up concrete slab," explains Moore. "We said, 'Would you like to consider using the mass timber approach instead of tilt-up concrete?' So, this is their first build using mass slabs of wood instead of a concrete tilt-up.
"It's gone up a lot quicker and is more cost-effective labour-wise than using the typical concrete tilt-up approach."
Panels were manufactured off-site and when they arrived via truck they were lifted by a large crane and fitted into position by workers. Conventional wood framing was also used in the construction of the warehouse.
Because the CLT panels are machine-made in a factory, they fit together seamlessly when assembled at the site with glulam beams. As a result, the walls went up quickly, Moore explains.
"It's all manufactured using CNC machines to a tolerance of two millimetres and comes together as a kit of parts that literally get screwed and bolted together," says Moore. "It saves significant time in terms of erection, so you reduce the costs of the general contractor, and you reduce the financing and interest costs.
"The owner is able to create earlier revenue if it's a revenue-producing facility or, in the case of an institutional one, you get to use the building sooner."
Moore says his company has used mass timber on a number of residential projects as well as a renovation and expansion of the Prince Rupert Airport that used a CLT roofing system to provide open space.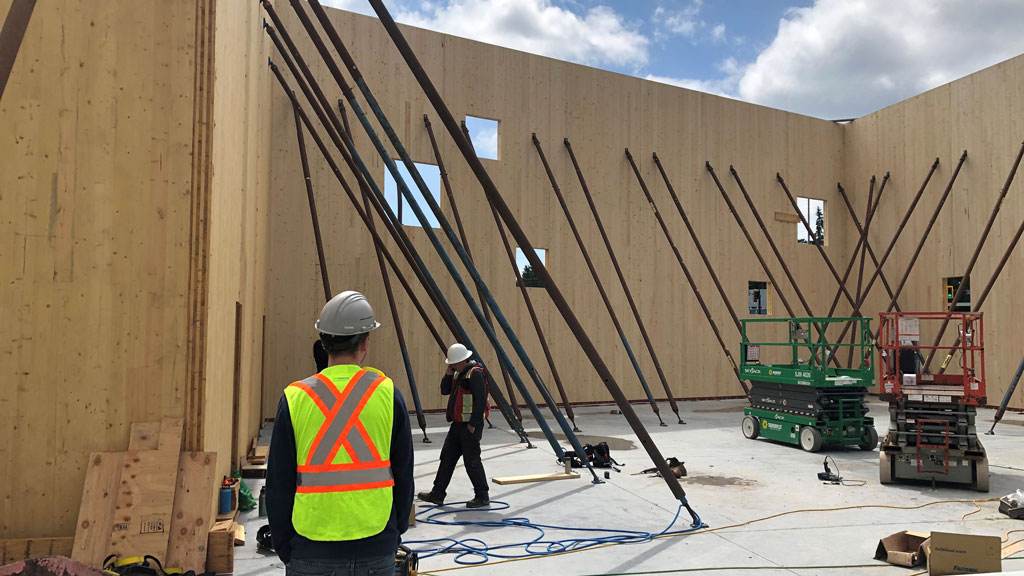 "We're doing a lot of mass timber work and have done so for the last 10 years. Part of it is the sustainability component for sure because of the renewable resource that wood represents. Another part of it is the sequestration that is enabled by using wood rather than concrete and other products."
According to Moore, work on the building has gone smoothly. The manufactured timber matched the shop drawings and there were no critical challenges. Erection of the walls and build of the roof went off without a hitch.
"We've done some apartment buildings and residential projects, larger-scale, that have all been manufactured off-site and what you see is that there's quite a bit less labour. There's a lot less waste onsite because it's manufactured off-site and there's not the materials on-site and the trades running around."
Two other mass timber buildings have been built in Langford. The first was Westhills Stadium which was followed by the District 56 project, a development on Peatt Road featuring Vancouver Island's tallest residential building, a 12-storey mass timber tower.
The push in B.C. to adopt mass timber building products seems to be gaining momentum. Last year, the province announced it was increasing the use of mass timber building products in its capital construction programs and, more recently, Ravi Kahlon, who was parliamentary secretary for the Forests Ministry, was appointed as the lead in expanding the use of mass timber. Thirteen B.C. communities have pledged to use more mass timber technology in building structures.
While Moore has been involved in designing numerous airports, hotels, housing, offices, recreation and fitness centres, the warehouse project has attracted the most publicity.
"I blogged about the project and since then I've been getting emails, literally, from all over the world. It's the simplest of buildings that we've done using mass timber, yet ironically it seems to have garnered the most interest. It's interesting that buildings of this scale can be done in this way."