The Vancouver campus of the University of British Columbia (UBC) will be a beehive of building activity over the next two decades as plans are in the works for six major projects.
The projects include the build of a $66-million recreation centre, a new or renovated War Memorial gymnasium, an integrated performance centre for training elite athletes, a 5,000-seat outdoor sports stadium, renovations to the Nobel Park softball stadium and new housing.
It's all part of UBC Game Plan, an ambitious strategy that was approved by the university board of governors a couple of years ago.
"It's a lot of projects," says Kavie Toor, managing director of athletics and recreation at UBC. "But we have a fairly long time to deliver them. Our hope is that it's not going to take that long to deliver them all but that's the window we have because we need a significant amount of projects."
A two-year analysis conducted by the university determined that many of the existing facilities were aging and no longer meeting the current or future needs of the campus.
A cornerstone of the plan is the recreation centre, a 101,000-square-foot structure at the westernmost end of Student Union Boulevard, north of the existing UBC Life Building. The build, approved in June, will have three gyms, 41,000 square feet of fitness space, including areas for a weight and cardio fitness gym, a training area, multipurpose spaces and an indoor track.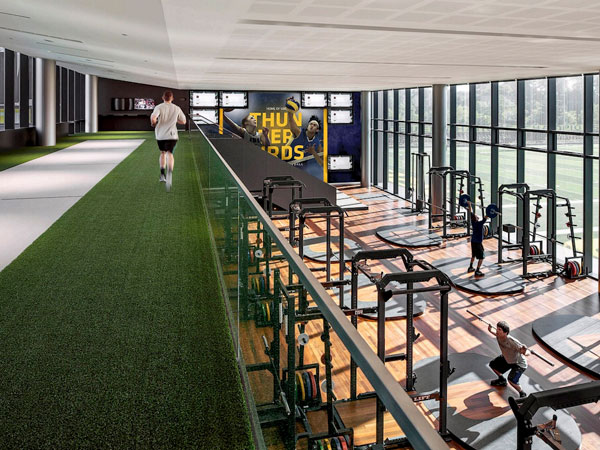 The university board of governors hasn't yet decided on construction materials for the new building, says Toor, and has an open mind about new ways of building and use of sustainable materials.
"We're being very thoughtful in our pre-design discussions around, 'Are there alternative materials that work for us from either a sustainability side of it, a programmatic side of it, or a costing side of it as well?' The question is, are there more creative applications?"
The recreation centre project is presently in the planning stage. An architect and construction manager have been selected. Construction on the building is expected to start in 2022. The build will take two years.
Toor says the university is working to a plan but is also being thoughtful as to what level of adjustment might be required in light of COVID-19.
"At this point, we're on the same project planning trajectory as before COVID but we are being thoughtful as to where we need to make adjustments," says Toor. "We're in the very early stages of building up a vision in the stakeholder process for this. So, it's progressing very well.
"The good news is that we've got a full year of preparatory, schematic and design work ahead of us so we've got the luxury of having some time. We're spending a bit of money to do all this great work before we determine the exact timeline of when shovels are going to hit the ground."
The War Memorial gymnasium is a $59-million project. The university has still to decide whether to build new or renovate the existing facility. Renovations will be expensive given the building code, infrastructure and mechanical issues of the aging building so UBC is exploring both options.
"The building is nearing 70 years old so it's well past its lifecycle," says Toor. "It's still a well-used building for our gymnasium sports and our varsity program so we're needing to come up with a solution one way or another and we hope that solution will be something we can be proud of for 50 years. I think it likely will be a new building but a decision still has to be made on that."
Planning work has started, meanwhile, on replacement of the 3,200-seat Thunderbird Stadium with a new structure. The present stadium is 50 years old and has significant seismic issues.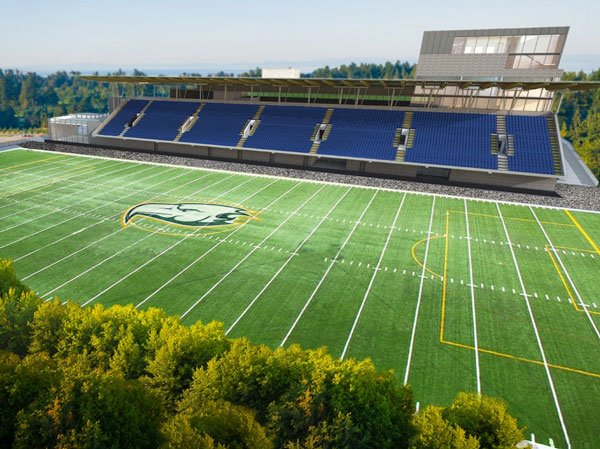 "The stadium occupies a pretty big footprint now and the idea is to have it use a smaller footprint and move the stadium closer to East Mall, which is closer to the other athletics precinct and all the other athletic fields, so it's a bit of a hub," says Toor. "Also, by moving it, it enables some neighbourhood development, some of which was planned around the peripheral."
The new stadium is proposed for a site at the intersection of the northwest corner of West 16th Avenue and East Mall. The plan calls for 22 acres of housing, consisting of mid-rise buildings and towers, to be built at the site at the present stadium.
The precise siting, orientation and layout for the new stadium will be determined when consultations with the community on such things as parking are complete.
Renovations to Nobel Park, meanwhile, may be the first project to get underway. The university is planning to spend $525,000 to improve the park. Proposed improvements include upgrades to the field surface and fencing and new bleachers, covered dugouts, bullpens and washroom facilities beginning in 2021. The park is used by the UBC women's varsity softball team.
No set date has been set for the integrated performance centre. The university did a study that determined there was a need for a high-performance training environment for student athletes and Olympians.