GRASSY LAKE, ALTA. — Work has wrapped up on the $43-million Co-op Fertilizer Terminal in southern Alberta.
Federated Co-operatives Limited's (FCL) new state-of-the-art terminal near Grassy Lake features terminal warehouses for blending and distributing crop nutrition products like liquid micronutrients and nitrogen stabilizers.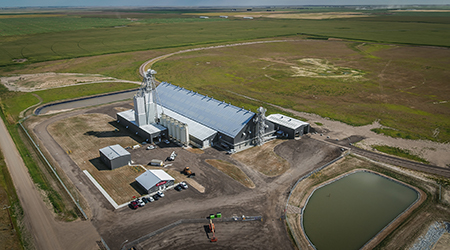 The new terminal facility has a storage capacity of 34,400 metric tonnes. The three Co-op Fertilizer Terminals – facilities in Hanley, Sask., and Brandon, Man., were opened in 2017 – have a combined storage capacity of 106,900 metric tonnes.
The other three terminals are connected to rail lines, but the Grassy Lake facility was constructed with a loop track that can accommodate up to 110 railcars. FCL noted this is a critical feature that allows it to receive product from domestic and international suppliers, which is particularly important as domestic production of phosphate ceased last year.
"We made this investment understanding the important role the fertilizer terminal will play in serving local co-ops and helping them meet the needs of their members and customers," said Ron Healey, FCL's vice-president of ag and consumer business, in a statement. "Having a fertilizer terminal in Alberta improves Co-op's ability to efficiently and effectively deliver crop nutrition products to local farmers in a timely matter, which is critical during the growing season."
The facility joins the company's Co-operative Retailing System, which includes FCL and more than 160 independent local co-operatives across Western Canada. The system helps provide the agricultural industry with fuel, animal feed, crop inputs and grain handling equipment.