A new mass timber student housing project that is set to rise at the Burnaby campus of the British Columbia Institute of Technology (BCIT) will be specially designed to reflect Indigenous culture in the region.
The 12-storey structure marks the first new investment in student housing on the school grounds since 1982. The building will have 464 dorms and when completed will more than double BCIT's student housing capacity.
The school is embracing mass timber for the build because B.C. is a leader in its use and it's an innovative way to reduce the carbon footprint, explains BCIT spokesperson Amy Chen.
"Compared to more typical steel and concrete structural designs, mass timber is the most sustainable structural design solution as the wood structure captures embedded carbon," says Chen. "This building will serve as an important demonstration 'living lab' opportunity for BCIT students and researchers and, in effect, promote this form of construction within the provincial building sector."
The building will have 264 fully self contained studio apartments and 200 single-bedroom units with shared communal kitchens and washrooms.
The structure is being built on a surface parking lot, fronting Willingdon Avenue between Building SW3 and SW9 on campus, and because of that there's expected to be minimal impact on ongoing BCIT education operations in adjacent buildings.
The project will be designed to reflect Indigenous culture in the region, and to support Indigenous learners by providing community spaces on the ground floor.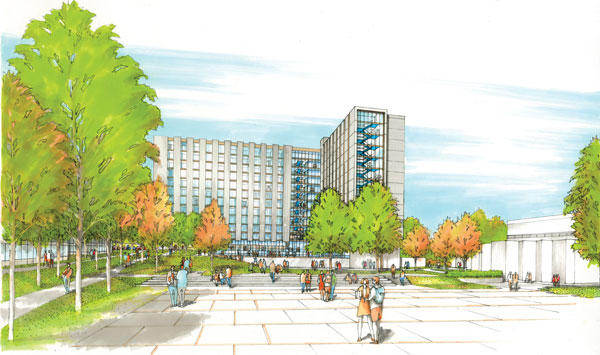 "Based on the pre-design consultation with BCIT Indigenous Services, a collaborative design approach will be undertaken for the new building to incorporate culturally appropriate architectural colour selections, wood materials, art imagery, Indigenous medicinal landscaping, common space facilities that support Indigenous cultural activities such as smudging, and housing naming based on Indigenous language," says Chen.
Architectural renderings show an L-shaped building with lots of glass and large walkways around the structure. Construction on the building is expected to start in spring 2022 and be completed in summer 2024.
"This shape is the most efficient room floorplate configuration and allows the provision of a central common social zone at the corner," explains Chen.
There will be a student lounge where the two wings of the building meet, elevators and communal kitchens to support socialization among students.
Chen says building with wood should provide for a cleaner construction site and fewer design impediments.
"Mass timber structural systems are pre-manufactured off-site and therefore the erection of the structure should be expedited compared to more traditional cast-in-place steel and concrete construction."
Janet Routledge, MLA for Burnaby North, says the BCIT build is not just about student housing but also about reducing the carbon footprint.
"Mass timber is a sustainable and value-added product that can be made in B.C. It will create hundreds of well-paying jobs helping all British Columbians."
The energy-efficient design of the structure is also expected to meet Step 4 of the B.C. Energy Code, thereby supporting the province's commitment to CleanBC.
Cost of the build is about $115 million. Funding for the project was announced recently by provincial Advanced Education, Skills and Training Minister Melanie Mark. The province is investing $108.8 million towards the project as part of government's 30-point plan on housing. BCIT is contributing $6 million towards the project.
"Students throughout the province have told our government the lack of affordable housing has stood in the way of their education and aspirations, and we committed to fixing this problem," said Mark.
Ravi Kahlon, parliamentary secretary for Forests, Lands, Natural Resource Operations and Rural Development, says mass timber is key to diversifying and creating a more resilient forest sector as the province works to transition to high-value over high-volume production.
"It's great to see the ripple effects from the expanded use of sustainably harvested, low-carbon wood products in B.C. buildings," he says. "It helps combat climate change and brings people back to work in forestry-related jobs, while this project creates housing for hundreds of future BCIT students."
BCIT president Kathy Kinloch says the investment will allow BCIT students to access sustainable on-campus housing to support their journey to a new or expanded career.
"This new mass timber housing project is a key component of BCIT's commitment to support the future social and economic prosperity of the province in a way that respects our spectacular natural environment."
The BCIT project will support regional economic development, creating about 700 direct and indirect jobs in local communities through the manufacturing process.
The province states the investment means opportunities for local workers in the forestry sector, strong partnerships with First Nations and greater economic opportunity.