The large steel structure taking shape on the Winnipeg Airports Authority's (WAA) campus will pose a striking image when the building is ready to house the Royal Aviation Museum of Western Canada in 2022.
The sloping design likens the building's appearance to an "air foil shaped canopy," says Pauline Dolovich, principal of architectural firm Reich & Petch.
Reich & Petch is collaborating with Architecture49 Inc. on the 86,000-square-foot building that will showcase a broad historic collection, including bush planes, military and commercial jets and Canada's first helicopter.
Developing, designing and constructing buildings on airport lands are rarely straightforward and the museum, which is minutes away from the James A. Richardson International Airport, is no exception.
Will Petch, principal, Reich & Petch, says while the architectural team is emphasizing a building form that stands out from its neighbours, the team is also paying special attention to the building's interior spaces.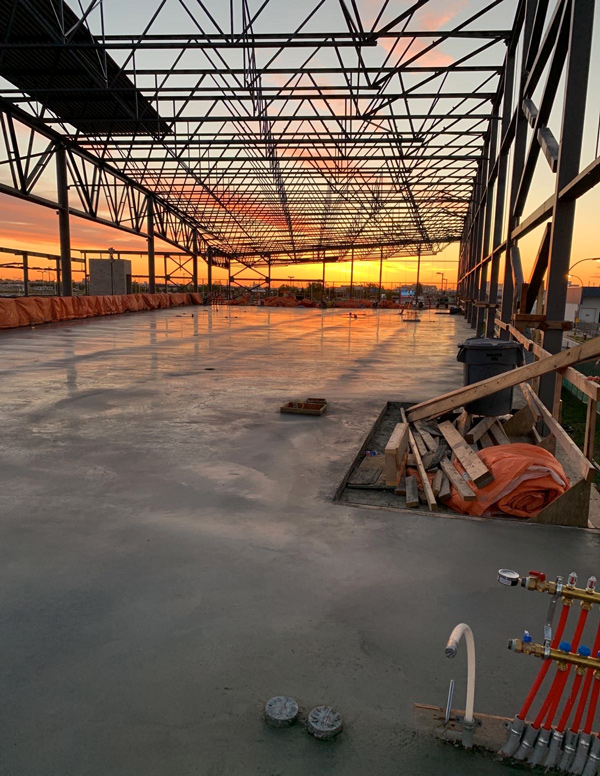 Circulation patterns and the placement of exhibits, he says, are being tailored to minimize "personal interaction" and encourage social distancing.
Dolovich says pre-pandemic written information on collections was planned to be clustered in hubs but because of COVID-19 that information is spread around the planes to eliminate crowding.
"It is a vast space. People will feel there is a lot of air flow and that they are not tied into any interior."
Petch adds that a balance had to be struck between specifying the right amount of glazing to allow passersby to see the collection from outside while limiting the amount of light penetration for the conservation of artifacts.
He says designing the building to meet exterior height restrictions stipulated by airport regulations presented a challenge largely because of the size of the exhibits. 
In some cases aircraft will be hung from interior ceiling trusses.
The museum's west wall will be angled or sloped in accordance with airport height limits largely to maintain sightlines from the nearby airport's air traffic control tower and cargo aprons, Petch points out.
Meanwhile, large expanses of glazing planned for the façade will be angled and profiles variegated to avoid glare on the control tower, adds Amy Klassen, project architect, Architecture49.
She says the structural grid of the building was shaped in part by "dodging" two main underground utility duct banks running services to the airport.
"That was a big challenge, even in construction," she explains.
Jeff McKay, senior project manager with PCL Constructors Inc., says protecting the two utility banks from damage has been crucial to the project coming in on time.
"A failure to either one would have resulted in diverting all incoming air traffic until the duct bank could be repaired.  This was a huge risk to be managed and every effort was made to ensure that these assets were protected."
McKay says the erection cranes for the steel roof structure – installed in two pieces – had to meet air height restrictions as set by Transport Canada. The structural steel frame was erected by Supermetal.
Throughout the construction process the site must remain clean, anything larger than a cigarette butt is a potential risk to aircraft, the builder points out, noting PCL enforces strict sanitary measures on all of its trades.
"It has taken some efforts to get everyone on board, but we are meeting the requirement and are considering implementing this on other projects not adjacent to the WAA in order to raise the bar on the appearance of our project sites," he says.
McKay says the site has had no cases of COVID-19, a testament to a regime of safety protocols that requires all workers and visitors to complete a QR questionnaire and take temperature scans before site entry.
Facemasks are mandatory and shared surfaces are cleaned several times a day, he says, adding the spaciousness of the building works in PCL's favour to ensure tradespeople are properly distanced.
Despite the strict health and safety requirements construction is on time to the original schedule, McKay adds.