Calgary's office market has been decimated by low oil prices and the global pandemic, reaching vacancy rates as high as 32 per cent. About six million square feet of office space sits empty. 
Design and data experts at Gensler are hoping to help revitalize Calgary's downtown and other areas with a new approach that analyzes where others have been successful and leverages technology to rapidly speed up planning efforts.
Steven Paynter, a principal at the global architecture and design firm, explained just weeks into the pandemic he began reaching out to clients to determine what he should be working on. Rather than social distancing signs or wash stations, many were already looking beyond the worsening health crisis. 
"They wanted us to tell them what to do with their offices if the pandemic carried on, which ones won't survive this and what they should do with their portfolios," said Paynter. "Those who were heavily invested suddenly weren't getting rents and they didn't ever want to experience this again." 
His efforts caught the eye of Calgary Economic Development, which asked him what should be done with 28 mostly empty buildings in the city totalling 3.2 million square feet.
Paynter began looking at 56 cities around the globe including Atlanta, Baltimore, Detroit, Kansas City, Berlin and Amsterdam, and how they dealt with empty office space and revitalizing dead areas.
Many of the successful regeneration efforts used one or more of three tools, grants, loans and tax incentives. 
Going through Calgary's office buildings was a slow process, so Paynter and his team developed a tool that uses information any broker would know to feed into an office building conversion algorithm. The tool then determines if the stripped down bones of the structure would work for residential conversion.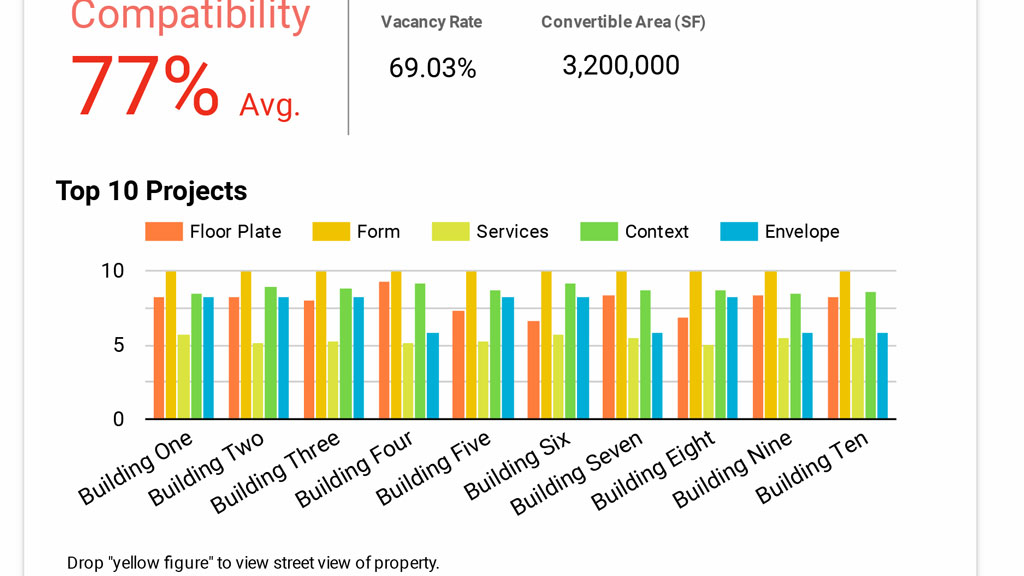 "What took two to three weeks per building now takes six minutes," said Paynter. "We had an abacus before but needed to invent a calculator."
Paynter discovered that half of the buildings in the study were viable candidates for conversion. These findings helped generate an initial $200 million investment from the city to revitalize the downtown, $45 million of which will be used to incentivize office conversion projects.
Paynter said based on this research, he believes target investments can have a massive impact.
In the case of Detroit, it took converting a turn-of-the-century warehouse into a boutique hotel with restaurants and stores. This encouraged further investment and transformed an entire neighbourhood in a city devastated by the death of automotive manufacturing. 
"Half a city block went from derelict to interesting," said Paynter. "This drove investment in properties across the street. The city block next to it is now being developed into a residential tower.  But it started with one great idea with a conversion project."
Some projects like Sierra Place at 706 7th Avenue in Calgary are already in the process of redeveloping empty space. Sierra Place will be a 108-unit affordable housing complex.
"If you can create those catchment areas, they can have an influence on a city," said Paynter. "It is infectious positivity. You can make people think different about a city. If you can do this for a few city blocks you are well on your way."
Paynter noted that Gensler's tools could be applied to many different cities or building types to rapidly identify the easiest conversions.
He is currently working on tool dashboards for other cities, like Denver, Chicago, Houston and London. He also is working on tweaking the algorithm to assess conversions to other types of buildings like long-term care facilities or hospitals. 
"These are other crises the society will need to deal with," said Paynter.
Follow the author on Twitter @RussellReports.