VICTORIA — Construction has wrapped up on a 135-unit condominium project designed for middle-income families on Vancouver Island.
"This pilot project is one example of the important work that can be done in partnership with the private sector," said David Eby, housing minister, about the Victoria project, in a statement. "The opening of these new units is great news for the families that will benefit from this project and get a chance to own their own home, which they might not otherwise have had. We've got much more to do, and with the expansion of our Housing Hub by $2 billion in the last budget, we've got much more we can do to support middle-class families and their housing needs in the years to come."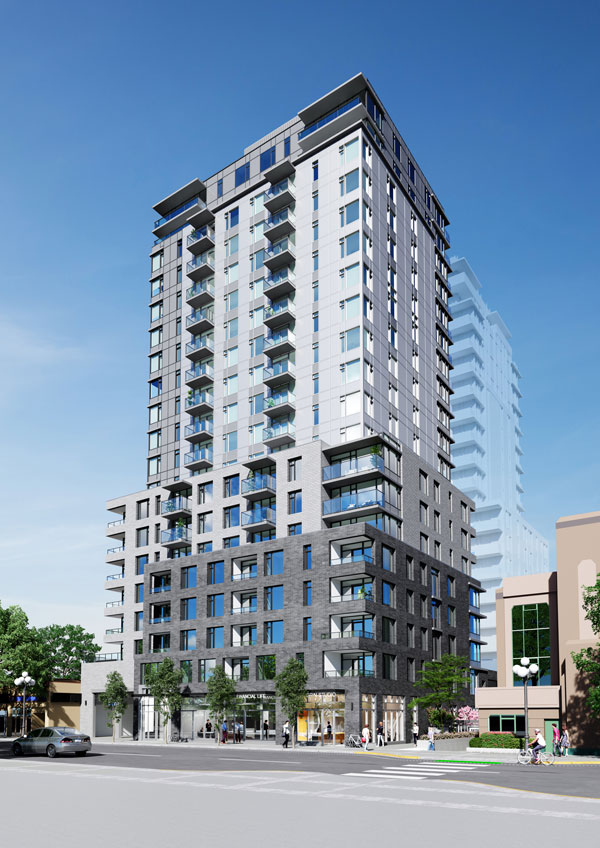 Located at 845 Johnson St., Vivid at the Yates will provide below-market homes that target middle-income households. The 20-storey building features one-bedroom, one-bedroom-plus-den and two-bedroom homes.
According to the province, affordability was achieved through a low-interest construction financing loan from the government totalling approximately $52.9 million. The loan was given to Chard Developments to develop the project. Officials explained by providing construction financing at a lower interest rate than what would typically be available, the developer was able to pass the savings on to qualifying buyers so units could be purchased at below-market prices.
"We have always worked to build Victoria in a sustainable and economically viable way," said Byron Chard, president and CEO of Chard Development. "Vivid represents our ninth residential development in Victoria, and we are proud to have provided homes to people who may not have otherwise been able to step into home ownership."
Buyers were limited to those with Canadian citizenship or permanent residents who have been in B.C. at least a year who don't own other property outside Canada. Residents also had to agree to live in the property for two years before they can sell, except in extenuating circumstances.
The average household income for qualifying buyers was just over $60,000. All units have been sold and owners will start moving into their new homes this month. The success of the project has prompted Chard to explore building a second similar building in Victoria through BC Housing's HousingHub: Affordable Homeownership Program.